Endorsement By Sarah Palin Seen As A Negative, Poll Shows
"Endorsed by Sarah Palin" could become something that Democrats start using in negative campaign commercials.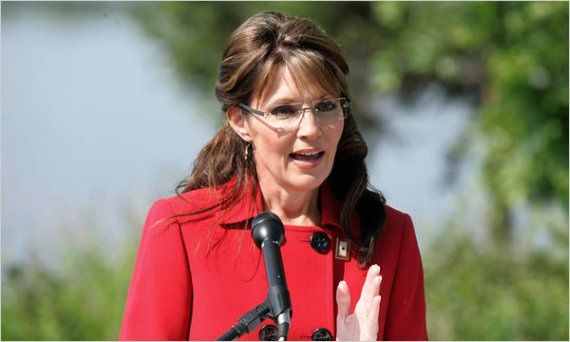 Greg Sargent points out one of the more interesting tidbits in the new NBC/Wall Street Journal Poll:
The poll asked people how they'd respond if a Congressional candidate had various hypothetical attributes. Asked how they'd feel if a candidate were "endorsed by Sarah Palin," the response was….

Enthusiastic about this attribute 8

Comfortable with this attribute 17

Have some reservations about this attribute 15

Very uncomfortable with this attribute 37

So a majority, 52%, reacted negatively. And an astonishing 37 percent would be "very uncomfortable" about a Palin endorsement, more than four times the eight percent who would be "enthusiastic" about it.

Even better, there were only two attributes a candidate might have that were seen as worse than a Palin endorsement: Supporting Bush's economic policies; and supporting the elimination of various Federal agencies and/or Social Security.
This seems counter-intuitive given the fact that Palin has endorsed several successful primary candidates recently and has seen nine of the twelve candidates she's endorsed so far win their primaries. It's worth noting, however, that these were Republican primaries so it's likely that the voters who participated were more likely to have a positive view of Palin to begin with. Once the General Election rolls around, the impact of a Palin endorsement inside the voting booth will really be put to effect and, if these poll numbers are correct, it could be a problem in close races.
The other fact to take into account is that, so far, Palin's endorsements have not been very risky so far. Most of the candidates she's endorsed — such as Rand Paul in Kentucky, Terry Branstad in Iowa, and Nikki Haley in South Carolina — were already leading in their respective races, in some cases by nearly insurmountable margins. Even Carly Fiorna was starting to open up a lead in California in California before Palin endorsed her. So, it's hard to say that Palin's endorsement had any sort of decisive impact in any of those races.
There is one race coming up that will be a good test of Palin's ability test, though. In her home state she has endorsed a relatively unknown lawyer named Joe Miller in the Republican primary against Senator Lisa Murkowski. Miller is the ultimate underdog, and Palin used to be immensely popular in Alaska. It will be very interesting to see if her endorsement leads to victory for him in August. My gut instinct is that it won't.
Sargent, who obviously has an partisan axe to grind, concludes with this jab at Palin:
The above finding is another mark of just how toxic Palin has become to the rest of the world — and how out of sync with public opinion the media obsession with Palin's influence really is.
Indeed.