Everybody Hates Congress
Another poll confirms the fact that Americans of all political stripes continue to hold Congress is disdain.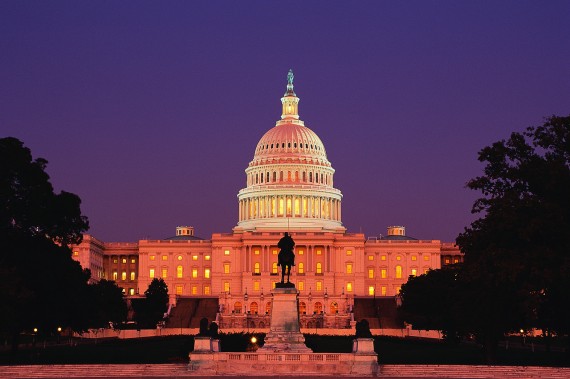 ess
Republicans have had full control of Congress since January, but that hasn't changed public opinion about the nation's Legislative Branch very much:
Just 14 percent of Americans approve of the way Congress is doing its job, according to a new Gallup survey released Wednesday, and they do not seem all that enamored with Republican leaders in the House and Senate, either.

That is the lowest share of congressional approval seen by Gallup this year, though it is not the lowest in history — a paltry 9 percent said they approved of Congress' job performance in the days after the government shut down in October 2013.

A majority of 54 percent expressed dissatisfaction with the job performance of John Boehner (R-Ohio), who is currently serving his third term as speaker of the House. Just 23 percent view him favorably, his lowest number since becoming speaker in 2011, though he had a similar share of 27 percent approval in March, according to Gallup's results.

Senate Majority Leader Mitch McConnell (R-Ky.) is not as well known as Boehner, but 41 percent of Americans said they see him in an unfavorable light, while 37 percent said they had no opinion of him. Just 22 percent said they see him favorably.

Among Republicans, too, Boehner and McConnell are not that well-liked. Just 37 percent of self-identified Republicans said they have a favorable view of Boehner, compared with 42 percent unfavorable and 20 percent with no opinion. McConnell earned a 34 percent favorability rating among Republicans, with 32 percent unfavorable and 34 percent who had no opinion of their Senate leader.

As Gallup points out in its analysis, the approval ratings for Boehner and McConnell are close to those held by their immediate Democratic predecessors, House Minority Leader Nancy Pelosi (D-Calif.) and Senate Minority Leader Harry Reid (D-Nev.). In October 2010, 29 percent of Americans saw Pelosi in a favorable light, compared with 56 percent who did not. A month before last year's midterm elections, just 21 percent had a positive opinion of Reid, compared with 45 percent who did not and 34 percent who had no opinion of him.
This isn't exactly news, of course. For years now, public opinion regarding Congress has been at exceedingly low levels. Gallup's measurement of public approval of Congress had already dropped to 13% as far back as 2010, and took a short jump up to 21% in 2012 in advance of the elections only to fall back to 14% shortly before President Obama was inaugurated for his second term. Things got really bad in the aftermath of the 2013 government shutdown and the failure of the Obamacare exchange website when Congressional job approval dropped to 11%, and then down to a record low 9% in November 2013. A separate around that same time found Congressional job approval at 6%.  So basically, what we're seeing here is really just a continuation of the same trend that seems to have began in the middle part of the first decade of the century, when the national consensus after the September 11th attacks began to melt away: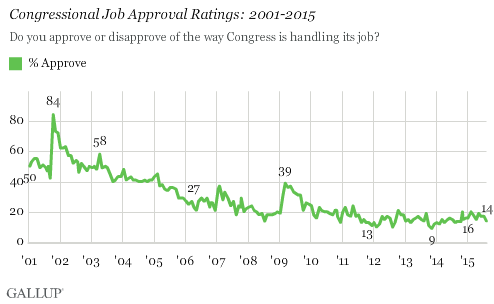 Trying to explain these low numbers is something that has been debated back and forth for years now. On some level, it's most certainly true that a good deal of the public frustration with Congress has to do with the largely accurate sense that it has become a body that doesn't really get very much done anymore. Over the past seven years, for example, we've seen countless instances of government shutdowns, threatened government shutdowns, and showdowns between Congress and the White House over even such seemingly routine things as passing a Federal Budget. Two years ago, we saw the government shut down for more than two weeks thanks to a relatively small group of Republicans on Capitol Hill who decided to pursue a doomed and quixotic plan to attack the Affordable Care Act by refusing to fund the government unless the law was "defunded." Two years before that, Republicans took the nation to the brink of default in a showdown over raising the debt ceiling. Now, with Congress set to return after Labor Day to deal with the vote on the Iranian Nuclear Deal and the budget for Fiscal Year 2016, some Republicans are threatening another shutdown over the issue of Federal funding for Planned Parenthood. Added on top of all this, of course, is the fact that Congress remains unable to accomplish much of anything on issues ranging from a long-term highway funding bill to immigration reform to the kind of comprehensive tax reform that officials in the both parties say that want but that nobody bothers to ever try to achieve. Given the fact that we're heading into a Presidential and Congressional election year, it's unlikely that we'll see much progress on any of these issues since both parties will be more concerned about laying the ground for the upcoming campaign than actually getting anything done. That's why, for example, we're likely to see some Republicans threaten that shutdown over Planned Parenthood funding.
In addition to Congressional inaction, gridlock, and silly political fights that mean nothing to the average American, another factor that seems to be playing a role in the decline of public approval of Congress is the nature of the political culture. More than ever before, we live in area where even the most mundane news event seems to quickly be turned into a political cause by one side or the other. By and large, Republicans tended to have a negative view of Congress when it was controlled by Democrats, and Democrats now have a negative view of a Republican-controlled Congress. On the conservative side of the aisle in particular, there is a strong anti-establishment undercurrent as well. Taken together, this means that both sides of the political aisle tend to hate Congress albeit for different reasons, and on the conservative side of the aisle that hatred is reinforced by a talk radio and media environment that acts like something of an echo chamber.
At least in the short term, it's not clear that these low job approval numbers will have any real impact politically. We've been through three election cycles now, two midterms and a Presidential election, where the vast majority of Congressmen and Senators who were up for re-election were successful in their bids. We also saw an incumbent President re-elected notwithstanding widespread public dissatisfaction with the state of government. Given that, it's likely that there will be very little political impact from the fact that Congress remains incredibly unpopular for at least the fifth year in a row. Arguably, the fact that candidates such as Donald Trump and Bernie Sanders are presently doing so well in their respective party's Presidential races is a reflection of the fact that many voters are frustrated with the mainstream of politics, but even that phenomenon is unlikely to have much impact on the Congressional level. The geographic, economic, and other factors that make most Congressional incumbents safe from serious challenge are not going to change between now and November 2016. Except for the fact that there is an outside chance that Democrats could regain control of the Senate next year, it's likely that there won't be any real change in Congress at all. Regardless of who the President is, Congress will stay the same for the foreseeable future, which probably means that public opinion will continue to hold Congress mostly in contempt.