Fewer Insults, At Least Some Substance, At Twelfth Republican Debate
Given the stakes headed into the latest version of 'Super Tuesday,' last night's Republican debate was surprisingly subdued.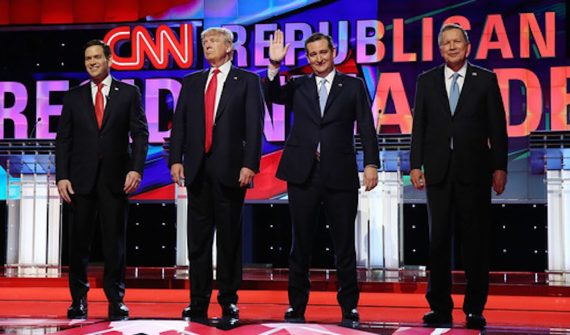 With everything on the line next week for at least two of the Republican candidates for President, last night's twelfth Republican debate was surprisingly tame and more focused on policy than insults:
MIAMI — After 11 adversarial debates, the two chief antagonists to Donald J. Trump on Thursday night largely abandoned their strategy of brutally attacking him, choosing instead to use their final face-off before next week's round of big Republican primaries to project gravitas and champion conservative positions on trade, jobs and Israel.

Senator Marco Rubio of Florida, whose candidacy is on the line in his state's primary on Tuesday, passed up easy chances to challenge Mr. Trump on immigration and foreign visas, and he stopped insulting the front-runner after his recent jabs backfired. Senator Ted Cruz of Texas, who is running second to Mr. Trump in many states, stuck to policy at first but gradually turned tougher against Mr. Trump, eventually saying he would be a disaster as the Republican standard-bearer.

"If we nominate Donald Trump, Hillary wins," Mr. Cruz said.

But much of the debate was so subdued that Mr. Trump was prompted to say, "So far, I cannot believe how civil it's been up here."

He was eventually challenged over his temperament, his harsh language about Islam, and recent violence at his campaign rallies, but he also talked more about policy than he has in past debates, saying, apparently for the first time, that he would consider sending up to 30,000 American ground troops to fight the Islamic State in the Middle East.

It was as if Mr. Trump's rivals had decided, after so many months, that there was no upside anymore in trying to beat him at his own game. Gone were the heated interruptions, the name-calling, and, most remarkably given Mr. Trump's advantage, the wave of attacks about his checkered business history. On Thursday night, his rivals moved on.

The political stakes were higher than at any of the previous debates because this was one of the last high-profile, widely seen opportunities for Mr. Trump's rivals to sow doubts about his candidacy and to slow his march to the nomination. Mr. Trump is ahead in public opinion polls in Florida, Illinois and North Carolina; the race appears closer in Ohio, with some polls indicating that John Kasich, the governor there, has a small lead. Missouri also votes next week.

The newly sober nature of the Republican race, for a night at least, was clear from the first exchanges over trade, a major issue in Ohio, as the four contenders largely agreed that trade deals were needed to protect American workers. Mr. Trump was challenged over hiring foreign workers for some of his businesses, which he both defended and minimized — remarks that were less surprising than the fact that none of his rivals attacked him over it, as they did in a debate last week.

Mr. Trump went unchallenged as he boasted that as a businessman, he was best positioned to negotiate trade deals in America's favor.

"Nobody else on this dais knows how to change it like I do, believe me," he said.

He acknowledged that, despite his hard-line talk on immigration, he uses foreign workers at some of his businesses by exploiting the nation's immigration policies, particularly H1-B visas for foreign workers.

"I'm a businessman, and I have to do what I have to do," Mr. Trump said. He added that he "shouldn't be allowed" to have access to foreign labor, saying, "It's very bad for workers, very unfair to our workers." He said he would suspend H1-B visas for at least one or two years.

Mr. Rubio pointed to the need for United States businesses to be able to sell goods abroad. "We have to have access to the hundreds of millions of people in the world today who can afford to buy things," he said.

The greatest pressure was on Mr. Rubio, who is facing the prospect of a humiliating loss in his own state on Tuesday. After suggesting on Wednesday that he regretted lobbing juvenile insults at Mr. Trump last month, Mr. Rubio only occasionally disagreed with him in the debate. It was a signal that if his campaign is nearing the end, he intends to exit the race on a higher plane.

In something of a valedictory, he told the story of an older supporter in the Miami area who despite recently undergoing surgery was holding a Rubio sign outside an early-polling center.

"That gentleman has not given up on me, and I am not going to give up on him," Mr. Rubio said.

When Mr. Rubio did take Mr. Trump on, he did it sideways, acknowledging that Mr. Trump had tapped into a vein but warning that his style would have repercussions.

I know that a lot of people find appeal in the things Donald says because he says what people wish they could say," Mr. Rubio said. "The problem is presidents can't just say anything they want, because it has consequences here and around the world."Mr. Trump's temperament, a subject of deep anxiety among Republican Party leaders, came under scrutiny: He was challenged over his statement on Wednesday that "Islam hates us," but he kept his quick temper in check and responded with a minimum of defensiveness.

On the same day that footage emerged of an individual at a Trump rally punching a protester, Mr. Trump said of the episode, "I don't like it," adding that "they have anger that's unbelievable."

"There's also great love for the country," he said. "It's a beautiful thing in many respects. But I certainly do not condone that at all."

Mr. Cruz seemed to mock his vague tough talk, saying at one point, "The answer is not simply to yell 'China bad, Muslims bad.' " But Mr. Trump, again, did not respond in kind.

Mr. Trump had the air of a winner, noting that he was set to receive an endorsement on Friday from a former rival, the retired neurosurgeon Ben Carson, and suggesting that more voters were taking part in the Republican primaries than ever because of him.

"They're voting out of enthusiasm; they're voting out of love," Mr. Trump said, a rejoinder to news reports about violence breaking out at his rallies. "We are going to beat the Democrats, we are going to beat Hillary or whoever it may be, and we're going to beat them soundly."

The debate spotlight fell in a new way on Mr. Kasich, who has emerged as a major obstacle to Mr. Trump's sweeping next Tuesday's primaries.

While the two men barely sparred, Mr. Kasich did look for subtle opportunities to present himself as a strong, conservative executive with experience balancing budgets and tackling foreign policy challenges. When Mr. Trump tried to defend his remarks calling the Chinese government "strong" when it violently ended the democracy movement in Tiananmen Square in 1989, Mr. Kasich forcefully differed.

"I think that the Chinese government butchered those kids," he said, "and when that guy stood in front of — that young man stood in front of that tank, we ought to build a statue of him over here when he faced down the Chinese government."

Mr. Rubio and Mr. Cruz, who have been fierce adversaries for months and are now facing off in Florida, where they both have family roots, had moments where they teamed up against Mr. Trump. They were especially hard on him over Israel, challenging him over his comments that he would be a "neutral guy" in negotiating the conflict between Israel and thePalestinians.

While Mr. Cruz spoke fiercely on Israel's behalf, perhaps mindful of Jewish voters in Florida, Mr. Rubio was more polite toward Mr. Trump, suggesting that perhaps he misunderstood that being neutral could undercut Israel's interests and security.

Mr. Trump insisted that Israel would be an "absolute priority" for him but that his focus would be to broker a historic peace deal between Israelis and Palestinians and to be an arbiter at the negotiating table.

"Very, very pro-Israel, nobody is more pro-Israel, but I would like to give it a shot," he said.
The Washington Post also notes the more subdued tone:
CORAL GABLES, Fla. — There was an unfamiliar buzz on the debate stage here Thursday night: the sound of Republican presidential candidates engaging in a sober discussion of policy, rather than savaging each other.

Their 12th debate took a markedly different tone as Donald Trump's remaining three rivals prepare for a crucial round of primaries next week that could represent their last chance of stopping him on his march to the GOP nomination.

While there were sharp exchanges, they were over Social Security, visa programs for foreign workers, how to fix the veterans' health-care system, policy toward Cuba and the merits of free trade deals. No one mentioned "Little Marco," "Lyin' Ted" or the size of anyone's hands.

"We're all in this together," Trump said. "We're going to come up with solutions. We're going to find the answers to things.

"And, so far, I cannot believe how civil it's been up here," the celebrity billionaire marveled.

That was because each of them has something to prove and little time to do it.

Trump sought to project a command of issues and a temperament that is suited to the Oval Office, rather than a reality show.

Sen. Marco Rubio of Florida was attempting to repair the damage that he has done to his reputation, and his presidential prospects, by baiting Trump with schoolyard taunts.

Sen. Ted Cruz of Texas portrayed himself as an outsider, like Trump — but one with greater intellectual depth.

And Gov. John Kasich of Ohio emphasized his blue-collar roots and his governing experience — the latter commodity being one that thus far has not found a market in this year's discontented electorate.

Trump's opponents drew pointed yet substantive contrasts with the front-runner over his view that many Muslims around the world "hate" the United States. Cruz, Rubio and Kasich argued that Trump's rhetoric unnecessarily and dangerously alienates many peaceful followers of Islam, the world's second-largest religion.

"I know that a lot of people find appealing the things that Donald says because he says what people wish they could say," Rubio said. "The problem is presidents can't just say whatever they want. They have consequences, here and around the world."

Trump countered that Rubio and other politicians espouse a political correctness and diplomatic tone that endangers Americans.

"Marco talks about consequences," Trump said. "Well, we've had a lot of consequences, including airplanes flying into the World Trade Center, the Pentagon and could have been the White House. . . . You can be politically correct if you want. I don't want to be politically correct. I want to solve problems. And we have a problem of hate."

Rubio shot back: "I'm not interested in being politically correct. I'm interested in being correct."

Kasich said radical Islam is the greatest threat to the United States.

"They want to destroy everything we're about," Kasich said. But he also noted that cultivating alliances of shared trust with such Muslim countries as Saudi Arabia and Jordan is critical to the U.S. mission of defeating Islamic State terrorists.

Cruz agreed. "The answer is not simply to yell, 'China bad, Muslims bad.' You've got to understand the nature of the threats we're facing and how you deal with them."

A clear difference emerged on Social Security, with Trump vowing not to tinker with the popular federal retirement program and other candidates arguing that the system requires a sweeping overhaul, including pushing back the retirement age, to avert a future debt crisis.

"I will do everything within my power not to touch Social Security — to leave it the way it is, to make this country rich again, to bring back our jobs, to get rid of deficits, to get rid of waste, fraud and abuse, which is rampant in this country," Trump said.

Rubio said Trump's promise is unrealistic. "The numbers don't add up," the senator said, a line he repeated again and again.

"The bottom line is we can't just continue to tiptoe around this and throw out things like, 'I'm going to get at fraud and abuse,' " Rubio said. "You still have hundreds of billions of dollars of deficit that you're going to have to make up. And here's the thing: If we do not do it, we will have a debt crisis."

Cruz sounded a similar call. "Social Security right now is careening towards insolvency, and it's irresponsible. And any politician that doesn't step forward and address it is not being a real leader."

Trump was challenged on the fact that even as he has railed against the effects of international trade and immigration, he has profited from hiring foreign workers and manufacturing clothing in China and Mexico.

"I'm a businessman. These are laws. These are regulations. These are rules. We're allowed to do it," Trump said. "So I will take advantage of it; they're the laws. But I'm the one that knows how to change it. Nobody else on this dais knows how to change it like I do, believe me."

(…)

Thursday's debate at the University of Miami, sponsored by CNN, The Washington Times and Salem Radio Network, was the last time they would all be on the same stage before the next round of primaries.

A field that numbered nearly 20 candidates in their first face-off in August — so many that the debate had to be split into a main event and an undercard — has shrunk to four.

Trump has led nearly without interruption since then, and he has set the pace and tone, to the dismay of an increasingly impotent Republican establishment.

Rubio tried to put the brakes on Trump, and to get under his skin, by adopting the billionaire's own tactics. Starting at a debate in Houston on Feb. 25, he unleashed a barrage of personal insults. At one point, he made a joke about the size of Trump's hands that also suggested his genitalia are small.

But it backfired, as Rubio lost 18 of the next 20 contests.

"At the end of the day, it's not something I'm entirely proud of," Rubio acknowledged Wednesday. "My kids were embarrassed by it, and if I had to do it again, I wouldn't."
Given the fact that we're heading into a weekend and week in which literally everything is on the line for at least two, if not all, of the Republican candidates, the subdued tone was somewhat surprising. After all, this could well be the last time that Florida Senator Marco Rubio and Ohio Governor John Kasich appear on the Presidential stage due to the fact that a loss in their respective home states would mean the end of their campaigns, if not the end of their political careers altogether. Beyond those two, though, it's also a big weekend for Texas Senator Ted Cruz, who obviously is aiming to knock out at least Rubio and perhaps Kasich as well to get the one-on-one contest against Donald Trump that he's been hoping to get for some time now. For Trump, meanwhile, it was the last chance to appear before a large television audience before a week that, if it plays out correctly for him, could go a long way toward making him the Republican nominee for President. However it all ends on Tuesday night, it's fair to say that the race for the Republican nomination will most likely enter an entirely new phase.
Perhaps it was the fact that the rhetoric and tone of the last several debates had not really had any impact on the outcome of intervening primaries, or that it appeared to backfire on candidates like Marco Rubio. Perhaps it the campaigns realized that after hitting rock bottom there was a no place to go but upward, but the overwhelming assessment of last night's debate is that it was the most civil, and most substantive, Republican debate we've seen to date. In addition to touching on Social Security and even managing to have a subdued conversation about Islam that didn't even mention Donald Trump's idea to bar Muslims from coming to the United States for an unspecified period of time, the debate also saw something we haven't seen much of on the campaign trail, a more subdued Donald Trump. That part, of course, was likely part of what seems to be an ongoing effort by the Trump campaign to pivot to the General Election even as they continue attempting to close the deal with Republican voters. Of course, the fact that they are trying to do this while Trump supporters are being arrested for assaulting protesters and Trump's own campaign manager stands accused of assaulting a reporter makes the turn toward reasonableness seem somewhat hypocritical, but nonetheless there has been a marked change of tone from Trump in the last week or so that is likely to continue if he does well on Tuesday.
The biggest question, of course, is what impact this new tone might have on the outcome of the primaries on Tuesday in not only Ohio and Florida, but also in North Carolina, Illinois, and Missouri. In some sense, the answer is that it might not have much of an impact at all. For one thing, all of these states with the exception of Missouri have some form of early voting and early indications are that there has been strong turnout for early voting in both Florida and Ohio so far. This means that, for these states at least, a good part of the outcome is already baked in, with some certain percentage of voters having already voted. For them, last night's debate was largely irrelevant. It's hard to say who that benefits, but it's a factor worth keeping in mind as the results come in on Tuesday night. Additionally, polling seems to suggest that Donald Trump's lead in the polls in Florida, Illinois, and North Carolina may be insurmountable, so the only real questions of the night on Tuesday are likely to end up being Ohio, where Trump's lead in the polls over Governor John Kasich is fairly small, and Missouri, which has not been polled much at all for some reason. All of these states with the exception of North Carolina award their delegates on a Winner Take All basis, so even if Trump does lose to Kasich he's looking to have a fairly good night Tuesday night.
What impact last night's debate will have on all of this is unclear, but given the cacophony of coverage this race has gotten it's entirely possible that it won't have much of an impact at all.