Fidel Castro Admits Communism Doesn't Work
Fidel Castro is back in the public eye, but he's singing a slightly different tune now.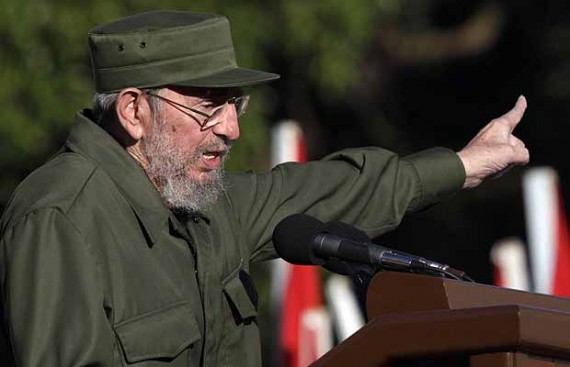 The Atlantic's Jeffrey Goldberg spent a week or so down in Cuba interviewing Fidel Castro, and among the things that came out of the aging, retired, dictators mouth is an admission that the Cuban economic model is a failure:
HAVANA – Fidel Castro told a visiting American journalist that Cuba's communist economic model doesn't work, a rare comment on domestic affairs from a man who has conspicuously steered clear of local issues since stepping down four years ago.

The fact that things are not working efficiently on this cash-strapped Caribbean island is hardly news. Fidel's brother Raul, the country's president, has said the same thing repeatedly. But the blunt assessment by the father of Cuba's 1959 revolution is sure to raise eyebrows.

Jeffrey Goldberg, a national correspondent for The Atlantic magazine, asked if Cuba's economic system was still worth exporting to other countries, and Castro replied: "The Cuban model doesn't even work for us anymore" Goldberg wrote Wednesday in a post on his Atlantic blog.

He said Castro made the comment casually over lunch following a long talk about the Middle East, and did not elaborate. The Cuban
Here's how Goldberg reported it in his post yesterday:
Even more striking was something he said at lunch on the day of our first meeting. We were seated around a smallish table; Castro, his wife, Dalia, his son; Antonio; Randy Alonso, a major figure in the government-run media; and Julia Sweig, the friend I brought with me to make sure, among other things, that I didn't say anything too stupid (Julia is a leading Latin American scholar at the Council on Foreign Relations). I initially was mainly interested in watching Fidel eat – it was a combination of digestive problems that conspired to nearly kill him, and so I thought I would do a bit of gastrointestinal Kremlinology and keep a careful eye on what he took in (for the record, he ingested small amounts of fish and salad, and quite a bit of bread dipped in olive oil, as well as a glass of red wine). But during the generally lighthearted conversation (we had just spent three hours talking about Iran and the Middle East), I asked him if he believed the Cuban model was still something worth exporting.

"The Cuban model doesn't even work for us anymore," he said.

This struck me as the mother of all Emily Litella moments. Did the leader of the Revolution just say, in essence, "Never mind"?

I asked Julia to interpret this stunning statement for me. She said, "He wasn't rejecting the ideas of the Revolution. I took it to be an acknowledgment that under 'the Cuban model' the state has much too big a role in the economic life of the country."
Given the economic failures of Cuba, and of Communism generally around the world, this is hardly a new revelation, although it is striking to hear it come from the mouth of the guy once known for given three hours stem-winding speeches on the virtues of state-run economies.
That isn't the only interesting thing that Goldberg has revealed about his interviews with Castro so far, on Tuesday he related a message that Fidel had for the leaders of Iran:
Castro's message to Mahmoud Ahmadinejad, the President of Iran, was not so abstract, however. Over the course of this first, five-hour discussion, Castro repeatedly returned to his excoriation of anti-Semitism. He criticized Ahmadinejad for denying the Holocaust and explained why the Iranian government would better serve the cause of peace by acknowledging the "unique" history of anti-Semitism and trying to understand why Israelis fear for their existence.

(…)

He went on, "Well, I didn't know what a Jew was. I knew of a bird that was a called a 'Jew,' and so for me the Jews were those birds.  These birds had big noses. I don't even know why they were called that. That's what I remember. This is how ignorant the entire population was."

He said the Iranian government should understand the consequences of theological anti-Semitism. "This went on for maybe two thousand years," he said. "I don't think anyone has been slandered more than the Jews. I would say much more than the Muslims. They have been slandered much more than the Muslims because they are blamed and slandered for everything. No one blames the Muslims for anything." The Iranian government should understand that the Jews "were expelled from their land, persecuted and mistreated all over the world, as the ones who killed God. In my judgment here's what happened to them: Reverse selection. What's reverse selection? Over 2,000 years they were subjected to terrible persecution and then to the pogroms. One might have assumed that they would have disappeared; I think their culture and religion kept them together as a nation." He continued: "The Jews have lived an existence that is much harder than ours. There is nothing that compares to the Holocaust." I asked him if he would tell Ahmadinejad what he was telling me. "I am saying this so you can communicate it," he answered.
It's unclear what Castro is aiming at here, obviously trying to find away to keep himself relevant despite his own retirement and the fact that his country remains a a relative backwater on the world stage. Nontheless, Castro is back and his pontificating. Perhaps he should start a blog instead of just reading them.