Fox News Sets Lineup For First Republican Debate
Donald Trump is center stage, John Kasich is in, and Rick Perry is relegated to the kid's table.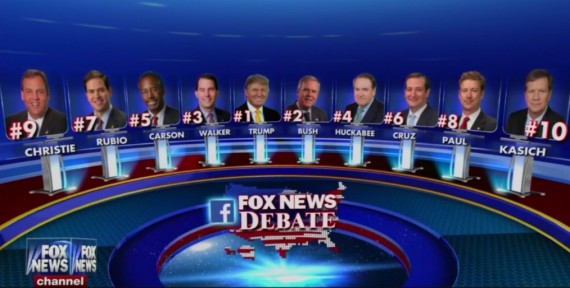 Fox News has announced the lineup for Thursday's Republican Presidential debate, and it's about what we expected:
Fox News has announced the line-up for the prime-time Republican presidential debate this Thursday, and here's who qualified:

Real estate magnate Donald Trump; former Florida Gov. Jeb Bush; Wisconsin Gov. Scott Walker; former Arkansas Gov. Mike Huckabee; retired neurosurgeon Ben Carson; Texas Sen. Ted Cruz; Florida Sen. Marco Rubio; Kentucky Sen. Rand Paul; New Jersey Gov. Chris Christie; and Ohio Gov. John Kasich.

The roster of 10 candidates was determined based on an average of the five most recent national polls. Trump as expected made the cut, as did Bush and Walker, who have each posted strong numbers in recent surveys.

The drama, rather, was at the edge of the top 10. Christie and Kasich, who were hovering by that edge in recent polling, were able to qualify.

But former Texas Gov. Rick Perry, former Pennsylvania Sen. Rick Santorum and several others will not be on the prime-time, 9 p.m. ET stage. The seven who did not make the top 10 will be invited to a separate 5 p.m. ET debate. Aside from Perry and Santorum, this includes Louisiana Gov. Bobby Jindal; former HP head Carly Fiorina; South Carolina Sen. Lindsey Graham; former New York Gov. George Pataki; and former Virginia Gov. Jim Gilmore.

The five polls included in the average that determined the line-up were conducted by Bloomberg, CBS News, Fox News, Monmouth University and Quinnipiac University.

The debates, hosted by Fox News and Facebook in conjunction with the Ohio Republican Party, will be held at the Quicken Loans Arena in Cleveland, Ohio.

With the campaign lately being rocked by Trump's rise in the polls above the jam-packed field, though, the big question is how the other nine candidates will hold their own on the prime-time stage — and whether Trump will remain the front-runner after his debate debut.

For political outsiders like Trump and Carson, Democratic strategist Doug Schoen said, "The question is are they ready, literally and metaphorically, for prime-time?"

The debate will test whether they can articulate a "cogent narrative of what they'll do to promote and provoke change in our country," Schoen said.

Analysts have warned that Trump, whose bomb-throwing persona has seemingly fueled his climb, stands to lose traction if he can't command the stage.

Steve Deace, who hosts a conservative radio talk show in the Hawkeye State, said: "His entire campaign is based on him being a blunt instrument" and if he holds back, "that would be the death knell for him.
Given how the polling has been going for the past week, with Kasich and Christie rising in the polls while Perry fell, this is about the result that everyone was expecting today. As I noted earlier, there was some speculation that Fox News would end up making an exception to its rules and bringing Perry into the main debate given the fact that he had run for President before and had served as a Governor for over a decade. Had he ended up closer in the average to Christie and Kasich, it's possible that this would have happened since you could make a plausible case that a difference of a few tenths of a percentage point in a polling average doesn't really amount to very much. However, because Perry has been declining in the polls for the better part two weeks now he now stands nearly a full percentage point behind Kasich and Christie, although he still outperforms everyone else in the bottom seven who will be participating in the consolation debate that airs at 5pm on Thursday afternoon. Given that, it would have been something of a stretch to drag Perry into the main debate, especially since adding an eleventh person to that debate would make a situation that already seems quite unmanageable quite chaotic and even less substantive than the rules that Fox News has already established are likely to allow.
No doubt, several of the candidates who are being relegated to what is being referred to as the "Kid's Table Debate" will complain about the arbitrariness of Fox News's decision here, but it seems to me that they've made the best of a very difficult situation. In a different year, it would fair to say that candidates with substantive political records like George Pataki and Lindsey Graham should be allowed to participate in the first round of debates. This is not a typical year, however. We have seventeen announced arguably credible candidates for the Republican nomination, this is the largest field that either party has seen in decades and may well be the largest field that any party has ever fielded for a Presidential race in American history. Seventeen people on a debate stage is simply unmanageable and would not lead to anything informative for voters. Therefore, it is entirely reasonable for Fox News and CNN, which is staging the second debate in September, to set some kind of reasonable criteria for participation, and the Top Ten candidates in the most recent polls seems as if it is the most reasonable option available. Additionally, while it's unlikely that any of the seven candidates in the consolation debate will ever be a contender for the nomination, they arguably might have a better chance of breaking through with the public in a forum that wasn't dominated by outsized personalities like Donald Trump and Ted Cruz. Who knows, maybe one of these seven will do well enough to push themselves into the top ten for the CNN debate. If they weren't being given a consolation forum at all, I could see the grounds for these candidates to complain, but they will still getting airtime and it will be up to them to get their message across. If they fail, they've got nobody to blame but themselves.