Future Debates Likely To Have Fewer Participants
Future debates among the 2020 Democratic candidates are likely to have fewer participants. That's a good thing.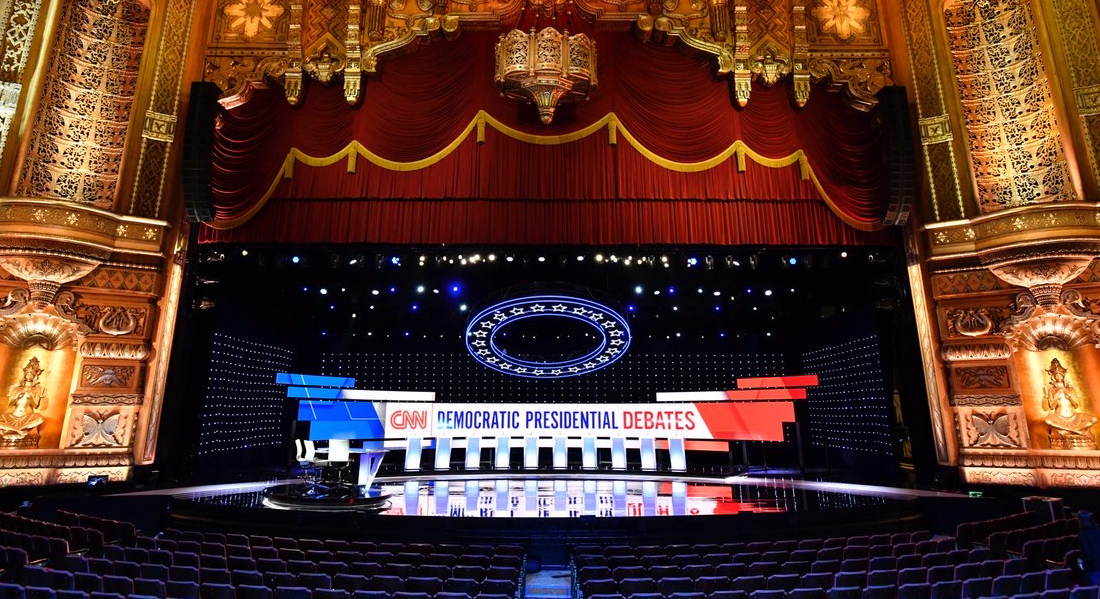 While we continue to absorb the impact of the Second Presidential Debate, The New York Times notes that, so far, only seven candidates have qualified for the third and fourth debates, although nearly a month remains for other candidates to do so:
The Democratic National Committee has set stricter criteria for the third set of debates, which will be held on Sept. 12 and Sept. 13 in Houston. If 10 or fewer candidates qualify, the debate will take place on only one night.

Candidates will need to have 130,000 unique donors and register at least 2 percent support in four polls. They have until Aug. 28 to reach those benchmarks.

These criteria could easily halve the field: The first two sets of debates included 20 of the 24 candidates, but a New York Times analysis of polls and donor numbers shows that only 10 to 12 candidates are likely to make the third round.
Seven candidates have already met both qualification thresholds and are guaranteed a spot on stage. They are:

Former Vice President Joseph R. Biden Jr.

Senator Cory Booker of New Jersey

Mayor Pete Buttigieg of South Bend, Ind.

Senator Kamala Harris of California

Former Representative Beto O'Rourke of Texas

Senator Bernie Sanders of Vermont

Senator Elizabeth Warren of Massachusetts

Three other candidates are very close: The former housing secretary Julián Castro and the entrepreneur Andrew Yang have surpassed 130,000 donations and each have three of the four qualifying polls they need, while Senator Amy Klobuchar of Minnesota has met the polling threshold and has about 120,000 donors.

Beyond them, only three candidates have even a single qualifying poll to their name: the impeachment activist Tom Steyer (2 polls), Representative Tulsi Gabbard of Hawaii (1) and former Gov. John Hickenlooper of Colorado (1).

We asked all three of their campaigns to provide donor numbers so we could assess where they stood. Ms. Gabbard had just under 114,000 donors as of Wednesday night. A spokesman for Mr. Steyer said he was "on track to collect the required number of donors to make the September debate stage" but did not give a number. Mr. Hickenlooper's campaign did not respond, but Politico reported a month ago that he had only 13,000 donors.

The other 11 candidates in the race have no qualifying polls to their name, and they all went into this week's debates seeking a viral moment that would attract new donors and lift them, even briefly, in the polls.

The qualification rules do not require enduring support. Even a small post-debate surge could push a 1 percent candidate up to 2 percent in the small handful of polls he or she needs.
As I said earlier today, increasing the debate criteria in the manner that the Democratic National Committee is doing here seems entirely appropriate. Regardless of which party one is talking about, or the size of the field, it makes sense to start out with relatively liberal criteria for the early debates so that all of the credible candidates have an opportunity to introduce themselves to the public and make the case for the candidates. Now that we've had two nationwide debates, nearly all of those candidates have had the chance to do that at least once and in most cases twice. The rest, however, is up to them.
Needless to say, those candidates that fail to qualify for the third and fourth debates will have likely hit the end of the road. The DNC has yet to announce the criteria that would apply to future debates after those scheduled for October, or for those tentatively scheduled for November, December, and January in advance of the Iowa Caucuses, but one presumes they will be tighter than these new criteria. This means that the coming weeks will be "do or die" for many of these candidates, and most of them are not going to make it through.
In any case, a smaller debate stage will be a welcome improvement. While these first two debates have been somewhat interesting they have both suffered from the fact that there are simply too many candidates on the stage at once for there to be anything approaching a meaningful debate and discussion between the candidates. A smaller debate stage should allow for more substantive discussions and more time for candidates to make their points and respond to their adversaries.
So far, though, I must say that the Democratic debates are proving to be more substantive than the Republican debates in 2016. Of course, the main reason for that is probably the fact that there isn't really an equivalent to Donald Trump on the stage to steal the spotlight. That's not to say that there aren't nutty candidates on the stage, of course. Marianne Williamson, the counselor who made a name for herself by appearing on Oprah Winfrey's old show, continues to spout so much "New Age" nonsense that I half expected her to bring out the healing crystals during last night's debate. In another respect, Tulsi Gabbard seems like she'd be more at home in the Green Party than she is as a Democrat. Beyond that, though, most of these candidates are at least serious politicians on some level notwithstanding the fact that most of them are just deluding themselves if they think they have any chance of winning the nomination. Most of them wouldn't stand a chance in a race even against Donald Trump, of course, and several of them are centrists that are sadly out of place in a Democratic Party drifting to the left, but they are at least serious candidates.