Game (Almost) Over?: House Will Vote On Senate Plan First, Pass It With Democratic Votes
A plan finally starting to come together?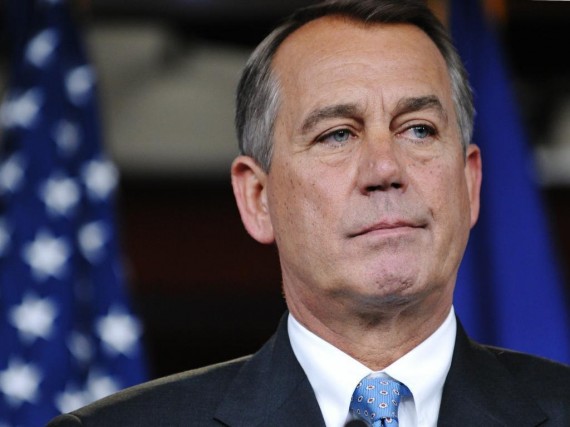 We still don't know exactly what is in the plan the Senators Reid and McConnell are currently still working on, although it reportedly would largely comport with what I talked about yesterday, however it does appear that we're nearing the end of this game:
The House will vote first on an emerging Senate proposal to open government and lift the debt ceiling, a move that would expedite bipartisan legislation developed by Senate Majority Leader Harry Reid and Minority Leader Mitch McConnell.

The move means that there is now a clear path to end the first government shutdown in 17 years, and the country now appears closer to avoiding the first potential economy-shaking default on U.S. debt.

If the House passes the bill first and sends it to the upper chamber, it would eliminate some burdensome procedural hurdles in the Senate and require just one procedural roll call with a 60-vote threshold needed to advance the bill toward final passage in the Senate.

It could be an extraordinarily risky play for Speaker John Boehner (R-Ohio), because it's far from clear any Senate proposal would garner the majority of the House Republican Conference. House Republicans have clung to the so-called Hastert Rule, a mantra that the House speaker should not try to pass a bill that doesn't have the support of the "majority of the majority." In this case, that would mean 117 Republicans must support the bill to avoid getting crosswise with the rule. Top GOP sources say it's unlikely they will reach that level of support.

But the fact that House Republicans are now planning to go that route marks a stunning reversal for the speaker who had backed his conservative wing's drive to gut Obamacare as part of the government shutdown fight, now in its third week.
NRO's Robert Costa also reports that Boehner will allow the bill to pass even in the face of what could be strong Republican opposition:
Per Sen sources, Boehner has agreed to take up the Senate's plan and allow it to pass with Dem votes.

— Robert Costa (@robertcostaNRO) October 16, 2013
As I noted before, there are several procedural advantages in the Senate to letting the House go first on this vote, but there's still the open question about how Senators like Ted Cruz and Mike Lee might proceed when the bill actually does get to the Senate floor. They can't win, they'd likely aggravate the leadership in their party even more than they already have, but they could slow down the bill if they wanted to. However, as Ed Morrissey notes, if the House does end up passing the bill, which seems likely now, then Cruz and/or Lee are going to look pretty foolish forcing a pointless delay on the Senate, and they're likely to just increase the ire for both of them that has been coming from Republicans who spent much of the summer warning that the strategy they were advocating was never going to succeed to begin with.
As for Boehner, it's unclear what all of this will mean for his leadership. There may be as many as 50 Republicans willing to rebel against him right now, but the problem they face is that they don't really have anyone to replace him with. The most obvious choices — Majority Leader Eric Cantor, Majority Whip Kevin McCarthy, and Budget Committee Chair Paul Ryan — have all been Boehner loyalists throughout this fight and it's hard to see any of them wanting to be the focus of a coup attempt that may not actually succeed. That will be a battle for another day, though, as will the even bigger battle that many are starting to foresee between national Republicans and those tied to the Tea Party who led the GOP into this foolish battle to begin with.
Update: With Ted Cruz and Mike Lee now saying that they will not seek to block the bill in the Senate, there is speculation that the Senate will take up the bill first and then send it to the House for a final vote.