Gay Soldier Gets Booed For Asking About Don't Ask Don't Tell At GOP Debate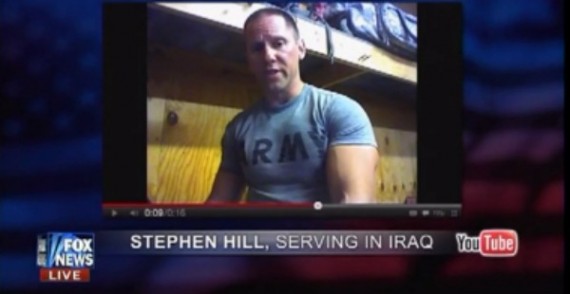 So far, audience members at September's Republican debate have cheered the death of 234 people in Texas and the idea of letting someone without health insurance die. Last night, there were actually boos for a member of the United States military:
At Thursday night's Fox News/Google Republican Presidential Debate, the crowd was once again the star of an ugly moment. Moderator Megyn Kelly introduced a question via Youtube from Stephen Hill, a soldier who's currently serving in Iraq. When the man asked what the candidates would do about the US policy on gays in the military, like himself, several in the crowd booed loudly. When candidate Rick Santorum replied that he would reinstate DADT, a thunderous ovation followed.

"Do you plan to circumvent the progress that has been made for gay and lesbian soldiers in the military?" Hill asked, to several loud boos, and silence from the rest of the crowd. There was no applause when his service to our nation was mentioned, and the crowd thunderously approved of Santorum's answer, that he would reinstate "Don't ask, don't tell."

From the look of him, I doubt very much anyone in that audience would have booed him to his face.
One would think not, and if there's one thing I never thought I'd see at a Republican debate it would be a member of the United States military serving his country in a dangerous part of the world getting booed because he happens to be gay. And yet, that's exactly what happened:
Of course, Santorum's response wasn't much better. He said, rather bizarrely, that sexual activity has no place in the military, which leads one to wonder if he wants to create an all-virgin military, or if he wants to model the Marines after the Catholic Priesthood (an experiment that I am confident in saying would most assuredly fail). And, he called repealing the law that forced gay and lesbian soldiers to live their private lives in secret for fear of ruining their careers as "social experimentation." As the leaders of the gay conservative GOProud said last night, Santorum owes Hill an apology:
"Tonight, Rick Santorum disrespected our brave men and women in uniform, and he owes Stephen Hill, the gay soldier who asked him the question about Don't Ask, Don't Tell repeal, an immediate apology.

"That brave gay soldier is doing something Rick Santorum has never done – put his life on the line to defend our freedoms and our way of life.  It is telling that Rick Santorum is so blinded by his anti-gay bigotry that he couldn't even bring himself to thank that gay soldier for his service.

"Stephen Hill is serving our country in Iraq, fighting a war Senator Santorum says he supports.  How can Senator Santorum claim to support this war if he doesn't support the brave men and women who are fighting it?"
And yet the members of the crowd in Orlando cheered Santorum and booed a man who's putting his life on his line for his country. Because he's gay. That's pretty pathetic.
Screen capture via The Atlantic