George W. Bush Attacks Obama On Foreign Policy
Pot, meet kettle.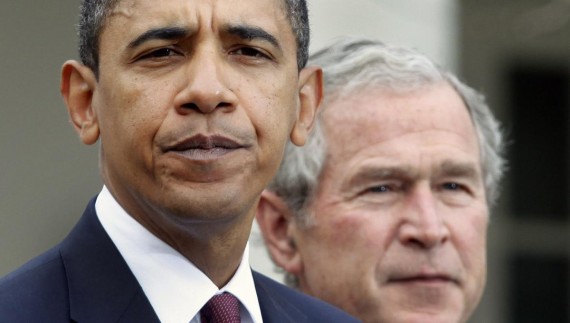 For the most part, former President George W. Bush has followed the example set by his father and remained quiet regarding the policy decisions made by his successor in office, something that has set him apart from the rest of his part and, of course, his brother, who is now in the process of running to succeed President Obama. That came to an end over the weekend, though, when President Bush apparently decided to open up on the sitting President at a private event in Las Vegas:
In a closed-door meeting with Jewish donors on Saturday night, former President George W. Bush delivered his harshest public criticisms to date against his successor on foreign policy, saying that President Barack Obama is being naïve about Iran and the pending nuclear deal and losing the war against the Islamic State.

One attendee at the Republican Jewish Coalition session, held at the Venetian Hotel in Las Vegas with owner Sheldon Adelson in attendance, transcribed large portions of Bush's remarks. The former president, who rarely ever criticizes Obama in public, at first remarked that the idea of re-entering the political arena was something he didn't want to do. He then proceeded to explain why Obama, in his view, was placing the U.S. in "retreat" around the world. He also said Obama was misreading Iran's intentions while relaxing sanctions on Tehran too easily.

According to the attendee's transcription, Bush noted that Iran has a new president, Hassan Rouhani. "He's smooth," Bush said. "And you've got to ask yourself, is there a new policy or did they just change the spokesman?"

Bush said that Obama's plan to lift sanctions on Iran with a promise that they could snap back in place at any time was not plausible. He also said the deal would be bad for American national security in the long term: "You think the Middle East is chaotic now? Imagine what it looks like for our grandchildren. That's how Americans should view the deal."

Bush then went into a detailed criticism of Obama's policies in fighting the Islamic State and dealing with the chaos in Iraq. On Obama's decision to withdraw all U.S. troops in Iraq at the end of 2011, he quoted Senator Lindsey Graham calling it a "strategic blunder." Bush signed an agreement with the Iraqi government to withdraw those troops, but the idea had been to negotiate a new status of forces agreement to keep U.S. forces there past 2011. The Obama administration tried and failed to negotiate such an agreement.

Bush said he views the rise of the Islamic State as al-Qaeda's "second act" and that they may have changed the name but that murdering innocents is still the favored tactic. He defended his own administration's handling of terrorism, noting that the terrorist Khalid Sheikh Mohammed, who confessed to killing Wall Street Journal reporter Daniel Pearl, was captured on his watch: "Just remember the guy who slit Danny Pearl's throat is in Gitmo, and now they're doing it on TV."

Obama promised to degrade and destroy Islamic State's forces but then didn't develop a strategy to complete the mission, Bush said. He said that if you have a military goal and you mean it, "you call in your military and say 'What's your plan?' " He indirectly touted his own decision to surge troops to Iraq in 2007, by saying, "When the plan wasn't working in Iraq, we changed."

"In order to be an effective president … when you say something you have to mean it," he said. "You gotta kill em."
On some level, of course, the idea of former President Bush criticizing his successor regarding his policies in the Middle East in general, and Iraq in particular, would seem to be a fine example of chutzpah. After all, as I and many others have pointed out before, there is a strong case to be made that many of the problems that the world is facing today in that part of the world can be directly tied to the 43rd President's decision to go to war in Iraq in 2003 and the forces that it set in motion both in Iraq and elsewhere in the region. At its most basic level, it's simply an undeniable fact that the organization that we call ISIS began its like as al Qaeda in Iraq, an organization that was formed in direct response to the American invasion and which flourished in the years after the downfall of the regime of Saddam Hussein thanks largely to an influx of foreign fighters who came to Iraq to kill and maim American soldiers. Would there even be an ISIS if there had been no Iraq War? The answer to that question seems to pretty clearly be that it would not. That isn't to say that an Iraq where there had never been an American invasion in 2003 would be a garden of peace, but we can most assuredly say that much of what has happened in that country and, by extension, in Syria in many respects, would not have occurred if President Bush had not insisted on invading Iraq in 2003 for reasons that, even at the time, seemed dubious at best. Given that, any opinions that he expresses today about foreign policy in general, and the Middle East in particular, should be taken with a grain of salt at the very least and perhaps don't even deserve to be given much credibility at all.
None of this is to say, of course, that President Obama's foreign policy is not above criticism. Whether its in Syria, Libya, Yemen, the conflict against ISIS, or what clearly seems in retrospect to have been an ill-advised Afghan Surge, the current President has made plenty of his own mistakes that are likely to resonate long after he leaves office, just like his predecessor did. In many cases, though, the mistakes have come in instances where he was essentially following the same policies that had been first laid down by his predecessors. The supporters of both Presidents will deny that vehemently, of course, but it seems to certainly be the case. The Afghan Surge was, to a large degree, President Obama doubling down on the strategy that Bush had adopted in Afghanistan when that war suddenly turned away from fighting al Qaeda toward propping up the regime in Kabul. His decision to join the Europeans in a Libyan intervention that is only now beginning to manifest it in the chaos that many critics of the strategy predicted bears many resemblances to the Iraq War even though the military footprint was far less substantial. The decision to extend the "War On Terror" into countless nations around the world through drone strikes and targeted assassinations has reinforced much of the resentment against the United States that similar policies by the Bush Administration had. For two Presidential terms now, we've had Presidents playing games in the Middle East when its clear that they have little understanding what they are doing, and we're only beginning to understand the consequences of what they've done for the world. The ironic thing is that the guy who wrote the playbook is criticizing his most successful protege for basically doing the same things he did.
Josh Rogin put it quite well:
For George W. Bush, the remarks in Vegas showed he has little respect for how the current president is running the world. He also revealed that he takes little responsibility for the policies that he put in place that contributed to the current state of affairs
The interesting question, of course, is why Bush chose this point in time to start saying things that he has probably believed for quite some time now. The only logical conclusion is that he is motivated to do this because of his brother's impending run for the Presidency. If that's his motivation, then it strikes me that he could end up doing his brother more harm than good. As it is, Republican activists are not entirely thrilled with Jeb Bush to begin with, and there's been much conversation about the wisdom and propriety of nominating yet another member of the same family for President. Additionally, in the same meeting,  and in other forums, the former President has admitted that he could potentially be a liability for his brother due to his own standing with the public. Most recent polling shows the former President with the highest negative ratings of any living former President, for example. Putting himself out there now, just as his brother is seeking to shake off the idea that he's just another Bush as he runs for office seems to be counterproductive. I wouldn't expect to see George W. Bush out on the stump for his brother, but I can't think that it's helpful when he puts himself out in the public like this, especially on a topic where he is just as open to criticism as President Obama. So, if former President Bush thinks he's doing he's brother any favors by speaking out now he's likely to be sadly mistaken.