George W. Bush Wants To Send Combat Troops To Iraq Again
Fool us once, shame on you. Fool us twice, shame on us.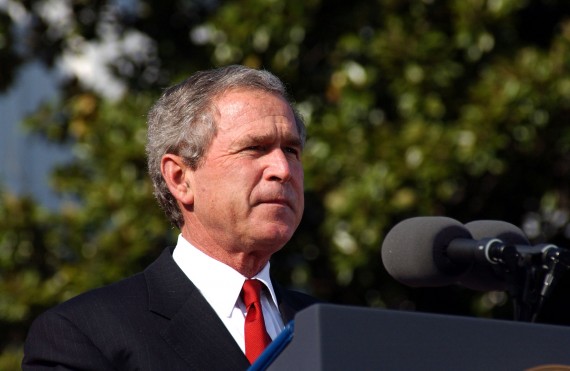 Former President George W. Bush told an Israeli newspaper that he believes that the United States needs to put "boots on the ground" if it is going to succeed in the fight against ISIS:
The United States will need combat troops on the ground to defeat the Islamic State in Iraq and Syria (ISIS), former President George W. Bush suggested in a new interview.

"The president will have to make that determination," Bush said in an interview published Friday with the Israel Hayom newspaper when asked if ISIS could be defeated without ground troops.

"My position was that you need to have boots on the ground," he said.

Bush made the comments days after President Obama said he was sending more troops to Iraq. Obama has

authorized

 sending up to 450 additional U.S. troops "to train, advise, and assist" local Iraqi forces battling ISIS, White House spokesman Josh Earnest said. They will not serve in combat.

There are currently 3,100 U.S. military members in Iraq, with all serving in an advisory role. The Obama administration has also opted for airstrikes to combat the terrorist group in Syria, where it has taken over large areas of land.

Bush said he faced the "very difficult decision" as president to double-down and send additional U.S. troops to Iraq amid mounting casualties and eroding public support for the war.

"I think history will show that al-Qaida in Iraq was defeated," said Bush, who in the interview described al Qaeda as "ISIS as far as I am concerned."

"I chose the path of boots on the ground. We will see whether or not our government adjusts to the realities on the ground."
Here's the relevant part of the interview:
Q: Is the war on terror currently being waged in the proper way?

"I made a decision, as you know, not to criticize my successors, with an s. I am going to be around a little bit longer — there is going to be more than one successor. The temptation is to try to rewrite history or to make yourself look good by criticizing someone else. I think that is a mistake. I don't think that is what leadership is all about. I know how hard the job is. I didn't like it when former leaders criticized me when I was president. Some did, so I decided not to do the same."

Q: You mentioned ISIS, you spoke about defeating terror. Is it possible to defeat ISIS in Syria and Iraq without boots on the ground?

"The president will have to make that determination. My position was that you need to have boots on the ground. As you know, I made a very difficult decision. A fair number of people in our country were saying that it was impossible to defeat al-Qaida — which is ISIS as far as I am concerned. They said I must get out of Iraq. But I chose the opposite — I sent 30,000 more troops as opposed to 30,000 fewer. I think history will show that al-Qaida in Iraq was defeated. And so I chose the path of boots on the ground. We will see whether or not our government adjusts to the realities on the ground."
Before getting to the substance of Bush's comments, it's worth addressing the point he makes in response to his first question. In that response, Bush repeats a position he has taken since leaving office in 2009 in saying that he didn't think it was appropriate for him to criticize his successor and, for the most part, he has adhered to that position over the past five years. His response to the second question, though, makes it clear that he is indeed attacking the President's policy toward ISIS at least by implication since he is clearly saying that the Administration is not adjusting to "the realities on the ground." Of course, this isn't the first time that the former President has criticized his predecessor. Back in April, it was reported that Bush criticized the ongoing nuclear negotiations with Iran in a closed door meeting with Jewish donors. This is interesting largely because of the fact that Bush's brother is running for President, and the eight years of Bush Presidency are something that Jeb Bush is going to have hanging over his head throughout the campaign. I'm not sure how much it helps him to have his brother out there reminding people of the bad old days.
Leaving aside the political angle, though, it's fascinating to see just how little former President Bush has learned since leaving office. Even in his own response, Bush acknowledges the link between al Qaida in Iraq, an organization that did not exist prior to the American invasion and which was energized by American military action, and ISIS and then claims that al Qaida in Iraq was defeated when he left office. The fact that the organization revitalized itself and now controls a vast swath of territory in both Iraq and Syria would seem to suggest that Bush's claims to have defeated them are little more than wishful thinking and that, at best, the surge to which Bush refers only succeeded temporarily by pushing al Qaida in Iraq and other extremists into hiding. Once they found others areas in which to expand their power, such as Syria, that temporary truce came to a quick end. As I've said before, while you can't say that the Iraq War bears the sole blame for the world we are dealing with today in Iraq and Syria, it certainly bears the majority of the responsibility. Bush, quite obviously, still does not recognize that fact.
None of this is to say that President Obama's war on Isis is going well, or that the policy he's following is the correct one. In the year since American and allied airstrikes against ISIS targets began, we've seen some push back against the Islamic State on the ground, but we've also seen ISIS consolidate its hold over the territory it has gained while the Iraqi Army continues to retreat even when it vastly outnumbers its opponent, something that recently lead Defense Secretary Ashton Carter to say that the Iraqis have lost the will to fight. In reaction to these most recent developments, President Obama has announced that he is sending another 450 American military advisers to Iraq to assist the Iraqi Army and there are reports that he is "open" to expanding the troop presence and opening bases in Iraq.
Neither one of these approaches seem likely to address the real problems that are helping ISIS consolidate its power, because all of those are related to internal political matters in Iraq and Syria. The only the thing the President's strategy for the past year has seemed to accomplish is to drag us deeper and deeper into a conflict that we still don't seem to clearly understand, with goals that we probably can't achieve on their own, and in an manner that will make getting out when we realize the error quite difficult to say the least. In other words, it's a kind of escalation similar to what we saw in the build up to the Vietnam War, and we know how that ended. The war against ISIS may not get that bad, but it's unlikely to get any better any time soon and its hard to see how getting the United States more involved in it will be to our benefit.
As for former President Bush, though, to be completely frank about it he is the last person who should be giving advice about how to deal with a military situation in Iraq. We tried his approach once, it failed spectacularly, and we're still dealing with the consequences.