GOP Congressman Questions Legitimacy Of Obama's Birth Certificate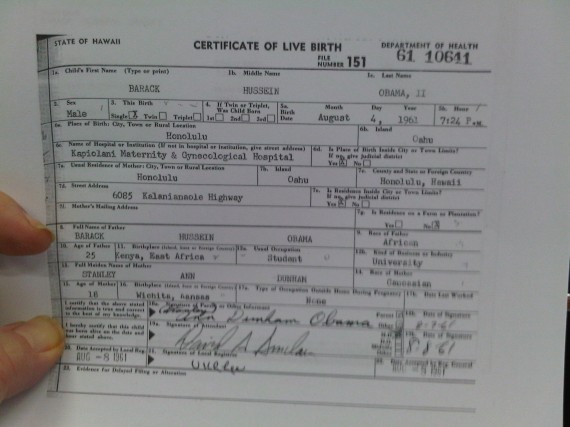 Longtime Florida Congressman Cliff Stearns is, apparently, a birther:
Rep. Cliff Stearns (R-Fla.), already under fire for allegations he bribed his primary opponent to drop out of the race, questioned the legitimacy of President Obama's birth certificate at a town-hall meeting.

Meeting with constituents in Belleview, Fla., on Feb. 25, Stearns was asked about Obama's citizenship and whether a grand jury was looking into the issue. Stearns said the "general consensus" was that Obama had produced a birth certificate.

"The question is, is it legitimate? That's where we stand now," Stearns said in a video first obtained by the blog Think Progress. "I've seen a copy of it on television. But you know the governor of Hawaii couldn't get what he felt was an original of the birth certificate. He tried to do it and gave up on it."

(…)

"I think what Obama's showing is a facsimile, but I think that debate probably is not enough, shall we say, just to impeach him," said Stearns, a 12-term lawmaker. "We're going to have an election in five or six months, so we can change the course of history by electing someone other than Obama."

Stearns told constituents to focus on beating Obama in the ballot box — not because the "birther" allegations were false, necessarily, but because it would be easier to achieve politically.

"If we started impeachment this time of year, [it would be] very difficult in terms of time and strength," Stearns said.
This is all nonsense, of course, and now we've got a Congressman repeating it, albeit a Congressman who is under an ethical cloud.  And people thought this would end when Obama gave them what they said they wanted. The fact that people like this weren't laughed out of the Republican Party years ago is just another sign of how much trouble they are in, I think.