GOP On ObamaCare: Goodbye Repeal/Defund/Delay, Hello 'Let It Burn'?
The GOP seems to be shifting strategy on the Affordable Care Act.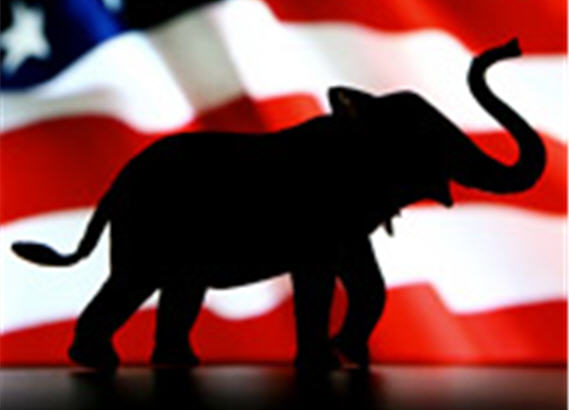 In partial answer to the question I posed yesterday about whether or not we might have to worry about a new government shutdown fight in early 2014 the deadlines set as part of the deal that ended the Federal Government shutdown last month, it appears that the Republican Party has decided to shift strategies on how it will attack the President and Democrats in general, and the Affordable Care Act in particular, headed into the 2014 midterms. In short, the strategy can be summed up in three simple words, let it burn:
Republican lawmakers who pushed the government shutdown to stop ObamaCare say their new plan is to sit back and watch the law self-destruct.

Sen. Mike Lee (R-Utah) and other Tea Party allies of Sen. Ted Cruz (R-Texas) say the threat of a shutdown is no longer necessary to defund the Affordable Care Act (ACA) now that the administration's rollout is flailing.

While Cruz is not ruling out another attempt to use government funding as leverage, his allies think they already have the political support they need to repeal the healthcare reform law.

"Leverage is building every day," said Lee. "It won't necessarily require us to rely on using the [continuing resolution]."
Outside of the Cruz/Lee/Tea Party sphere, the GOP as a whole appears to be prepared to pursue the same strategy, with much emphasis being placed on what it believes will be the continuing negative impact of what has been, to date, a rather disastrous roll out:
WASHINGTON — The memo distributed to House Republicans this week was concise and blunt, listing talking points and marching orders: "Because of Obamacare, I Lost My Insurance." "Obamacare Increases Health Care Costs." "The Exchanges May Not Be Secure, Putting Personal Information at Risk." "Continue Collecting Constituent Stories."

The document, the product of a series of closed-door strategy sessions that began in mid-October, is part of an increasingly organized Republican attack on the Affordable Care Act, President Obama's signature legislative initiative. Republican strategists say that over the next several months, they intend to keep Democrats on their heels through a multilayered, sequenced assault.

The idea is to gather stories of people affected by the health care law — through social media, letters from constituents, or meetings during visits back home — and use them to open a line of attack, keep it going until it enters the public discourse and forces a response, then quickly pivot to the next topic.

For a House more used to disarray than methodical game plans, the success so far has been something of a surprise, even to the campaign's organizers.

"Yeah, there is a method being followed here," said Representative Michael C. Burgess, a Texas Republican involved in the effort, "but, really, these stories are creating themselves."

First it was the malfunctioning website, HealthCare.gov, then millions of insurance policy cancellation notices sent to individuals with plans that did not meet the requirements of the health law. Earlier this week, the House aired allegations that personal data is insecure on the Internet-based insurance exchanges.

At a congressional field hearing set for Friday in Gastonia, N.C., the line of attack will shift to rate shocks expected to jolt the insurance markets in the next two years. Coming soon: a push to highlight people losing access to their longtime physicians and changes in Medicare Advantage programs for older people.

The effort has its roots in a strategy developed last spring, when House Republican leaders — plagued by party divisions that were thwarting legislative accomplishments — refocused the House's committees on oversight rather than on the development of new policies.

(…)

Republicans are already looking ahead to next year, when they expect a raft of new issues as people start using their new health plans.

"We're trying to stay as agile as we can," said Brendan Buck, a spokesman for Mr. Boehner. "We know what issues are coming. We know what the consequences will be. We can't say when they will pop exactly, but we're prepared to talk about them."
As a political matter, this is certainly a smarter strategy than the one the GOP tried to follow over the summer and leading into the budget showdown in September that led to the disastrous and utterly pointless Federal Government shutdown in October. Even with all of the bad publicity that the PPACA has gotten over the past two weeks, the political dynamics have not changed on Capitol Hill. Republicans still don't have enough votes in the Senate to repeal, defund, or delay the PPACA, and they don't control the White House. As long as those two facts remain true, then anything they try to do in that area is doomed to fail. Additionally, it seems as though they've learned the lesson of the October shutdown and are smart enough not to try to tie a doomed strategy against ObamaCare to budget negotiations or the debt ceiling. So, for better or worse, the only thing that they can do is to continue hammering away on the negative news that seems to come out about the law on a daily basis and make the 2014 campaign at least a part a referendum on the health care law. The counter argument to this strategy, of course, is that it's entirely possible that the problems we've been seeing for the past six weeks will clear themselves up and that, by the time people go to the polls the law will start to be seen as a big success. While I don't dismiss that possibility, it's also possibility that things will get much worse, and that Democrats will end up paying an electoral price:
Some of Obamacare's most damaging political narratives will be getting a fresh look right before next year's midterms, thanks to delays in the law's implementation.

Canceled insurance plans are the most obvious example. President Obama said last week that insurers can un-cancel certain policies for another year, a move largely designed to appease nervous Democrats. But a one-year delay simply means that cancellation notices will resume next October—just weeks before many of those same Democrats will face voters for the first time since voting to pass the Affordable Care Act.

And that's not the only political threat lurking just ahead of the 2014 midterms. The White House also delayed the law's employer mandate until 2015. That means employers will be deciding in mid- to late 2014 whether they're going to offer health benefits under the mandate—and whether to cut employees' hours to avoid providing them with health care.

"They're concentrating everything in the fall of next year, and that's a very dangerous time to be doing it," said Douglas Holtz-Eakin, a conservative economist who leads the American Action Forum.

(…)

The biggest effect of the employer mandate, she said, will be on the roughly one-third of employers affected by the law's definition of a full-time employee. Businesses must provide coverage to everyone who works at least 30 hours per week (not 40), a threshold most employers aren't used to.

Republicans have already seized on anecdotal reports of businesses capping workers at 29 hours per week to avoid providing health care benefits. Mercer's research suggests that's not a common practice—only about 10 percent of employers say they're considering capping workers' hours instead of providing health benefits, according to the firm's surveys.

"Most of them are planning to extend benefits to that segment of their workforce," Watts said.

But Republicans surely will still attack Democrats over anecdotal reports of people having their hours cut. Some of the highest-profile anecdotes before the mandate was delayed came from partisan business owners who threatened to cut workers' hours for political purposes, like the Florida restaurant owner who said he would cut workers' hours and add an "Obamacare surcharge" to his customers' bills.

Moreover, the U.S. Chamber of Commerce is expecting deeper cuts than Mercer. The chamber's surveys found that more than 20 percent of franchise owners said they have already replaced full-time workers with part-timers to avoid the coverage mandate.
Other insurance experts have speculated that, just was we saw a vast number of individual policies canceled in the later half of 2013 due to non-compliance with the provisions of the PPACA, we may end up seeing cancellations of the small group policies that most small businesses use to cover their employees. Or, as an alternative to cancellation, a massive increase in premiums or deductibles that will end up making the plans far less affordable for employers and employees alike. Given that there are far more people covered by these small group policies than there are by the individual policies that have been the focus of so much ire over the past several weeks. That would leave a much larger population faced with insurance problems next year than there are this year, and potentially a large population that would be receptive the GOP's anti-ObamaCare message as Election Day approaches.
Again, much of this depends on how the ObamaCare rollout goes but, as far as plans go, it seems like the GOP is actually looking at something politically smart here. Whether it will work or not, of course, depends upon a number of factors that nobody can foresee. However, it's something that just might help the GOP capture enough seats to take the Senate back. That won't be enough to impact the PPACA by itself, but it would be a big start.