GOP Tax Cuts Not Leading To Increased Wages
Despite Republican hopes, the tax cuts passed by Congress in December are not manifesting themselves in increased wages.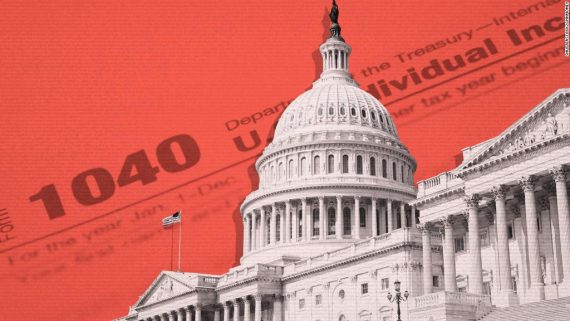 Seven months ago, the U.S. Congress passed, and President Trump signed into law, the Tax Cut And Jobs Act, the tax cut (not reform) package that significantly lowered corporate tax rates along with some reductions in individual rates for wealthy and middle-class taxpayers. At the time, Republicans in Congress asserted that the corporate tax cuts would almost immediately enure to the benefit of American workers because the money saved would be used for business expansion, wage increases, and hiring increases that would far outpace the jobs growth that we saw during the Obama Administration. Reality is turning out to be quite different from the promises though:
Seven months after they went into effect, the Trump tax cuts are sharply boosting corporate earnings.

Ordinary Americans are still waiting.

A quarterly wage index administered by Payscale, the compensation-analytics firm, found that income actually fell by 0.9% from the first quarter to the second quarter of this year. The Trump tax cuts went into effect on Jan. 1 of this year, and on their own should have increased take-home pay for about 65% of households, according to the Tax Policy Center.

But that's not what workers are reporting in the Payscale survey, which solicits information from 300,000 workers each month. "I'd like to say it's an anomaly, but I'm concerned it's not," Payscale chief economist Katie Bardaro tells Yahoo Finance. "So far, there hasn't been any bolstering of paychecks for the typical worker."

Other measures of income tell a slightly different story. On a year-over-year basis, incomes in the Payscale survey rose 1.1%. The Labor Department's latest numbers show average hourly earnings rising 2.7% during the last 12 months. Another measure, the employment-cost index, also shows a 2.7% annual increase. None of those numbers account for inflation.

Bardaro isn't sure why the Payscale numbers are lower than other income measures, but part of it may involve methodology. The Paycale index only covers full-time workers in the private sector, so it leaves out government workers, part-timers and others. It's not clear why pay would be falling in the private-sector, though, if it's going up elsewhere.

The Payscale survey measures all cash compensation, including bonuses. So it captures bonuses some companies issued earlier this year, to share the tax-cut bounty with their employees. It's also possible, however, that more private-sector companies are giving one-time bonuses instead of permanent raises, which could erode pay over time, since bonuses eliminate the benefit of rising base pay, which pushes earnings higher and higher.

Rising health care costs could also be part of the explanation. An employer spending more to cover health care benefits for workers will have less available for pay and raises. Health insurance costs have moderated in recent years, but with employers hiring more, their overall health care costs are rising considerably, which might contribute to lower pay.
As this chart from Payscale shows, this drop in wages is the first quarterly drop since 2015, and one of the most significant since the company began tracking these numbers in 2006: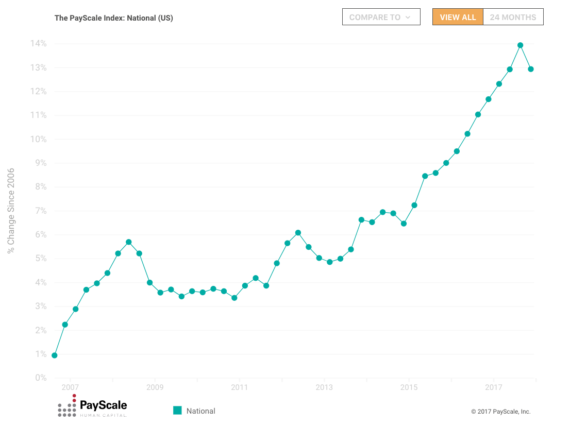 Reporting on the same Payscale report, CBS News notes that corporations are using the money saved on tax cuts on matters that will not benefit workers at all:
Six months after the Tax Cut and Jobs Act became law, there's still little evidence that the average job holder is feeling the benefit.

Worker pay in the second quarter dropped nearly one percent below its first-quarter level, according to the PayScale Index, one measure of worker pay. When accounting for inflation, the drop is even steeper. Year-over-year, rising prices have eaten up still-modest pay gains for many workers, with the result that real wages fell 1.4 percent from the prior year, according to PayScale. The drop was broad, with 80 percent of industries and two-thirds of metro areas affected.

"Now, economic confidence has been good, we're in a strong economy, GDP is growing, but the question has been, where's the paycheck?" said Katie Bardaro, vice president of data analytics at PayScale.

The answer is, largely, in the companies' coffers. Businesses are spending nearly $700 billion on repurchasing their own stock so far this year, according to research from TrimTabs. Corporations set a record in Q2, announcing $433 billion worth of buybacks — nearly doubling the previous record, which was set in Q1.

When a company buys back some of its outstanding shares, the effect is usually to boost the value of the rest of its stock, sometimes making the company appear more valuable on paper. Because many senior executives are paid in company shares, buybacks temporarily boost their pay (as well as other shareholders' portfolios), sometimes at the expense of investments in infrastructure or workers.
In the initial month of so after the new tax law went into effect, there were almost daily announcements touted by the White House and President purporting to show that corporations were responding exactly as they said they would when the bill was being considered. Specifically, Republicans contended that the tax cuts would put more money in the hands of taxpayers and corporations, leading to higher economic growth and increased wages across the board. On the other side of the aisle, Democrats contended that the tax cuts would largely benefit high-income earners and that corporations would be more likely to use the savings created by reductions in the corporate tax rates for things such as buying back stock rather than renewed business investment requiring expansion, new hiring, or wage increases as Republicans contended. At least initially, it seemed like Republicans were being proven right as several corporations announced wage increases or, more commonly, one-time bonuses for existing workers. That being said, the forecasts being offered by Republicans regarding the impact of the tax cuts were overly optimistic to say the very least. For example, forecasts of economic growth between 4% and 5%, for example, were unlikely to come to pass based quite simply on the fact that this is a level of economic growth we haven't seen except for isolated quarters in more than twenty years now. That, combined with the fact that we're in the eighth year of the economic recovery suggests that we'll be lucky to see economic growth in the 3% to 3.5% range right now.  Additionally, it's worth noting that one survey of corporate CEOs at the time seemed to indicate that most large businesses would be inclined to use the tax cut savings for stock buybacks that reward shareholders rather than for increased wages or new hiring. So far at least, that seems to be exactly what's happening.
All of this presents Republicans running for re-election with something of a problem. After the tax bill was passed in December, the GOP made no secret of the fact that they were pinning most of their hopes in the upcoming midterms on the success of the tax cuts in the form of a stronger economy and higher wages. Even before the tax bill was passed, public opposition to the bill was growing and the public was convinced that the Republicans never intended to pass a bipartisan tax bill. Four months later, the polling was continuing to show that the tax cuts were not popular among American voters, and Republican legislators were blaming President Trump for the failure of Americans to rally around the tax cuts. In the months that have followed, polling has shown that the tax cuts have become less popular, leaving the GOP scrambling for a message heading into the midterms even as the numbers mount against them. Given this, Democrats will no doubt use the tax bill as a major talking point heading into the midterms, arguing that Republicans failed to deliver on their promise of tax relief for the middle class and instead passed a bill that will have a far more favorable impact on high-income earners and corporations. Republicans, meanwhile, will have their work cut out for them in trying to convince anyone outside their base that the bill will be good for them in either the short-term or the long-term. If they fail to do so, then it will likely make what is already looking like a rough 2018 in both the Senate and the House even more difficult.