Has Trump Finally Gone Too Far?
Republicans are aghast that he's abandoned his principles.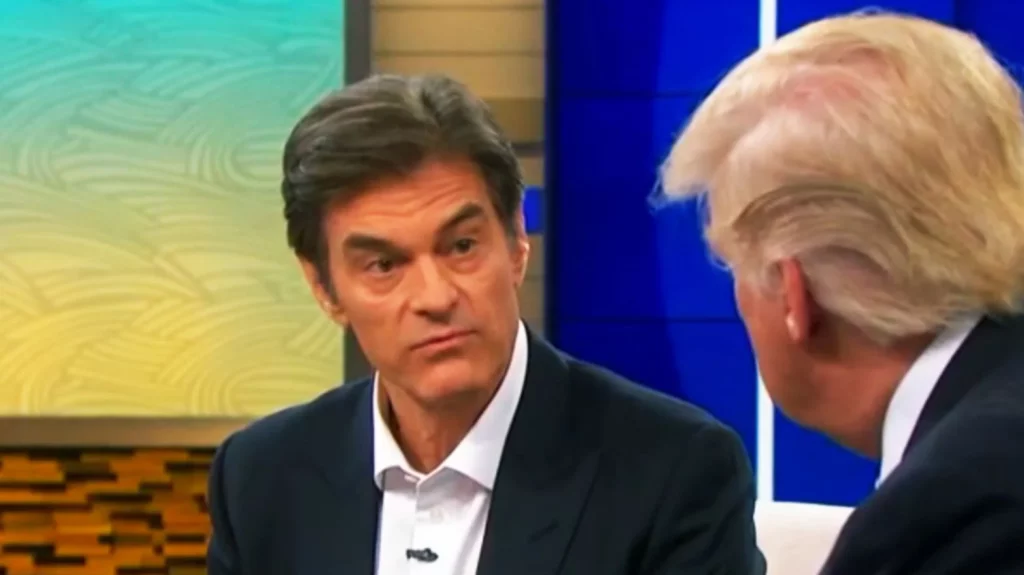 A mildly amusing piece at The Daily Beast overnight ("Trumpworld Goes Into Meltdown After Trump Endorses Dr. Oz"):
Late Saturday evening, former President Donald Trump officially endorsed his old TV pal Dr. Mehmet Oz in the raucous Republican U.S. Senate primary race in Pennsylvania.

In doing so, Trump, while speaking at a rally in North Carolina, ignited fury and ridicule among some of the loudest voices in Trumpworld.

At issue among Trump's most fervent supporters is the belief that Oz, a Turkish-American TV physician who has hobnobbed with Hollywood's elite and has flip-flopped on the issue of abortion, isn't a trustworthy "America First" Republican candidate, compared to fellow candidate Dave McCormick, who has ex-Trump administration official Hope Hicks by his side. (Another Trumpworld stalwart, Stephen Miller, stopped all involvement and employment with the McCormick campaign after Trump's Oz endorsement, a source with direct knowledge of the matter told The Daily Beast after this story was published.)

"I have enormous respect for President Trump. I was honored to have his endorsement in PA. Twice," Sean Parnell, the former Trump-backed candidate, who dropped out of the race after an abuse allegation surfaced from his estranged ex-wife, wrote on Twitter. "But I'm disappointed by this. Oz is the antithesis of everything that made Trump the best president of my lifetime."

The infighting only intensified as more conservative commentators and politicos lined up to take shots at Trump's endorsement.

"It's like Donald Trump's staff is sabotaging Trump by convincing him to make the worst possible endorsements," conservative radio host Erick Erickson tweeted.

"This endorsement could divide MAGA in the only way that matters: he could lose America First conservatives over it," Breitbart News' Joel Pollak wrote.

Elsewhere, Rep. Mo Brooks (R-AL), who is running for the Senate and who has split with Trump in recent over back-and-forth accusations of election interference, chalked up the Oz endorsement to weak-kneed staffers the ex-president has enlisted.

"This is happening because Trump's surrounded himself by staff who are on McConnell's payroll & hostile to the MAGA agenda. Everybody telling Trump who to endorse in primaries works for The Swamp," said Brooks, whose Trump endorsement was recently rescinded. "They played him. Again."

But Senate Minority Leader Mitch McConnell (R-KY) didn't immediately jump in on backing Oz during an interview with Fox News Sunday, stating, "I think we're in a good position to win that race regardless of who the nominee is."

Longtime Republican operative Roger Stone couldn't help joining the pile-on either, writing on Telegram, "Wait? President [Trump] endorsed this guy?" while attaching a photo of the doctor, who rose to infamy after years of hosting a daytime television show with guests like Michelle Obama.

Lesser-known pro-Trump media personalities also stepped into the fold, including Townhall columnist Kurt Schlichter, who wrote: "It's pretty hard for me to fully express how disappointed in Trump I am for endorsing Oz."
Years of corruption in and out of office, two impeachments, a disastrous handling of the pandemic, and managing to lose an election to Sleepy Joe Biden and then trying to stage a self-coup didn't do the trick but endorsing a guy most famous for being a TV grifter for Senate is the wakeup call? Huh.
This is pretty on-brand for Trump, no?
See, for example, this New Republic report from September 2016 ("Dr. Oz and Donald Trump Are America's Greatest Frauds"):
Donald Trump and Dr. Mehmet Oz have a lot in common. They're both hucksters selling dangerous snake oils to the American public, obvious frauds who have yet to be cast out of normal society thanks to the mainstream frameworks in which they operate: for Trump, the political arena; for Oz, the medical establishment. And they prize showmanship and bombast over the truth. Oz, for instance, has been repeatedly and justly attacked for pushing green coffee bean extract as "a magic weight loss cure for every body type," which it isn't; as The Daily Beast has noted, Oz has a penchant for diet scams. He's advocated at length for homeopathy, which does not work. He's argued that GMOs are unsafe. And in December, the British medical journal BMJ found that there was no scientific evidence to support half of the claims made on his show. Trump's tortured relationship with facts, meanwhile, is old hat by now.

But the thing that Oz and Trump have most in common is their shared affinity for easy answers to complex problems. Trump, who promised "I alone can fix it" at the Republican National Convention in July, has promised instant solutions to a number of intractable problems: His secret plan to defeat ISIS will destroy them immediately; the wall will stop illegal immigration; jobs will return from China and Mexico the moment he enters the Oval Office. In recent years, Oz has been dinged repeatedly for his reliance on pushing "magical" or "miracle" pills on his show for problems like obesity and poor skin. These pills don't work, and two years ago Oz was forced to admit to Congress that these solutions "don't have the scientific muster."

Oz has deflected criticism of his practices by arguing that he is an entertainer, not a doctor. He's said that his show is "not a medical show," a claim he supported by telling NBC News that the "Oz" in his logo is much bigger than the "Dr." And he's also argued that he is the victim of a smear campaign brought by jealous doctors who want to violate his constitutional rights. After ten doctors wrote an open letter to Columbia University asking that Oz be stripped of his faculty position, he said, "No matter our disagreements, freedom of speech is the most fundamental right we have as Americans, and these ten doctors are trying to silence that right."

Trump similarly presents himself as a free-speech defender who refuses to be silenced by the forces of political correctness. He believes he should be allowed to say whatever he wants, without any consequences—except, apparently, when he appears on pseudo-medical daytime TV talk show. That requires subtlety and insidiousness.

Trump's appearance on The Dr. Oz Show, which was taped on Wednesday, could not have been more perfectly timed. Though it was booked before Hillary Clinton's pneumonia-related fainting spell on Sunday, Trump made sure to capitalize on his fortune by playing coy for days about his own medical records. He promised to provide more information, then said he wouldn't, and finally brought two pages' worth onto the show (the same day, incidentally, that a poll revealed nearly half of voters think Clinton's health could hurt her ability to serve). By submitting to this pseudo-checkup from Dr. Mehmet Oz, Trump was able to drive a false narrative that had emerged from the fever swamps of the alt-right—Hillary's allegedly bad health—still further into the mainstream.
Or this Frank Bruni column from April 2020 ("The Unholy Alliance of Trump and Dr. Oz"):
Of course President Trump is getting advice about the pandemic from Mehmet Oz, and of course Dr. Oz is eager to provide it. They're a match made in ratings-obsessed heaven.

Oz, mind you, is not a virologist. Not an epidemiologist. His actual specialty — cardiothoracic surgery — isn't the most immediately relevant to the coronavirus. But his real specialty is using medicine as a means to maximum public exposure. He wasn't about to let this dark chapter go to waste.

Over recent weeks he has made a blizzard of appearances on Fox News, giving interviews to hosts not exactly known for the dissemination of responsible information. I mean Sean Hannity, Lou Dobbs, the Trump-besotted pep squad on "Fox & Friends."

And part of what the good doctor has done on these showcases is promote the anti-malarial treatment hydroxychloroquine as a potential wonder drug for Covid-19. An article by CNN Business's Oliver Darcy and Kevin Liptak on Tuesday said that these plugs had piqued the president's interest in the treatment, which he frequently mentions — rather, moons over — at his daily coronavirus news conferences. And The Times has reported that Oz also pitched hydroxychloroquine in conversations with members of the Trump administration.

I've neither the space here nor the science-reporting expertise to examine fully the arguments for and against hydroxychloroquine. But there remain more questions about it than answers, and its diverse boosters — including Rudy Giuliani, who has always been my go-to guru on all matters health-related — glide blithely over inconvenient facts about it.

Oz did precisely that on Hannity's show, as The Atlantic's James Hamblin pointedly explained in an excellent article about the treatment. Oz mischaracterized a French doctor's study of it in order to gush over it and seemingly didn't take into account that doctor's reputation as "a pan-disciplinary provocateur" who has "questioned climate change and Darwinian evolution," Hamblin wrote.

[…]

During the 2016 presidential campaign, Oz welcomed Trump to his television show and let him prattle on about what glorious physical shape he was supposedly in. The following year, the AMA Journal of Ethics published an article about Oz by three scientists at the Mayo Clinic who asked, "Should a physician be allowed to say anything — however inaccurate and potentially harmful — so long as that individual commands market share?"

Change "physician" to "politician" and the question pertains just as tidily — and just as sadly — to Trump.

There are problems with comparing Oz and Trump, chiefly that Oz has an extensive and distinguished background in medicine, while Trump had nothing of the kind in politics. I have qualms with Oz's ethics, but I can't say that he's anywhere near as morally unmoored as the president.

Even so, Oz is to medicine what Trump is to politics: someone who has bent the discipline to the dictates of entertainment in pursuit of ever more celebrity, ever more power, and has warped and cheapened it in the process.

So when you hear him cheerleading for a supposed coronavirus cure, ask yourself what you do when Trump raises his own pom-poms: Is he engaged in meaningful public education, or does he just realize that magic and miracles draw more eyeballs than dutiful analyses of pros, cons and incomplete data?

If you listen skeptically, you'll have your answer.
I mean, how could Trump not endorse this guy? Indeed, Oz would be a perfect running mate in 2024.