How Much Does It Cost To Win A House Seat? About $1.6 Million On Average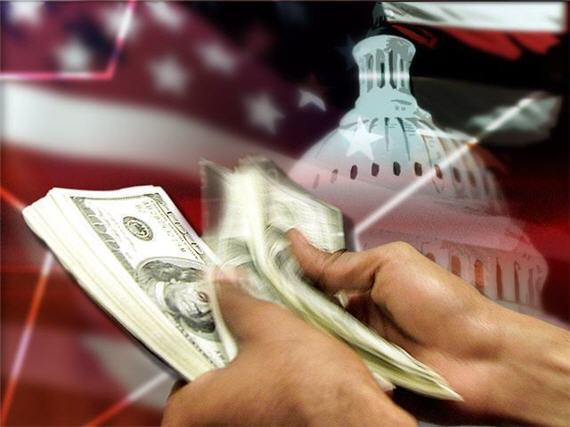 It's gotten much more expensive to win a seat in the House of Representatives:
Winning a House seat in 2012 cost the victor on average twice as much as it did a quarter-century ago: about $1.6 million, compared with about $753,000 in 1986.

That increase is striking, given that most House races are not as competitive as they once were. The rise in spending is concentrated in a relatively small, and shrinking, number of battlegrounds. The phenomenon is illustrated by a collection of data from the Campaign Finance Institute, part of a broader set released on Tuesday by the Brookings Institution and the American Enterprise Institute.

Republicans and Democrats hold a similar number of safe seats, so it is conceivable that the House could change hands each election, said Thomas E. Mann of Brookings.

"Ironically, as competition for individual seats has declined, competition for the majority has increased," Mr. Mann said. "And we've had more turnover than we had before."

In 2012, the 256 incumbents who were re-elected by more than 60 percent of the vote – meaning they came from a safe district — spent an average of $1.3 million, while their long-shot challengers (171 of them) spent $154,000.

Compare that with the 100 incumbents in swing states who held on to their seats with less than 60 percent: They spent an average of $2.3 million, and their challengers spent $93,000.

It is more expensive for a House incumbent to lose: the 32 ousted representatives spent an average of $3.1 million trying to keep their seats, while their challengers spent $2.5 million.

All those figures represent money spent by the candidates themselves, without factoring in the ever-rising flood of funds spent by the political parties and independent groups like "super PACs." And the swing-state incumbents are getting plenty of fund-raising help, Mr. Mann said.

"There's a tremendous redistribution of money from, if you will, safe incumbents to unsafe ones, and that can be done by the parties," Mr. Mann said.
Politically, this strikes me as a wise use of resources. Given the shrinking number of swing districts, and the fact that we have seen control of the House shift far more frequently in the past two decades than it did in the four decades before then, those swing districts are more important in each two-year cycle than than they have been before while the "safe" districts are becoming even safer. Targeting your resources where they would be most efficiently be used makes perfect sense. It's akin to a Republican Presidential campaign deciding to spend its money in Ohio instead of Wyoming. Yes, you need to have some money to GOTV efforts in even the reddest of red states, but most of your money should be going to the swing states that would decide the election. As for the increased costs, much of that can be attributed to the fact that campaign resources now go into more expensive things like television, "new media," and other such things. Additionally Congressional campaigns tend to rely heavily on directed-mail campaigns that are run by third parties rather than out of the campaign or local party offices, and those groups tend to charge a nice premium for their services.
Is all of this spending worth it? Well, I doubt the parties would be spending the money if they didn't think it was.