Hurricane Irene And The Broken Window Fallacy
Repeating the "destruction creates wealth" fallacy every time there's a natural disaster doesn't make it any less of a fallacy.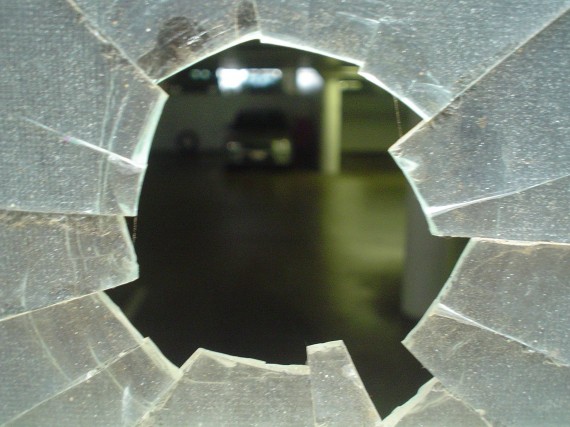 I knew someone somewhere would make the argument that the destruction caused by Hurricane Irene, which was thankfully much less than feared, but I didn't expect it to come from Politico's Princeton and Columbia educated "economics reporter" who picked up the ball usually carried by Paul Krugman in these matters:
The power outages and shuttered airports may stop the engines of commerce for several days, but Hurricane Irene might have provided some short-term economic stimulus as billions of dollarswill likely be spent to repair the damage to the East Coast over the weekend.

Cumberland Advisors Chairman David Kotok saw the storm as likely jolting employment in construction, an industry paralyzed by the bursting of the real estate bubble in 2008.

"We are now upping our estimate of fourth-quarter GDP in the U.S. economy," he said in an email Sunday. "Billions will be spent on rebuilding and recovery. That will put some people back to work, at least temporarily."

Kotok expects GDP growth — which limped along at less than a percentage point for the first half of the year — to exceed 2 percent in the last three months of the year and potentially reach 3 percent.

Mark Merritt, president of crisis-management consulting firm Witt Associates, said the hurricane should provide a bump in economic activity over the next few months.

"After a disaster, there's always a definite short-term increase," Merritt said. "There will be furniture bought, homes repaired, new carpet, new flooring, all the things affected by flooding."

(…)

University of Maryland economist Peter Morici estimates that property damages will total about $20 billion, with another $11 billion in lost net consumer spending. Any economic impact of the hurricane should be negligible over the next five years, he said.

In terms of recovering from the storm, Morici said there could be some economic growth at the end of this year and the beginning of next year, because with the rebuilding, "largely what we're going to get is a private-sector stimulus package."
We've seen this argument before, of course, and it's no more logical when applied here than when Paul Krugman applied it the September 11th attacks, World War Two, or a hypothetical alien invasion. As economist Sandy Ikeda pointed out when writing about a similar argument made in the wake of the Haiti earthquake, the illogic of the fallacy becomes apparent when you take it to its logical conclusion:
This is the same "logic" behind the notion that the bombing of great cities to rubble during World War II was good for economic development because it was an opportunity to construct modern infrastructure that would have otherwise required many years to put in place.  Heaven forbid that we should have to wait for economic depreciation and normal wear-and-tear!  (It was, however, good for New York, which had the great fortune of being the only major western city left standing after the war, but that of course was because New York itself was not air-bombed.)

The fallacy becomes clear when, by logical extension, one ought then to recommend deliberately making our cities vulnerable to natural disasters, by perhaps refusing to build sea walls and tremor-resistant structures.  Why wait for disasters?  We should invite them!  Why waste resources on homeland security when just one well-placed nuclear bomb could boost our own economy, perhaps by as much as 0.3 percent?  Think of the jobs!  If you're not into bombs, then how about advocating a new wave of 1960s-style "urban renewal" by unleashing an army of federal bulldozers onto our major urban areas?
What this argument ignores, and what people like Krguman and this Politico reporter refuse to recognize is the simple fact that destruction does not create wealth. The money that will be spent to rebuild, repair, and recover from Irene will doubtless line the pockets of the various contractors that will be hired to perform said work, but to argue that it "creates wealth" is simply a fallacy. By some estimations, the losses from Hurricane Katrina will total in the tens of billions of dollars. That's wealth that doesn't exist anymore, it's gone. The money that will be will be used to pay for the recovery already exists and, rather than being invested in other projects, it will go toward repairing the damage caused by natural disaster. A home damaged by Hurricane Irene will be no more valuable after it is repaired than it was the day before the storm hit, for example. And this analysis doesn't even take into account the losses from lower consumer spending that businesses will feel as a result of the storm, all of which will reverberate out into the economy as a whole.
David Boaz reaches back to Frederic Bastiat to put the final nail in the coffin on this one:
s Frederic Bastiat explained the "broken window fallacy," a boy breaks a shop window. Villagers gather around and deplore the boy's vandalism. But then one of the more sophisticated townspeople, perhaps one who has been to college and read Keynes, says, "Maybe the boy isn't so destructive after all. Now the shopkeeper will have to buy a new window. The glassmaker will then have money to buy a table. The furniture maker will be able to hire an assistant or buy a new suit. And so on. The boy has actually benefited our town!"

But as Bastiat noted, "Your theory stops at what is seen. It does not take account of what is not seen." If the shopkeeper has to buy a new window, then he can't hire a delivery boy or buy a new suit. Money is shuffled around, but it isn't created. And indeed, wealth has been destroyed. The village now has one less window than it did, and it must spend resources to get back to the position it was in before the window broke. As Bastiat said, "Society loses the value of objects unnecessarily destroyed."
It's understandable that people who learned their economics from professors who believe that you can create something out of nothing, and who don't even seem to recognize the crucial role of private investment in creating wealth, would fall for a fallacy like this. That doesn't make it any more untrue, though.