Hurricane Sandy And The Broken Window Fallacy
Once again, a natural disaster has caused a common economic fallacy re resurface.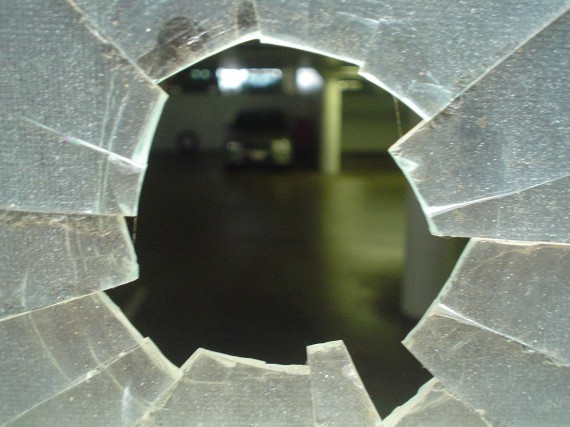 It seems to be a requirement that after every major natural disaster some economists must come forward and argue how the devastation caused to the areas affected, which in this case is already estimated at $20 billion and likely to climb as we learn more, is actually good for the economy. Paul Krugman has made this argument many times including, most bizarrely, in connection with the September 11th attacks. Other economists made it in connection with the massively destructive earthquake and tsunami that struck Japan in March of last year. Kevin Drum followed in Paul Krugman's footsteps and argued that World War II was good for the U.S. economy, and argument that really doesn't stand up to scrutiny or logic. Last year, when Hurricane Irene caused it's own damage, Politico's Josh Boak made the same argument about a storm that ended up causing some $15 billion in damages.   Now, with the people of New Jersey, New York City, and elsewhere just beginning to deal with the devastation that Sandy has left behind, and Pennsylvania and New York preparing to deal with its rains, the task falls to University of Maryland economics Professor, and Kyocera copier spokesman, Peter Morici:
Disasters can give the ailing construction sector a boost, and unleash smart reinvestment that actually improves stricken areas and the lives of those that survive intact. Ultimately, Americans, as they always seem to do, will emerge stronger in the wake of disaster and rebuild better-making a brighter future in the face of tragedy.

Sandy is unusual storm and complex to gauge. Coming late in the season and combining with cold fronts to the west and north, it is really a post-tropical cyclone and has the potential to deliver epic destruction. However, coming so soon after Irene in August 2011, the level of anticipation and preparedness demonstrated by federal and state officials is commendable and should mitigate some losses-especially loss of life.

(…)

However, rebuilding after Sandy, especially in an economy with high unemployment and underused resources in the construction industry, will unleash at least $15-$20 billion in new direct private spending — likely more as many folks rebuild larger than before, and the capital stock that emerges will prove more economically useful and productive.

Regarding the latter, consider a restaurant with inadequate patronage — its owner invests the insurance settlement in a new more attractive business. On the shore, older smaller homes on large plots are replaced by larger dwellings that can accommodate more families during the summer tourist season. The outer banks of North Carolina saw such gains several decades ago after rebuilding from a storm of similar scale.

All of this is not to discount the direct costs to individuals by temporary, and in some cases permanent, disruption to lives and communities, much of which cannot be quantified. However, when government authorities facilitate rebuilding quickly and effectively, the process of economic renewal, in many tangible ways, can leave communities better off than before.
It's a tempting argument, really. After all, every time something catastrophic happens, whether it's a house fire, an earthquake, or a devastating storm, there is indeed economic activity created. Most immediately, the companies involved in recovery and debris removal benefit, often at highly inflated prices given the supply and demand issues involved, as do the people that work for them. However, as I've noted before, this is a rather short-sighted argument that ignores the costs that are incurred when a massive disaster like Sandy occurs, not to mention lost opportunity costs of the investments and purchases that would have been made if businesses, homeowners, and the government had not been forced to divert funds because of the destruction that Sandy unleashed on the United States.
What Morici ignores is the same thing that people like Paul Krugman ignore when they make this argument, and it's a very simple one; destruction does not create wealth. The billions of dollars it will cost for New Jersey, New York City, and other parts of the East Coast will of course end up going to contractors and disaster recovery teams and the employees that work for them, but calling this wealth creation is simply wrong. The billions of dollars worth of damage that Sandy has left in its wake quite simply no longer exists, and replacing it with funds that were destined for some other endeavor before the storm simply diverts resources from one ledger column to another. No new wealth was created, and in all likelihood the full losses experienced by businesses and homeowners this week will never be paid back in full. Wealth wasn't created by Sandy, it was destroyed by her, and it's quite simply false to characterize it any other way.
As Cato's David Boaz explained a year ago when Irene hit, this is an old argument that was  refuted a long time ago:
As Frederic Bastiat explained the "broken window fallacy," a boy breaks a shop window. Villagers gather around and deplore the boy's vandalism. But then one of the more sophisticated townspeople, perhaps one who has been to college and read Keynes, says, "Maybe the boy isn't so destructive after all. Now the shopkeeper will have to buy a new window. The glassmaker will then have money to buy a table. The furniture maker will be able to hire an assistant or buy a new suit. And so on. The boy has actually benefited our town!"

But as Bastiat noted, "Your theory stops at what is seen. It does not take account of what is not seen." If the shopkeeper has to buy a new window, then he can't hire a delivery boy or buy a new suit. Money is shuffled around, but it isn't created. And indeed, wealth has been destroyed. The village now has one less window than it did, and it must spend resources to get back to the position it was in before the window broke. As Bastiat said, "Society loses the value of objects unnecessarily destroyed."
To take Morici's argument seriously, one would have to concede that destruction of assets is a viable means of stimulating the economy. Like any sane person, Morici would reject the idea of blowing up an American city to "stimulate the economy," but that's essentially what he's arguing and it's why his argument is so ridiculously flawed. Why it's so hard for some so apparently well-educated as Morici to understand this baffles me.