If We Do Attack Syria, What's Next?
Some questions that the Administration needs to answer before attacking Syria.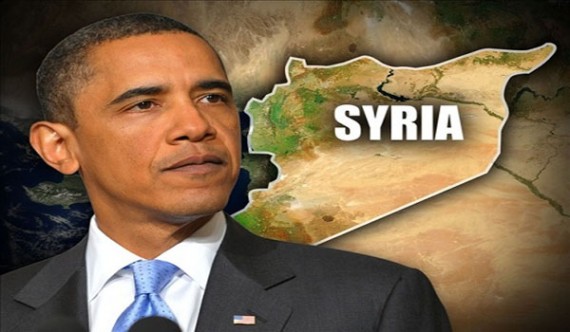 Over at his own blog, Dave Schuler poses a series of questions regarding the Administration's apparent plans to launch some kind of attack against Syria in retaliation for the alleged use of chemical weapons:
Assume an attack on Syria is unsuccessful in the sense that Assad continues to use chemical weapons after the attack. What then?

Assume an attack on Syria is successful, Assad stops using chemical weapons (he might have done so anyway), but he is able to defeat the rebels without them. What then?

Assume an attack on Syria is successful, Assad stops using chemical weapons (he might have done so anyway), he is unable to defeat the rebels outright, and the civil war just continues. What then?

Assume an attack on Syria is successful and Assad, hamstringed in his attempts to preserve his regime, is ousted by the rebels. The rebels are radical Islamists. What then?

We attack Syria. Syria, Iran, or both retaliate by attacking Americans or American interests in the Middle East using asymmetric warfare techniques. What then?

We attack Syria. An American aircraft carrier is sunk by asymmetric warfare techniques (that's actually occurred in war games of conflict in the Middle East). What then?
To this I'd add one more:
We attack Syria. Syria, Iran, Hezbollah, or some other non-state actor connected to the two nations respond by attacking Israel (i.e. via rocket or mortar attacks launched from Hezbollah-controlled Lebanon or Hamas-controlled Gaza). What then?

We attack Syria. The "Syrian Electronic Army," which appears to be some kind of widely dispersed group of hackers, responds by launching multiple attacks on private and public computer systems in the United States and elsewhere. There is no known connection between the government of Syria and this group of hackers, and we apparently have no idea where these hackers are located. What next?
These, of course, are all important questions that even a limited attack against Syria raises, and among the many that Congress ought to be asking before the President authorizes a strike against a nation that has not committed any hostile act against us and which poses no threat to us.
Now, personally, I don't pretend to know the answer to these questions, but I'd submit that it's rather apparent that White House doesn't know the answers either, but let's give it a shot, shall we?
If we do attack Syria but Assad fails to stop using chemical weapons, then strikes me that President Obama will be faced with a choice. Given that the use of these weapons is being cited as the sole justification for an attack, any future use of those weapons by Assad would constitute a direct challenge to the United States. At that point, the President have to consider either attacking again, this time in a broader way than the limited strike(s) apparently being contemplated by the Obama Administration, or not responding to subsequent uses of chemical weapons. The first option, quite obviously, poses the danger of drawing the United States further into the conflict in Syria and exposing American forces and assets overseas, along with those of our allies, to attack by Syria, Iran, or its terrorist allies. The second, on the other hand, would arguably be worse than not doing anything at all at the moment. The President has already drawn his famous "red line," of course, but failing to respond to subsequent uses of chemical weapons after an attack would arguably do more harm to American credibility elsewhere in the world. In other words, one attack in response to the use of chemical weapons seems to require the President to commit to future, larger, attacks if Assad decided to defy the United States and  use those weapons again. That's the definition of a slippery slope, and seemingly gives to Bashar Assad the power to determine just how involved the United States will become in his nation's civil war.
If Assad stops using chemical weapons in response to an attack, of course, then the President's position becomes far easier. Notwithstanding the fact that the mission itself lacks public support, the fact that its goals are so narrowly limited means that he could essentially claim success without necessarily committing to future action of any kind. At the same time, though, the Syrian civil war will continue. Assad could "win" that war, the rebels could, or the conflict could drag on for years as the kind of off-and-on conflict that gripped neighboring Lebanon for a quarter century from 1975 to 1990. What happens in any of those events, though, is entirely unclear. An unstable Syria could become a breeding ground for insurgents that will drag their conflicts in to neighboring nations like Iraq, Lebanon, and Syria. If Assad is ousted, for example, the ethnic divisions between Sunni, Shia, Alawaites, Kurds, and Christians are likely to make it next to impossible to establish anything resembling a stable democratic government in Damascus. Indeed, there few Middle East observers who see a bright future for Syria regardless of how this war ends. What that means for the rest of the Middle East and the United States is likely to be a question we'll be dealing with for some time to come.
As a final point, if an American attack on Syria does result in retaliation against the United States, other coalition members, or Israel, then further Western military involvement in the Syrian civil war seems inevitable. Given the war fatigue from Iraq and Afghanistan, it seems unlikely, though not impossible, that this would lead to American boots on the ground, but there are a myriad of other ways in which American forces could find themselves entangled in a conflict that I'm not sure we completely understand. If the war spills over across Syria's borders, then outside involvement becomes even more likely. In any of these situations, though, we would be faced with a situation where what we intended to be a limited military strike for narrow purposes ends up drawing us deeper into another nations civil war. What steps would the President take to ensure that this doesn't happen?
I encourage the readers to discuss the questions in the post in the comment thread, and to raise some of your own that haven't been raised here. At the very least, you'll be doing more than the President, Congress, and the media are doing as we move closer to yet another unprovoked military strike by an American President.