In Responding To Obama's Executive Action, Top GOPers Worry About Further Alienating Latino Voters
Top Republicans worry that their party's response to the President's executive action will alienate Latinos. However, there's little they can do about that.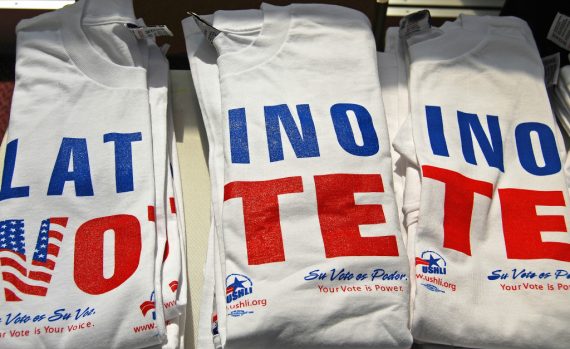 While the GOP reacts, and continues to try to figure out how to respond, to the President's executive action on immigration policy, many top level Republicans are again worrying about how that response is going to impact the party' standing with Latino voters:
WASHINGTON — All but drowned out by Republicans' clamorous opposition to President Obama's executive action on immigration are some leaders who worry that their party could alienate the fastest-growing group of voters, for 2016 and beyond, if its hottest heads become its face.

They cite the Republican Party's official analysis of what went wrong in 2012, the presidential-election year in which nominee Mitt Romneyurged Latinos here illegally to "self-deport."

"If Hispanics think that we do not want them here," the report said, "they will close their ears to our policies."

"Both the president and the Republican Partyconfront risks here," said Bill McInturff, a Republican pollster. While the danger for Mr. Obama is "being perceived as overstepping his boundaries," Mr. McInturff said, "the Republicans' risk is opposing his action without an appropriate tenor, and thereby alienating the Latino community."

How the two parties manage their respective risks as they battle for public opinion is likely to define the final two years of Mr. Obama's presidency as well as the emerging race to pick his successor.

But some Republicans say their party has the greater challenge — as the White House is betting — in framing their opposition in a way that does not antagonize Latinos and other minority groups like Asian-Americans, much as Republicans lost African-Americans' support in the civil-rights era.

Most emboldened by Republican victories in this month's midterm elections were its hard-line conservatives, who say the results vindicated their defiant actions, including last year's government shutdown. Their numbers in Congress will grow in January with newly elected conservatives, significantly increasing the ranks of House Republicans who have publicly said they would consider impeaching Mr. Obama.

As for immigration, many candidates took stands against "amnesty" for those here illegally with little fear of political penalty because few close contests were in places with significant Latino populations.

Consequently, the party could hardly be further from the positions on immigration that former President George W. Bush and Senator John McCain sought in the past, and that Speaker John Boehner unsuccessfully pressed on House Republicans at the start of this year.

"Clearly with Republicans not having gotten to a consensus in terms of immigration, it makes it a lot more difficult to talk about immigration as a unified voice," said David Winston, a Republican pollster who advises House leaders. "There are some people — because there's not a consensus — that somehow end up having a little bit louder voice than perhaps they would normally have."
None of these concerns are new, of course. We saw similar reactions from Republican leaders in the wake of the 2012 Presidential elections, where Mitt Romney received the lowest percentage of the Latino vote of any Republican nominee in recent memory. To a large degree, and correctly I think, the post-election autopsies that were done by Republicans and others blamed a large part of the rejection of the GOP by Latinos in that election can be blamed on both Republican policy on the one issue that Latino voters seem to agree is the most important to them and their community and the way that issue was handled during the race for the Republican nomination. As you will recall, back then the eventual Republican nominee was talking about enforcing policies that would somehow force people to "self-deport" while the Governor of Texas was being attacked for advocating policies such as in-state tuition for Texas students who had been brought to the United States illegally when they were children. And it was the Governor who was being treated as the bad guy by debate audiences for his position despite pointing out that the measure had passed his state's GOP dominated legislature overwhelmingly. Given that, it was no surprise when Latinos rejected the GOP overwhelmingly.
In response to the 2012 demographic disaster, Republican leaders, and politicians who had long had closer ties to the Latino community such as Jeb Bush and Marco Rubio, began urgin the party to act on immigration reform. To some extent, of course, they succeeded in that there was significant GOP support for the reform bill that ended up passing the Senate. However, that momentum quickly ebbed and the matter lay dormant in the House. A big reason for that, of course, is that the political dynamics for Republicans  in the House of Representatives are far different than they are for national candidates, or even candidates for Senate. To a large degree, there are few Republican members of the House who have to worry about a large Latino vote in their districts that could threaten them at General Election time. Instead, as I have noted before, they have to worry more about challenges from the right in a primary if they stray from base orthodoxy on this or any other issue. That's why it was always unlikely that we would see House action on immigration before the midterms, and one of the reasons why it's unlikely we'll see it going forward, especially in light of the fact that the President has essentially stuck a thumb in the GOP's eye with his executive action. In short, while the Latino vote may be a concern for the GOP nationally, especially in the long term, it is of little concern to most Republicans in the House. For them, there are more incentives to resist immigration reform than there are to help their party's national prospects. As long as that contradiction exists, the GOP is going to have a tough time getting beyond this issue.