Institutions Matter: Just Look at the Congress
Representative democracy is a process of delegation of power to agents who act on behalf of citizens. The process of delegation matters.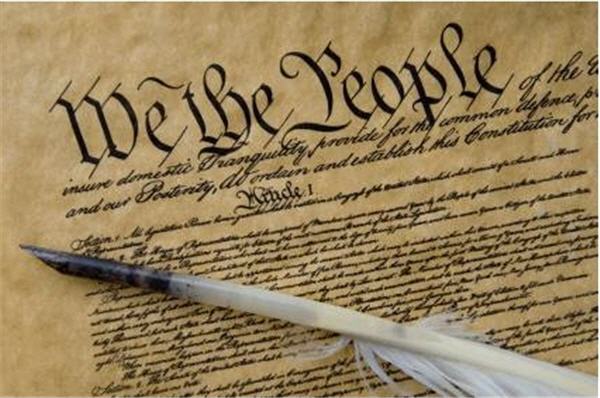 Doug Mataconis is correct:  to understand congressional behavior, especially within the Republican Party at the moment, the issue is not a case or irrationality, but of fairly typical behavior for politicians.  That is:  the main motivating factor in their decision-making is driven by the desire to  be re-elected and the parameters for that re-election are driven by the institutional parameters that structure a given re-election process.
The basic theory behind representative democracy starts with the premise that power resides with the citizens and that the citizens cannot govern directly because there are too many citizens to assemble in one place (and because, quite frankly, most citizens lack the time and inclination to bother with the work of government) and so, therefore, citizens delegate their power to govern to agents who govern on their behalf for a set amount of time via the electoral process.*
The way this delegation process functions is vital to the ultimate functioning of the overall mechanism and eventually determines how good of a job the government does in actually representing the diverse interests of the citizens.  Further, the delegation process itself can create problematic, imperfect, and/or perverse incentives in terms of how these agents behave once elected (e.g., being willing to crash the economy over raising the debt ceiling for spending that has already been legislatively approved or refusing to vote for any tax increase of any kind no matter what).
There are a variety of ways that our current system creates real problems in terms of delegation of governing power to agents from the people (at least if what one presupposes the role of representative democracy to be to the furtherance, through deliberation and compromise, of actually governing).  The debt ceiling debate of recent vintage and now the so-called fiscal cliff discussion underscores this problem (as does, really, the overall situation with the deficit, and therefore the national debt).
A national legislature is the most important institution in a representative democracy since it is the body that, at least in theory, assembles direct representatives of the population in one spot to make authoritative decisions for the country as as a whole.  Since opinions and interests are diverse, we would expect that compromise would be needed, and that specific interests in society would often be disappointed by the outcome of the legislative process.  We would, however, ultimately expect that some sort of outcome would be produced, and that it would be one that was reflective in some significant manner with the national sentiment on an issue.  While this might, for example, lead to poor decisions at times, or to can-kicking, it is assumed that the system would produce adequate public policy so as to keep the government functional.
However, it has increasingly been the case of late that Congress has been incapable of delivering on this rather low level of expectation.  Consider the lack of budgets passed in recent years as well the way the debt ceiling crisis was handled (by kicking the can) and the way any number of issues has culminated in the current mess.  These are not the behaviors of a well functioning legislature.  Part of this is because of the design of our system (bicameralism with co-equal chambers coupled with a president who holds a near-absolute veto).  As such, there are reasons to expect slowness and even impasse.  But, and this is rather important, there are other features of our system that create further difficulties (if, at least, one actually wants a system that attempts to represent the actually interests of the citizenry and that allows for adequate governance).  The filibuster as it has evolved is such a feature, but lets think about elections.
First, the single-seat district, plurality electoral system that we employ tends to narrow choices and creates easily-manipulated outcomes.  It is really important to understand that the US, as one of the very first attempts at representative democracy, had very little in the way of examples to draw from for its set of institutional options and this was especially true of electoral systems.  So, we went with a very simply system that became so firmly rooted that we never talk of altering it (save very much on the edges like California's Top Two system).  The only model we had, really, was the single-seat constituency model in the UK used to elect the Commons.  However, if a country was writing (or rewriting) a constitution (or just its electoral laws) today, the odds are exceptionally high that such a system would not even be considered (and, indeed, this is what we have seen since the late 19th Century).  There are multiple reasons to make this claim, but his post is already longer than many may wish to tolerate, so I will forego a discussion of options and why they are superior, but will note that we lack any debate whatsoever on this topic, which is (I would argue) partially because we are simply unaware that any other options exists.  (Let's face facts:  we are not, as a population, all that well versed on how our own system of government actually functions, and are wholly ignorant of the systems in other countries).
The bottom line is that a system such as ours tends to create two large, catch-all parties they tend to dominate politics (although the US case is the most so-dominated—the UK, for example, has two large parties but has viable third parties, and India has a multi-party system, to name two examples).  Worse, however, is that our system makes it ridiculously easy to manipulate district boundaries, and to to so in a way that guarantees a given party will win a given district.  Partisan gerrymandering, as Doug's post noted, has increasingly made things like actual electoral competition on elections day a quaint notion in the vast majority of House districts.  (I would argue that the vast majority of people do not know or understand how little election day matters for the House).
This is not good.  It is not democratic, nor is it adequately representative.  It certainly short-circuits the main theoretical basis of the legislature.  While gerrymandering is an old concept (it is named, after all, for one of the Framers:  Elbridge Gerry who pioneered partisan district drawing in Massachusetts), the process has become increasingly sophisticated (computers make it a breeze) and partisan (since in most states the legislatures draw the districts).  This has taken large helpings of competition out of our politics.  Consider that for a bit.
A second issue is the party primary for nominations.  While on the one hand, this seems to be an especially democratic way to name candidates (and the process was designed to take the power of nomination out of the hands of party bosses), on the other the nature of the process is such that it actually can be said to damage the overall representational nature of our system.
Consider:  if one lives in a safe Republican district, then the Republican nominee is going to win election in a given general election.  It does not matter if the district, as a whole, is moderate, conservative, or very conservative in its orientation, the Republican will win.  Certainly there will be no real competition with the Democratic candidate.
The selectorate that is created by the primary process is not representative of the district as a whole, nor is it even necessarily representative of the Republicans in that district.  What we end up with, therefore, is a system that does a really lousy job of picking representative representatives.
So, the basic institutional logic flows like this:
1.  Single seat districts require the winning of large numbers of votes to win a seat, which increased the odds that large parties will form and win seats.
2.  Single seat districts can be relatively easily drawn in a way that favors one party over the others. (And since our system is dominated by partisan actors having the power to draw districts, the districts tend to drawn in a partisan fashion).
3.  Primary elections mean that a sliver of the favored party in a given district will select the nominee, and hence the eventual winner, of the district. (Remember, too:  not only is the primary winner chosen by a subset of the partisan identifiers in a district, but that turnout for primaries is quite small relative even to low-turnout general elections. This empowers relatively small, and often ideologically distinct, subsets of voters**).  Congress, therefore, gets selected not by "the people" in any subtantive way, but by a subset of a subset of a subset.
Hence:  a given member of Congress does not seek to represent the district as a whole, or even his or her co-partisans.  Rather, a given member of Congress seeks to represent the primary selectorate that holds the power to re-nominate that Representative, which is that Representative's return ticket to Washington.  If the selectorate in question hews heavily to the Grover Norquist view of the universe, even if that is to the detriment of the district, well c'est la vie.
When we consider all of this, it underscores why Doug is correct:  rational actors acting rationally under these rules leads us to stiff like the fiscal cliff.
Worse, however, is that the institutional logic of this set of rules and processes does not come close to the basic theory of representative government I noted above.  This is not a process the allows the citizens to have their view represented in the legislature where they can be debated and voted upon.  No, this is a system that allows for small slices of existing parties to govern the whole of us.  This is, to put it mildly, problematic.
We have a system currently in which congressional approval can hit the upper teens/low twenties and yet only 51 seats out of 435 are competitive on election night.  If one values representative democracy at all, these numbers should be troubling.
There are ways, small and large, to start addressing these types of issues, but the first step, as they say, is admitting that there is a problem.  And while we bemoan things like the fiscal cliff debate, we rarely actually talk about the system that produces such outcomes.  We like to blame the players, but rather do we look at the game.  It is time to start talking about these issues and stop pretending that just because we worship the Framers that everything that was put into place in their time was perfect.  We are constantly upgrading the technology of our lives, yet we don't even consider that the mechanisms of governing can likewise be tweaked.  And, it should be noted, there are large and small tweaks that can be made, but that the bottom line is that we do not even have the basis for a serious conversation on the subject, and so no discussion ensues.  It is easier, I guess, to make up crises with easy to recite names and just assume that if we had the right people in office that all would be fine.
The funny thing, by way of closing, about assuming that the right people would make the right choices is that the very logic of the Framers (and certainly of Madison in the Federalist Papers) was that institutions have to properly constructed for government to work properly and that they, therefore, would likely favor of rethinking institutions over time.
We tend to assume that a) the Framers set forth a perfect system uniquely suited to the US, and that b) the problems that exist are the result of the system not working as designed in some way.  However, the truth is a combination of c) nothing is perfect, d) there is a host of comparative information that we could look at to consider various alternatives, large and small, and e) much doesn't even work as intended anyway.
BTW:  a more robust, properly functioning representative system does not guarantee good policy, but it does increase the odds.  At a minimum, a truly representative body is a response body–something we currently lack.
*This is, by the way, not only the basic definition of "representative democracy" but also of "republican government" (i.e., a governmental system that derives its power from the mass of citizens, i.e., a system of popular sovereignty, rather than from a special class of persons imbued with the legal power to govern, i.e., an aristocratic system).  Hence the reason that I frequently note that the notion that the US is "a republic, not a democracy" is nonsensical unless one means that we do not have a direct democracy where all citizens meet together to govern (but then again, who is claiming that?).  For more on this see my post Madison's Defintion(s) of Republic.
**This is, of course, what we see within the GOP in recent cycles.