Iowa Shifting the Narrative?
The media coverage continues on script.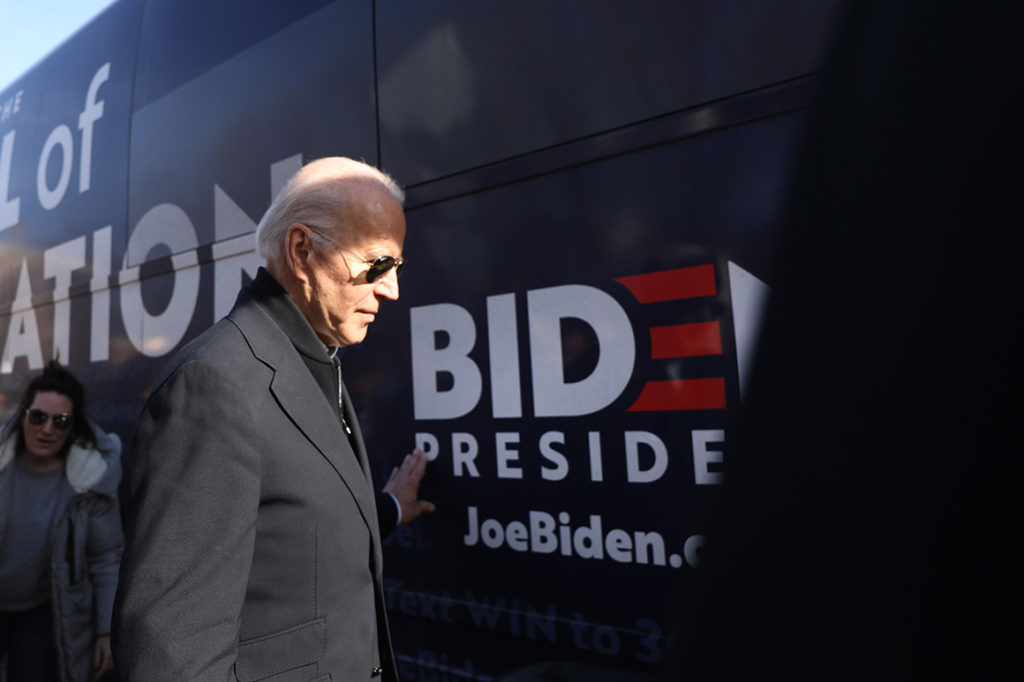 Monday morning, as we awaited the start of the Iowa Caucuses, I noted that the three people at the top of the national Democratic primary polls were the same as they had been when the race started in late 2018 and declared, "Like it or not, it's going to be Biden, Warren, or Sanders. Probably Biden."
The next morning, as we were sifting through the debacle in counting up the results, Steven Taylor reminded us how stupid caucuses are as a way of choosing delegates and how unrepresentative Iowa is of the country—and pointed out that "The outcomes of this event are only significant because of the vast media focus that has grown around this process." To which I responded, "While we're in full agreement on the silliness of it all, that very faux significance creates real significance precisely because we pretend it does."
Well, here we are.
AP put out a story yesterday under the headline "Biden's poor showing in Iowa shakes establishment support." They subsequently updated it without noting they've done so, as is their maddening wont, and changed the headline to "Biden casts top rivals as a risk for party that wants to win." Still, the narrative remains:
Facing questions about his campaign's viability, Joe Biden escalated his criticism of his top Democratic rivals on Wednesday, suggesting both Bernie Sanders and Pete Buttigieg were risky choices for a party desperate for a return to the White House.

Biden conceded that he was disappointed by his sagging performance in the leadoff Iowa caucuses, calling it a "gut punch" for his campaign. As he turned his attention to New Hampshire, he sought to reenergize his campaign by drawing sharper contrasts with those who led in Iowa, including casting Sanders — a self-described democratic socialist — as a drag on others in the party.

[…]

The tough talk comes as Biden's third presidential bid enters a critical stretch. He needs to bounce back from what partial results suggest could be a fourth place finish in Monday's Iowa caucuses. Biden trailed Buttigieg and Sanders, according to partial returns. He was also trailing Sen Elizabeth Warren of Massachusetts.

That leaves some establishment Democrats, including some Biden supporters, questioning his contention that he'll reclaim clear front-runner status in the race once the primary fight moves beyond overwhelmingly white Iowa and New Hampshire to more racially diverse electorates.

"If he came in fourth, yeah, that could hurt," said Bill Freeman, a Biden donor from Nashville, Tennessee, who added that he hadn't even considered such a possibility heading into Monday's caucuses. "That's a bad night, no matter how you spin it."
The NYT joins with a thumbsucker titled "What Went Wrong for Joe Biden in Iowa."
Mr. Biden's performance in the Iowa caucuses on Monday dealt a damaging blow to the former vice president; with well over 90 percent of the results counted by Wednesday night, he trailed Pete Buttigieg and Senators Bernie Sanders and Elizabeth Warren, with Senator Amy Klobuchar not far behind.

[…]

Certainly over the past year, Mr. Biden has proved far more resilient than many expected. He has led national polls for months despite verbal gaffes, scrutiny of his long and sometimes controversial record in Washington, and a relentless assault from Republicans over his son's dealings in Ukraine. The slow drip of vote totals in Iowa — and a swirl of other major news events — may blunt the attention on Mr. Biden's challenges. And Iowa is an overwhelmingly white state, while Mr. Biden's biggest political strength is with black voters, whom he is counting on for support in later-voting, more diverse states.

But he now faces jittery donors, an uncertain landscape in upcoming Democratic contests and a sharp challenge to the central argument of his campaign message: that he is the party's strongest candidate to win a general election.

Interviews with more than a dozen advisers, allies and Iowa strategists show that Mr. Biden was late in focusing on Iowa, put together an organization there that fell well short of his top rivals' and that his core pitch about electability and experience wasn't enough to persuade voters who wanted a fresh face or more boldly progressive ideas.
Biden has led the national polls literally since Day 1 of the race. He was never expected to do well in lily-white Iowa and New Hampshire. But here we are pretending that the partial results of a contest in a tiny, unrepresentative state decided by who ate the most pancakes with the voters is somehow indicative of an ability to connect with the Democratic nominating electorate.
But, sure enough, pretending that Iowa means something means that Iowa means something. POLITICO reports this morning "First head rolls after Biden's weak Iowa finish."
Joe Biden's campaign has parted ways with its Iowa field director, two days after the former vice president came in an embarrassing fourth place in the primary caucus state.

Adrienne Bogen, who headed field operations for Biden, will not stay on the campaign, even as other members of senior leadership were asked to head to other early states or to assist in Super Tuesday operations.

According to several sources within the campaign, Bogen is the first staff casualty following Biden's disappointing showing in the state.

"We had precinct captains who didn't know how to run a caucus. And a few didn't even show. We lost friggin' people on the second ballot of voting in the caucus! Someone's head had to roll," said a top-level Biden campaign staffer.

But friends of Bogen, who did not return calls and messages seeking comment, said she was being scapegoated by a floundering campaign, adding that she had complained about its dysfunction, which she blamed on higher-ups.
This all strikes me as an overreaction. The caucus format is absurd and, thanks to new rules put in place for this cycle, most of the handful of states that have utilized it in the past have switched to primaries.
Biden will almost certainly not do particularly well in New Hampshire, which went for Sanders in 2016 and is likely to do so again. Are we really going to write off the frontrunner based on two tiny, unrepresentative states?
The narrative that existed when I first started taking an interest in politics, four decades past, no longer makes sense. In 1976, when Jimmy Carter emerged seemingly out of nowhere through this process to become the Democratic nominee and, ultimately, President, the media environment was completely different. There were three nightly national television newscasts (four if you count PBS), each of which lasted half an hour. Local stations typically ran another newscast before the national news and immediately after the conclusion of the network prime time schedules. If you stayed up late enough, Johnny Carson might tell some political jokes. National media polls of the primaries were, at best, few and far between.
In that environment, it was possible for a governor with no national name recognition to build momentum by making grassroots connections with people in Iowa and New Hampshire for a few months. A surprise win or even high showing could then catapult them into the national spotlight, bring in donors, and give them momentum.
But Carter was the last out-of-nowhere nominee.
By the 1980 cycle, CNN had come into existence, permanently changing the news landscape. Now, "news" was an ongoing event rather than a moment in time. Two years later, the network would launch what would become "Headline News," a channel that was essentially 48 nightly newscasts, constantly updated, on an endless loop. Over time, competing news networks, talk radio, blogs, Twitter, Facebook, and other fora would emerge. Polling is constant and constantly reported. We can get a steady stream of political news and commentary at any moment we choose from our phones.
It's true that Pete Buttigieg and, to a much lesser extent, Andrew Yang have become national figures as a result of this race. Howard Dean managed that in the 2004 cycle. But, importantly, that happened well before people in Iowa put aside their pancakes to caucus.