Iran's Currency Has Collapsed. A Sign The Sanctions Are Working?
Iran's currency has collapsed and there are riot police in the streets of Teheran. It appears the sanctions may just be working after all.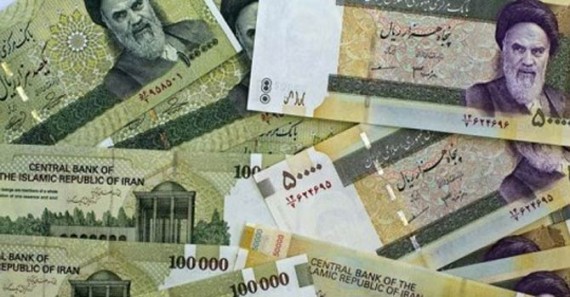 Thanks in large part to the massive sanctions imposed by the United States, and largely being complied with by most nations, the Iranian Rial has lost a massive amount of value in a very short period of time:
Iran's already fragile currency, the rial, has fallen in value by about 40 percent over the past week, battered by a combination of potent Western sanctions over the disputed Iranian nuclear program and new anxieties among Iranians about their government's economic stewardship, analysts said.

While the value of the rial has eroded for the past few years as Iran's economic isolation has deepened, the severity of the drop worsened with surprising speed in recent days as Iranians rushed to sell rials for dollars. By the end of the day on Monday, it cost about 34,800 rials to buy $1 in Tehran. The rate had been 24,600 rials as of last Monday.

"It's sort of in a full-blown stampede mode today," said Cliff Kupchan, a Washington-based analyst at the Eurasia Group, a political risk consulting firm. "There's very little confidence among many Iranians in the government's ability to adroitly manage economic policy."

In another ominous sign, 10,000 Iranian workers signed a petition addressed to Iran's labor minister complaining about the declines in their purchasing power and other economic maladies, suggesting that the accumulated impact of sanctions is putting more political pressure on the Iranian leadership, The Associated Press reported. President Mahmoud Ahmadinejad has said the sanctions, which are designed to force concessions on Iran's nuclear program, would fail.

Mr. Kupchan and others said the catalyst for the currency drop this past week appeared to be a policy change by the Central Bank of Iran on Sept. 23 that had been intended to reduce the volatility of exchange rates but had the opposite effect.

Under the new policy, the central bank established a "foreign exchange center" that gives preferential rates to importers of priority goods like meats, grains and medicine. But economists said the central bank may have inadvertently telegraphed fears that it was low on dollars, or at least lacked access to a large part of its estimated $110 billion in foreign exchange reserves. Some of that money is frozen in offshore accounts.

"What we have now is a massive dumping of rials," Mr. Kupchan said.

Djavad Salehi-Isfahani, an economics professor at Virginia Tech, said the actions of Iran's monetary officials showed that "the central bank doesn't know what to do in crisis times."

He said the situation had been exacerbated by Mr. Ahmadinejad's insistence that rates for borrowers and depositers could not exceed the inflation rate. One consequence was that few Iranians keep their money in banks. Worries that the government was not being upfront about inflation may have been further aggravated, Mr. Salehi-Isfahani said, by its decision a few weeks ago to stop publishing the inflation rate, which is officially 23.5 percent but probably much higher.

The shriveling value of the rial is now contributing to fears in Iran of a severe inflationary spiral, as an increasing amount of rials are required to buy food, medicine and machinery needed from abroad. At the same time, Iran's ability to sell oil, its main export, has been severely hampered by the sanctions on the nuclear program, which Iran says is for the peaceful development of nuclear energy but Western nations suspect is intended to produce nuclear weapons.
Today, there are reports of clashes between riot police and protesters in the streets of Tehran:
Riot police in Iran have clashed with protesters in the capital over sharp falls in the currency, the rial.

Tear gas was used to disperse the demonstrators, some of whom were setting fire to tyres and rubbish bins. There were many arrests, reports say.

Eyewitnesses told the BBC that scores of people gathered outside the central bank, calling for the governor to stand down, chanting anti-government slogans.

The rial has plummeted to record lows against the US dollar in recent days.

Money dealers were joined by traders from the nearby central bazaar, reports say.

Amateur video footage posted online appeared to show hundreds of people marching towards Iran's central bank.

Eyewitnesses told BBC Persian that riot police fired tear gas to disperse the crowds.

Reports say many shops in the central Grand Bazaar have brought down their shutters in sympathy with the demonstrators.

Traders are angry at the lack of direction from the government in the crisis, which they say has led to more instability in prices and made trading almost impossible, according to commentators.
Daniel Drezner takes this as a sign that the sanctions are working and that the Iranians may be nearing the point where they'd be willing to make compromises regarding their nuclear program. Even Benjamin Netenyahu seems to be getting on the sanctions bandwagon. A report in yesterday's New York Times indicates that the Prime Minister is looking to travel to Europe before the end of the year to push for hardening of the sanctions regime. This is likely a tacit admission on the part of the Israelis that they aren't going to be able to take out the Iranian nuclear program on their own, and that the United States is not willing to back military action at this time. It may also be the result of the conversations he had at the United Nations with Secretary of State Clinton. In any case, one would think that these developments in Iran, coming so quickly after Netenyahu's own speech to the U.N. General Assembly are going to be strong support in favor of the U.S. position that it is still possible to use sanctions to force the Iranians to the bargaining table.
Kevin Drum uses the developments in Iran to make this important point that's relevant to the ongoing Presidential election:
Regardless of what you think about Iran's nuclear program (and the sanctions regime itself), there's a lesson here: foreign policy isn't always — or even often — about who can bluster the hardest. Nor is it about "red lines" and toughness. It's messy. No one just sails from success to success. But Obama has pursued a sensible and persistent course against Iran's nuclear program: first getting the world on his side by demonstrating a genuine willingness to engage with Iran's leaders; pushing relentlessly for sanctions when that didn't work; declining to back down when Iran tried to split the coalition he'd built; consistently turning down policy options that might have turned Iran's people against him; and keeping military threats visible but always in the background.
As Drum notes, we have no idea if these sanctions are going to work. The Iranian Government could use the sanctions and the ongoing currency crisis as a way to rile up civilian resentment against the West by saying that we are the ones responsible for the economic crisis. They could use force to put down any protests like they did in 2009. Or, the protests themselves could fizzle out as people try to figure out how to live day-to-day in a country whose currency is losing incredible amounts of value every day. On other hand, the economic crisis and the threat of additional sanctions could force the Iranians to realize that they aren't going to get out of this showdown with the West without giving something up, thus opening up the door to negotiations. And, of course, the whole scheme could fail and we could find ourselves facing a decision about whether or not to go to war over Iran's nuclear weapons program.
That day of decision isn't today, though. These events suggest strongly that the sanctions are having an impact and that the Iranian people are blaming their government for the misery they are going through. As the Arab Spring has showed us, a populace that is both politically repressed and economically desperate can accomplish amazing things sometimes. Instead of listening to the John Bolton's of the world who want us to bomb Iran two weeks ago yesterday, perhaps we should take this as a sign that these far less deadly means, combined with diplomacy if and when the Iranians show themselves willing to talk, are the better way to go.