Is Bernie Sanders Finally Coming To Realize He Can't Possibly Win The Nomination?
With the Democratic race headed into territory where Hillary Clinton is heavily favored, Bernie Sanders may finally be coming to realize that he can't possibly win the Democratic nomination.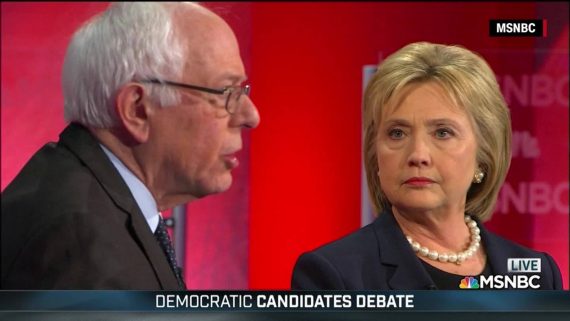 In the wake of Hillary Clinton's win last Saturday in the Nevada Caucuses, the race between Clinton and Vermont Senator Bernie Sanders has taken on a decidedly different tone. Where it was former Secretary of State Clinton who was on the defensive for much of February after a near-loss in Iowa and a decisive loss in New Hampshire, now it is quite clearly the Vermont Senator who is on the defensive as the race heads to South Carolina on Saturday and then quickly on to a series of Super Tuesday primaries in states where Clinton seems to have a clear advantage. The first sign of just how much the race has changed can be seen in the fact that Sanders seems to have clearly already conceded South Carolina to Clinton:
COLUMBIA, S.C. — With just a few days until the South Carolina Democratic primary, Bernie Sanders is all but writing the state off.

He hasn't said that, of course, but his schedule reflects it.

Sanders was in Massachusetts Monday night and Virginia Tuesday morning. While he attended a televised town hall in South Carolina Tuesday night and followed with an early morning news conference, his itinerary Wednesday consisted of events in Kansas City, Missouri, and Tulsa, Oklahoma. After that, his schedule called for a trip to Ohio Thursday — with stops in other March-voting states likely to be added, an aide said.

A candidate's time is a campaign's most precious resource, so by spending so much of it somewhere other than South Carolina, the Sanders campaign is engaging in the cold calculus of primary politics — making the tough decision to send the senator to the states where he expects to be the most competitive.

It's a reflection of the cloudy outlook in South Carolina — where Hillary Clinton currently holds a double-digit lead in every poll ahead of Saturday's primary — but also of Sanders' strategic map through mid-March. The campaign's goal is to project the message that he is running a durable national campaign, and central to that plan is a strong showing on Super Tuesday (March 1), followed by solid performances in big-state primaries like Michigan on March 8 and Ohio on March 15.

Asked whether he was writing the state off at his morning news conference — an opportunity for him to get into the local media stream before he headed off to Missouri — Sanders said "Nooo, noo, no, no, no."

"We came to South Carolina, and, if you look at the polls, we were at 7, 8, 9 percent in the polls. We were 50, 60, 70 points behind. We have waged a very vigorous campaign. We have closed the gap very significantly," he said.

Nonetheless, he conceded, "This, from Day One, was going to be a very difficult state for us. We're not writing off South Carolina, but you all know there are a dozen states voting on March 1."

Sanders and his aides bristle at the idea that they're giving up on South Carolina, partly because they've invested in a large local organization for months. And because of Sanders' widely-publicized struggles courting African-American voters, they're eager to avoid the perception that his choice to effectively stop campaigning in a state where black voters make up more than half of the Democratic primary electorate implies he's ceding the black vote to Clinton all across the country.

"Bernie invested a lot of time and money, and has a sizable operation here. They're certainly not skipping the state," said Brady Quirk-Garvan, chairman of the Charleston County Democratic Party. "But it's clear their focus is on Tuesday and moving forward past South Carolina."

After barely mentioning South Carolina in his speech and communications to supporters upon losing Nevada on Saturday, Sanders was forced to face that question the next day on CBS' "Face the Nation," insisting that he was not skipping the state.

"I'm talking to you from Columbia, South Carolina, we have a major rally this evening, we're not skipping over anything," he told host John Dickerson Sunday, flashing some irritation at the implication. "But I think that after South Carolina, we have 11 states, we stand a good chance of winning a number of those states."
Looking at the polls out of the Palmetto State, its'not hard to see why Sanders is not spending much time on the state prior to Saturday's primary. The four most recent polls, from NBC/WSJ, Fox News, Bloomberg, ARG, and Monmouth have Clinton leading Sanders by anywhere from 22 to 29 points, and the RealClearPolitics and Pollster poll averages both show Clinton with an average well above 50% of the vote and a lead well above twenty points. This is largely due, of course, to Clinton's advantages among African-American voters, which Sanders has utterly failed to make a dent in either in South Carolina or anywhere else in the country. Given that advantage, we can expect Clinton to win big on Saturday and big very well situated as we head into Super Tuesday and the early March primaries.
This is what I meant when I noted that the nature of the Democratic race had changed significantly with Clinton's victory in the Nevada Caucuses. With that win, Clinton blunted much of the momentum that Sanders had coming off his big win in New Hampshire and surprisingly good showing in Iowa. Had Clinton not won Nevada, of course, then the Democratic Primary in South Carolina would be getting a lot more attention than it is right now due to the fact that it would be seen as a must-win for Hillary Clinton headed into Super Tuesday. That is still the case, of course, but with the win in Nevada there seems to be little doubt that she will not only win in the Palmetto State, but that she has set herself up for a period in early March during which Sanders is going to be hard-pressed to find a place to win anything more than a handful of states. Current polling in the Super Tuesday states, for example, shows Clinton winning in nearly every state, with the only real exceptions being Sanders' home state of Vermont, as well as nearby Massachusetts. If these polls hold up, then Clinton stands to walk away with the vast majority of Super Tuesday delegates and what would likely be a permanent change in the momentum of the Democratic race. Clinton is in a similarly advantageous position in the polling in the states set to hold their primaries on March 8th and March 15th. If she ends up winning in those states as well, which is likely given that they all seem well-suited for her and her popularity among minority voters among other things then one could make the case that the Democratic race is effectively over at that point since Sanders path to victory would be tenuous at best.
To a large degree, of course, none of this should be unexpected. Notwithstanding Sanders' ability to perform well in states like Iowa and New Hampshire, and his ability to draw large crowds thanks to a message that resonates with a significant segment of the Democratic Party, there has never really been any realistic possibility that he was going to be the Democratic nominee for President. The race would be far different, obviously, if Sanders had any ability to garner support among the minority groups that make up the Democratic coalition, but he has proven completely unable to do so outside of a few token endorsements from African-American politicians and activists who don't really have very much influence in their own community. Thus, Sanders finds himself in much the same position that Clinton was in when she ran against Barack Obama in 2008 and he was garnering historic vote shares and turnout from African-American and other minority groups. The difference is that, unlike Clinton, Sanders has a much smaller base supporting him so his ability to actually last in the race is far more limited. At some point, then, Sanders will have to make a choice between staying in the race and being little more than a minor annoyance for Clinton as she continues racking up delegates or bowing out and uniting behind the inevitable nominee, likely with the promise that he'll be able to bring his supporters and his message to the Democratic National Convention in June as long as he pledges to support Clinton in the General Election. Given the fact that it's always seemed to me that Sanders is really running more to spread a message than win a campaign, I suspect he'll chose the later course soon enough and Clinton will end up the presumptive nominee perhaps as early as the end of March.