Is Early Voting A Good Idea?
Should people be able to vote six weeks before Election Day?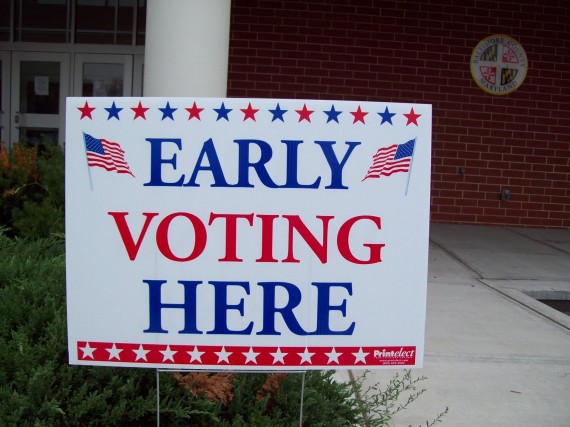 As I noted late last week, as of Saturday voters in half the country are now eligible to vote early either via earlier voting or by submitting an absentee ballot. Within the next two weeks, the number of early voting states will expand even more as states like Ohio open up their month-long early voting period. All of this is happening before the first debate has even taken place, and long before either candidate has had a chance to make their "closing argument" to the American people. It also is arguably happening before voters have all the information about the candidates running for office. That leads Matt Lewis to argue that the entire concept of early voting is a bad idea, and he lists five reasons supporting his argument:
1. It doesn't work. Researchers at the University of Wisconsin demonstrated that early voting can actually depress turnout. In fairness, they believe same-day registration (which I would oppose for ballot integrity reasons) is a much more important key to increasing voter participation.
Lewis is referring to a study that I wrote about back in October 2010.  The authors of the study also explained their findings in a New York Times Op-Ed. As I noted at the time, the findings seem counter-intuitive in that one would think that making it easier to vote earlier would lead to increased turnout. However, the study itself seems sound, and there is support for it in other Political Science literature such as this paper [PDF] published by the American Political Science Association in 2003 that found that early voting had, at best, a nominal impact on voter turnout in the states where it was available. There appears to be very little, if any, actual evidence that early voting makes it more likely that people who wouldn't vote actually end up voting.
Even if this research is accurate, though, I'm not sure it proves that early voting doesn't work, because increasing turnout isn't the only goal of early voting. There's also the convenience factor and the idea of just making it easier for people to vote to begin with. In that respect, I would say it's fairly clear that early voting does work.
2. Voters are casting ballots before they have all the information.

In October, there will be three important presidential debates. But Americans who vote today can't take their votes back if they learn some disqualifying information between now and November 6. And even if the candidates don't introduce new information or commit some sort of gaffe, what if the world changes?
On the surface, this seems like a good argument. It's better for our political system as a whole if voters go into the polls with all the information they need to make a decision, and if they're voting a month before Election Day, and even before debates have started, they arguably aren't doing that. I see two problems with this argument, though. First of all, the people who are likely to be motivated to vote early are generally the same type of people who are going to be motivated to vote at all, and they are likely to be quite well-informed about the issues in the election and where the candidates stand on the same. I don't think there's much dangers of uninformed and low information voters, who are likely to not be paying much attention to the election anyway, making the extra effort to vote early. Second, there have been very few incidents in American history where something happened in the last month of the race that changed it fundamentally. Contrary to many people's memory, it certainly didn't happen in the 1980 election, for example. The only instance I can think where a problem might occur would be if a candidate dies before Election Day, but that hasn't exactly been a common occurrence in American history. Finally, this argument fails to recognize that there are large segments of the American electorate for whom new information would be largely irrelevant. These people are the die hard Republicans and Democrats who are going to vote for their party's candidate no matter what. I really don't see the harm in that group of people voting early.
3. The cost — both to the taxpayer and the campaigns. In my home state of Maryland (where early voting is still relatively new), it cost taxpayers $2.6 million, without increasing turnout. But the cost to campaigns might be even greater

We frequently lament how much politicians spend to get elected, but one factor driving the increased cost of campaigns is that politicians have to spend a tremendous amount of time and resources finding out when various voters will actually cast their ballots. That's because a decent percentage of "undecided" voters wait until the last minute to make up their minds. And so, campaigns wisely attempt to contact them in the last 72-hours prior to their voting. The goal is to contact them just before they vote.

But how do you know when the last minute is for a voter who could potentially vote at any time? (After all, it doesn't do you any good if a voters sees your mail piece or TV ad the day after they voted.)
There's no doubt that early voting complicates things for campaigns. Instead of having a single Get Out The Vote effort that is meant to get all of your supporters to the polls on Election Day, you've got to factor in the fact that some people are going to vote before Election Day, either in person or by absentee ballot. It also means that you may end up sending last minute campaign literature to people who've already voted, but the marginal cost of a single piece of this kind of bulk mail material is actually pretty low. Indeed, there are as many opportunities for campaigns in early voting as there are problems. Most specifically, it was a well-organized early voting operation by Mitt Romney in Florida's January primary that made his lead there impossible for any of his opponents to overcome. According to several reports, for example, by the time the New Hampshire Primary had taken place the Romney campaign had mailed an absentee ballot application to every single registered Republican in the states, as well as the non-registered voted who had voted in recent Republican primaries. Last week, it was reported that Democrats were far ahead of Republicans in absentee voter applications in Iowa. In elections where turnout can be the deciding factor, such as November's election is likely to be, a well-organized early voting campaign could be the difference between winning and losing an election.
As for the cost, I'm not sure I see $2.6 million as a huge burden and, as Jazz Shaw notes in his own piece on this topic, if the voters of Maryland, through their elected representatives, believe this is a good idea, then who are we to question the expenditure of money for early voting?
4. Ballot integrity. Unlike early voting, absentee voting is typically done by mail, which opens the door for voter fraud, spouses who are members of opposing parties "losing" ballots, etc. It happens.
This strikes me as mostly a red herring. Absentee ballots have been a part of American politics for decades. Indeed, deployed members of the military can only vote via absentee ballot. The State of Washington votes almost entirely by mail. While there have been anecdotal reports of abuse, there certainly hasn't been enough to call the whole practice into question.
5. Community. Early voting may be more convenient, but having done both, I can tell you there is something about voting on Election Day that feels special. There is something patriotic and communitarian about it. And I think we lose something when we don't do it together.
I'm entirely unimpressed by this argument. Having voted in elections since 1986, I cannot say that standing in line to vote and then ending the process by getting one of those "I voted" stickers, which I usually just take off when I get in the car anyway, infuses me with any special sense of community. And it's hard to feel like you're part of a community when you go to vote in a primary election and you're literally the only person there other than the poll workers, something that has happened to me more than once.
I certainly don't think that every state has to have early voting, or that it needs to be available as early as six weeks before an election, but I don't see anything wrong with it either. If the people of a certain state want it, then that's their choice. The argument that early voting somehow interferes with the political process is, mostly, nonsense. If a particular state fabricates rules that allow people to vote starting in September, I really don't see what's wrong with it.