Israel Rejects Temporary Cease Fire Plan As Gaza Conflict Continues To Rage
Hopes for a temporary respite in the Gaza conflict faded away today.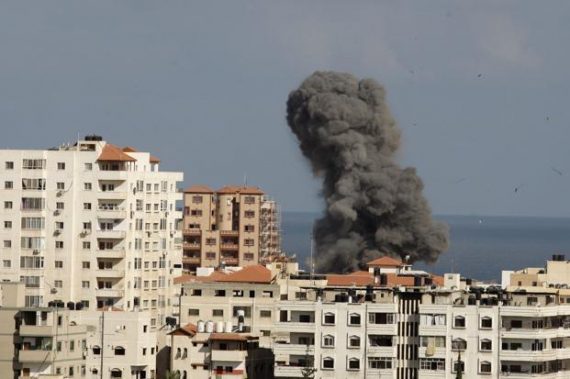 Secretary State John Kerry has been in the Middle East for the past several days attempting to broker a cease fire in the ongoing conflict between Israel and Hamas which has now been raging in Gaza for eighteen days. Earlier today, there were reports that Kerry, along with the Egyptians and officials in Qatar that apparently have a good relationship with Hamas, was backing a plan that would have put in place a humanitarian cease fire that would have lasted for a week, with the idea that the parties would use that time to try to negotiate a wider agreement. Earlier this afternoon, though, word came down that Israel had rejected the plan in its current form:
JERUSALEM — Israeli media say the country's Security Cabinet has unanimously rejected a U.S. proposal for a temporary pause in Israel-Hamas fighting.

The proposal by Secretary of State John Kerry calls for a temporary truce during which Israel and Hamas would hold indirect talks about easing the border closure of the blockaded Gaza Strip. Hamas has demanded that Gaza's crossings be opened.

Israel TV reports that on Friday evening, Israel's Security Cabinet — which groups top ministers on security issues — rejected the proposal in its current form Friday, mainly because it would mean Israel has to cut short an ongoing effort to destroy Hamas military tunnels under the Gaza-Israel border.

There was no immediate Israeli government comment.

Israeli airstrikes hit more than 80 sites in Gaza, while militants in the tiny Mediterranean strip fired 50 rockets at Israel, the army said.
Among the sites hit in Gaza were 30 homes, including that of a leader of the Islamic Jihad group who was killed along with his sons, Palestinian officials said.

Israel says it wants to diminish Hamas' ability fire rockets and to destroy tunnels Hamas has dug under Gaza's border with Israel for military purposes. Hamas, meanwhile, wants to force Israel and Egypt to end their seven-year-old blockade of Gaza's borders.

The worst round of cross-border fighting in more than five years has killed 828 Palestinians and wounded more than 5,200, according to Palestinian health officials. The U.N. has civilians make up three-fourths of the dead and a majority of the wounded.

In Israel, 38 people have been killed since July 8, including 35 soldiers, two Israeli civilians and a Thai worker.
This latest news came a day after a United Nations school in Gaza that was being used as a shelter for civilians who had been forced out of other parts of the region due to fighting was hit by fire, killing sixteen people and wounding more than one hundred. Both sides in the conflict pointed fingers after the incident, with Hamas saying that an Israeli strike had hit the school, and Israel saying that it was a stray Hamas rocket that was responsible for the tragedy. Given that the site is in the middle of a war zone, it will be impossible to figure out what the truth is at this point, of course, and on some level it wouldn't even matter if it did. Each side will interpret the event however they see fit. On the Palestinian side, for example, the attack was followed by large anti-Israel protests in the West Bank, which has been relatively quiet for most of the nearly three weeks that the conflict between Israel and Hamas has been going on. Whether that's a sign that the conflict is likely to spread, such as the calls by some in Hamas for a so-called "third Intifada" in the West Bank in recent weeks, is unclear. At the very least, though, it is yet another sign that this latest war is unlikely to do anything to dispel the mutual hatred and distrust that fuels the Israel-Palestinian conflict, even if Israel does manage to seriously undermine the ability of Hamas to attack Israel in the future.
As I've said in my previous posts, I continue to believe that Israel is largely in the right here. Hamas is a terrorist organization that has dedicated itself to Israel's destruction, refuses to recognizes the right of Israel to exist, and has used its time in power to turn Gaza into the launching pad for terror attacks while ignoring the welfare of the people of Gaza. Between the unprovoked rocket attacks, the tunnels that have been discovered which are clearly designed to both smuggle weapons into Gaza outside of the border checkpoints and to sneak terrorists into Israel, and Hamas's past actions of killing innocent Israelis via suicide bombers before Israel cracked down and imposed the current blockade that restricts entry and egress from Gaza to select areas, it is hard to blame Israel for what it is doing. Yes, the civilian deaths are tragic and regrettable, but it seems absurd to me to place the primary blame for those deaths on Israel when it is obvious that Hamas is deliberately placing civilians at risk by placing weapons in civilian areas, hiding weapons in schools, and telling people to ignore the warnings that Israel sends to civilians before it attempts a military strike. They obviously care as little for the lives of Gazans as they do for the lives of Israelis, and the best thing for all concerned would be if they were swept out of power.
The problem, of course, is that things are not seen in those black and white terms in the context of the larger Israeli-Palestinian issue. Even though it is largely in the right, Israel is obviously taking public relations hits for these civilian deaths. Israel's attacks on Gaza may well generate trouble in the West Bank regardless of the fact that its clear that Hamas doesn't care about West Bank Palestinians any more than it cares about anyone else. Even the respite that destroying most of Hamas's military  ability is likely to bring Israel could be short-lived. However, as always seems to be the case with situations like this, there really doesn't seem to be a better alternative. This won't end until both sides want it to end and, right now, there is a very powerful force in Gaza that benefits from continued conflict.