Jack Johnson, First Black Heavyweight Champion, Pardoned By President Trump
Jack Johnson, who was convicted of violating the Mann Act in a case obviously infected with racism, has been pardoned by President Trump.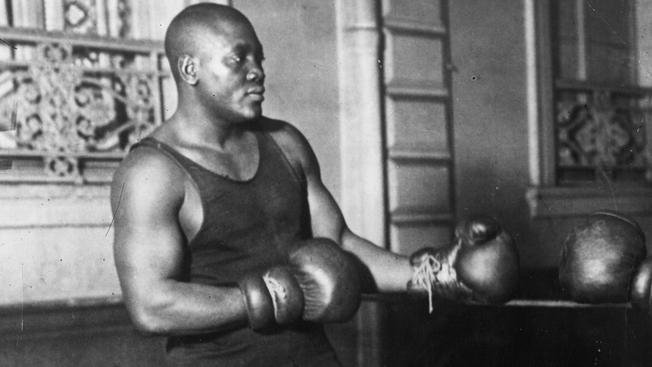 Yesterday, President Trump issued a posthumous pardon to legendary Jack Johnson, the first African-American heavyweight boxing champion, who was prosecuted at the beginning of the 20th Century in a case that was clearly tinged with racial bias:
WASHINGTON — President Trump on Thursday pardoned Jack Johnson, the first black heavyweight champion, who was convicted in 1913 of transporting a white woman across state lines.

Mr. Trump signed the pardon for Johnson during an Oval Office ceremony, sitting at the Resolute Desk and flanked by Sylvester Stallone, Lennox Lewis and other fighters.

The president called Johnson "a truly great fighter, had a tough life," but served 10 months in federal prison "for what many view as a racially-motivated injustice." Mr. Trump said the conviction took place during a "period of tremendous racial tension in the United States."

Decades after Johnson was convicted, his case drew significant attention as a gross miscarriage of justice and a symbol of the depths of racism in the American justice system.

He was convicted of violating the Mann Act, which prohibited travelling with a woman across state lines "for immoral purposes." The woman Johnson transported, Belle Schreiber, who had worked as a prostitute, had dated the heavyweight champion.

Johnson was sentenced to a year in prison, but he fled the country for several years, returning in 1920 to serve his sentence.

"He was treated very rough, very tough," Mr. Trump said Thursday as he signed what he called an "executive grant of clemency, a full pardon" to Johnson.

The president noted that bipartisan requests for the pardon for Johnson had been made for years, but that despite that, no previous president had been willing to sign one. He noted — with a glancing reference to former President Barack Obama — that the last resolution in Congress calling for the pardon was in 2015.
Over recent years, there have been several efforts to void Johnson's criminal prosecution, both via Congressional action and Presidential pardon. Many people had hoped that President Obama, the first African-American President, would take it upon himself to be the one to finally issue the pardon that Johnson clearly seemed to deserve given the circumstances of his arrest, trial, and conviction. His cause was taken up by boxing officials and boxers, by celebrities such as Sylvester Stallone, and by politicians such as Arizona Senator John McCain, who said in a statement this afternoon that the pardon "closes a shameful chapter in our nation's history."
The Mann Act, which has also been called the "White-Slave Traffic Act," was passed by Congress in 1910 with the alleged intention of combatting the problem of young women being transported across state lines for prostitution. In reality, it was often used to attack African-American men who were in relationships with, and in some cases even legally married to, white women. This is exactly what happened in Johnson's case:
On October 18, 1912, Johnson was arrested on the grounds that his relationship with Lucille Cameron violated the Mann Actagainst "transporting women across state lines for immoral purposes" due to her being an alleged prostitute. Her mother also swore that her daughter was insane.  Cameron, soon to become his second wife, refused to cooperate and the case fell apart. Less than a month later, Johnson was arrested again on similar charges. This time, the woman, another alleged prostitute named Belle Schreiber, with whom he had been involved in 1909 and 1910, testified against him. In the courtroom of Kenesaw Mountain Landis, the future Commissioner of Baseball who perpetuated the baseball color line until his death, Johnson was convicted by an all-white jury in June 1913, despite the fact that the incidents used to convict him took place before passage of the Mann Act. He was sentenced to a year and a day in prison.

Johnson skipped bail and left the country, joining Lucille in Montreal on June 25, before fleeing to France. To flee to Canada, Johnson posed as a member of a black baseball team. For the next seven years, they lived in exile in Europe, South America and Mexico. Johnson returned to the U.S. on July 20, 1920. He surrendered to federal agents at the Mexican border and was sent to the United States Penitentiary, Leavenworth to serve his sentence in September 1920. He was released on July 9, 1921.
While a posthumous pardon does not compensate Johnson personally for the wrong that was done to him, nor does it give him back the time that was stolen from him as a result of this conviction, it strikes me that this was an entirely appropriate action. Johnson's prosecution and conviction was based entirely on the fact that he was a bombastic, outspoken, famous African-American who spoke his mind dated and married white women during a period when Jim Crow was still gripping the south and racial attitudes in the rest of the nation weren't exactly enlightened. Had he been a white man, it seems rather obvious that he would not have been prosecuted at all regardless of the circumstances under which he was caught. His conviction was a stain both on his own record and on the record book of history. I haven't complimented President Trump for many things over the past sixteen months, but he did the right thing here.