June Jobs Report Brings Another Round Of Disappointment
With four months to go until Election Day, the Obama Campaign was greeted with a very dismal jobs report this morning.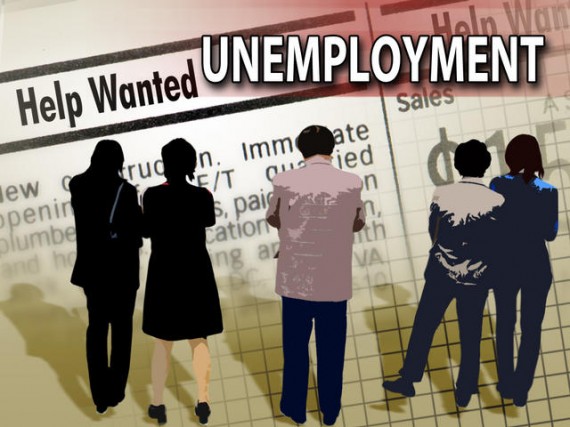 Despite some signs I noted yesterday that suggested that the June jobs report might not be as disappointing as some feared, the slowing trend that we saw starting to develop in March, which continued into April, and got even worse in May, were still there in June. Analysts had expected that we'd see at least 90,000 jobs added in June, with some this morning even suggesting a number as high as 125,000 in light of yesterday's ADP report. In the end, though, we ended up with an unchanged unemployment rate and a meager 80,000 net jobs created:
The number of unemployed persons (12.7 million) was essentially unchanged  in June, and the unemployment rate held at 8.2 percent. (See table A-1.)

Among the major worker groups, the unemployment rate for blacks (14.4 percent)  edged up over the month, while the rates for adult men (7.8 percent),
adult women (7.4 percent), teenagers (23.7 percent), whites (7.4 percent), and Hispanics (11.0 percent) showed little or no change. The jobless rate
for Asians was 6.3 percent in June (not seasonally adjusted), little changed from a year earlier. (See tables A-1, A-2, and A-3.)

In June, the number of long-term unemployed (those jobless for 27 weeks and over) was essentially unchanged at 5.4 million. These individuals accounted for 41.9 percent of the unemployed. (See table A-12.)

Both the civilian labor force participation rate and the employment-population ratio were unchanged in June at 63.8 and 58.6 percent, respectively. (See table A-1.)
If that labor force participation rate were at the same level it was when Barack Obama took office in January 2009, the unemployment rate would be 10.9%, a number which in and of itself makes clear just how many people are sitting on the sidelines right now, and likely will continue to do so until there are signs that there is real job growth in this economy. Elsewhere in the report we find that U-6, the broadest measure of unemployment which had dropped quite nicely in the early part of the year, ticked up against for the second straight month and now stands at 14.9%.  The number of unemployed people stands at roughly 12.7 million, with more than 41% of those being unemployed for more than six months.
There were revisions to the previous two months of jobs report. The April report, which had put the net jobs number at 77,000 was revised downward to 68,000, while May's number of 69,000 was revised upward to 77,000. That May revision makes the June report look even weaker since it shows that jobs growth barely tread water. Indeed, for the entire Second Quarter of 2012, there were only 225,000 jobs created, an average of just 75,000 per month. That's the kind of number we actually ought to be seeing on a monthly basis. Indeed, we ought to be adding between 125,000 and 150,000 just to keep up with population growth. During the First Quarter, we added an average of 226,000 jobs per month and it seemed like the job market was picking up, but something started going off the rails in March, and it continued into the Second Quarter. So, it's not surprising that CNBC reports that the Second Quarter was the weakest quarter for growth into two years:
With yet another month of weak employment growth, the second quarter marks the weakest three-month period in two years.

May's weak initial 69,000 report was revised upward to 77,000, which made the June number essentially flat.

There were a few bright spots: The overall work week edged higher by 0.1 hour to 34.5 hours and average hourly earnings grew 6 cents to $23.50.

But it was an otherwise dismal report that will up the stakes in the race between President Obama and Republican challenger Mitt Romney.
There are now only four jobs reports left before the Presidential election, including one that comes out the Friday before the election itself. Quite obviously, each one of them is going to be crucial for both candidates:
WASHINGTON — Economists are slashing their already tepid growth forecasts. The unemployment rate seems stuck at around 8 percent. It is a tense time for the American economy. It is also the time that some experts believe the country's undecided voters are beginning to cement their presidential picks.

That is why many political scientists and consultants consider Friday's jobs report and the ones immediately following it to be so important — perhaps more so than those of the previous three years.

"I don't know whether it is because American voters are myopic, or because they are forward-looking," said Andrew Gelman, the director of the Applied Statistics Center at Columbia University. "But they appear to care most about change in the economy in the year preceding the election," rather than the state of the economy over an incumbent president's first four years.

Some narrow the critical period even more, arguing that what happens from April until October of an election year weighs especially heavily on voters' minds.

"It's difficult to sort out the electoral effects of specific slivers of economic conditions," said Larry M. Bartels, a Vanderbilt University professor of political science. But he cited the economic climate of the middle of the election year as unusually important — a time when even wavering voters begin to lock in decisions on the presidential race and lock out conflicting reports about the economy.

This political reality is not lost on the Obama and Romney campaigns, which have sparred over the state of the economy to the near exclusion of every other issue.

Mitt Romney, the presumptive Republican nominee, has centered his campaign on the notion that President Obama's incompetence as an economic steward has made recovery weaker than it need have been — with unemployment too high and job growth too slow.

Mr. Obama has countered that Mr. Romney's business record at Bain Capital epitomizes the profits-at any-cost philosophy that has cut middle-class jobs. As for his own record, he argues that pushing the 2009 stimulus program through Congress has helped the economy rebound and that without it, the nation would be in worse economic straits.

"Throughout history, it has typically taken countries up to 10 years to recover from financial crises of this magnitude," Mr. Obama said recently, noting the sustained recessions in Europe. He added, "Our economy started growing again six months after I took office, and it has continued to grow for the last three years."

The question now is which economic messages will sink in among the pool of voters — roughly one in 10 — who tell pollsters they are undecided.
There are some signs, of course, of renewed economic optimism, as I noted yesterday. It's possible, though, that this optimism could be related to factors such as the declining price of gas, as was suggested by a few in the comment thread yesterday, rather than overall confidence in the economy. Indeed, recent retail sales figures would seem to indicate that consumers are keeping their wallets shut tight at the moment, a sign that they are not confident to actually spend money on things. This jobs report, along with the ones that will come out between now and Election Day, along with other economic statistics will play a large role in how those undecided voters view the economy, but so will their personal experiences:
The arguments likeliest to prove decisive will come not from candidates directly, but from peers and acquaintances of those undecided voters — whom campaign strategists consider the most persuasive messengers. "Both campaigns will have extraordinarily sophisticated outreach and targeting operations," Mr. Schmidt said. "If you're an undecided teacher, you'll get phone calls from other teachers," as well as messages from Facebook friends and Twitter followers.

Analysts say voters give more heed to where the economy is headed than to its current state. That means a president overseeing a high but falling unemployment rate might have a better shot than a president overseeing a lower but increasing one.

To make the point, Mr. Gelman used the presidencies of Jimmy Carter, who did not win re-election, and Ronald Reagan, who did. "Under Carter, the economy did well and then got worse," he said. "Under Reagan, it got worse and then got better. If you average over four years, the economy was better under Carter than Reagan. But that is not how voters think."
The difference, of course, is that when Jimmy Carter headed to the polls in 1980 the economy was not only bad but it looked it was getting worse. In 1984 when President Reagan was seeking re-election, the unemployment rate was still in the 7% range but, the economy was adding jobs at a tremendous rate. In the 1st quarter of 1984, the economy added 1,177,000 jobs in the first quarter, and then another 1,217,000 jobs in the second quarter, and another 321,000 in the third quarter. That's an average of 301,667 jobs created in the first nine months of the year. By the end of that year, the economy had created 3,360,000 jobs. We're not going to get anywhere close to that in 2012. (Source for 1984 figures [PDF])
It's hard to say what voters will think about the economy between now and November, but reports like this aren't likely to stimulate much optimism no matter how the Obama Campaign tries to spin it.