Justice Department Announces There Will Be No Federal Charges Against George Zimmerman
Nearly three years to the day after it started, the George Zimmerman case is essentially over.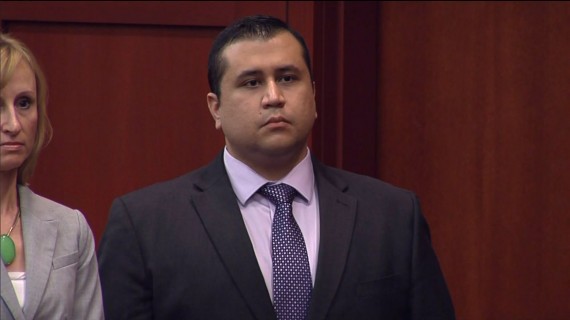 Just a few days short of the third anniversary of the confrontation in a Florida community that thrust him into the national spotlight, the Justice Department has announced that it will not be pursuing civil rights charges against George Zimmerman in conection with the shooting of Trayvon Martin:
MIAMI — The Justice Department on Tuesday closed its investigation into the shooting death three years ago of Trayvon Martin, the unarmed black teenager in a hoodie who became a symbol of racial profiling and expansive self-defense laws, without filing hate-crime charges against the gunman George Zimmerman.

The department began a civil rights investigation shortly after a national furor erupted over Mr. Martin's death, which set off protests, demands for justice and an emotional response from President Obama. The shooting was the first in a string of racially tinged cases involving the death of young black men that have prompted a rethinking of the nation's criminal justice system and police procedure.

Mr. Zimmerman was acquitted in a state court of second-degree murder in 2013; some jurors said they believed that Mr. Zimmerman had shot Mr. Martin, 17, in self-defense.

"Though a comprehensive investigation found that the high standard for a federal hate crime prosecution cannot be met under the circumstances here, this young man's premature death necessitates that we continue the dialogue and be unafraid of confronting the issues and tensions his passing brought to the surface," Attorney General Eric H. Holder Jr. said in a statement.

On Tuesday, officials from the Justice Department and the F.B.I. met with Mr. Martin's parents, Sybrina Fulton and Tracy Martin, to inform them about the decision not to bring federal charges.

Since Mr. Zimmerman's acquittal, he has had numerous run-ins with the law. Last month, he was arrested and charged with aggravated assault, accused of throwing a wine bottle at his girlfriend. In 2013, shortly after his acquittal, he was arrested after a heated fight with another girlfriend, but the woman asked prosecutors not to press charges. And in 2014, the police in Lake Mary, Fla., said a driver had told officers that Mr. Zimmerman threatened him during what was described as a road rage incident.

The federal inquiry was started to pursue "an independent investigation" into the shooting after local police officials and prosecutors were slow to arrest and charge Mr. Zimmerman; they argued that Florida's self-defense laws would make it difficult to prove a criminal case. Gov. Rick Scott then appointed a special prosecutor who eventually charged Mr. Zimmerman.

After scores of interviews about Mr. Zimmerman's character and actions, as well as the circumstances of the shooting, the Justice Department has concluded that not enough evidence exists to charge Mr. Zimmerman, who is part Peruvian, with a hate crime, Mr. Martin's parent said.

Mr. Zimmerman's former lawyer, Mark O'Mara, has said that there is no evidence his client was racist, citing the fact he had black friends and saying that he had mentored two black youths.

The bar for bringing federal hate crime charges is high. Federal prosecutors have to prove beyond a reasonable doubt that Mr. Zimmerman intended to kill Mr. Martin simply because he was black. Negligence and recklessness are not enough.
Although it's somewhat unusual for an investigation of this type to have taken this long, the outcome is not unexpected. Back in October, there were already hints that this would be the outcome based on reports out of the Justice Department that civil rights charges would be unlikely in this case. However, it was apparent long before then that this was not an appropriate case for Federal jurisdiction. As I noted in the aftermath of the verdict int he state court murder trial, there simply was no credible evidence that Zimmermann acted out of racial animus or with the intention of depriving Martin of his rights because of his race. Instead it was clear from the beginning that this was a confrontation between two men on a dark February night that went very bad very quickly, and while one can criticize Zimmerman for his actions it seems clear to me from the evidence that has been made public, and most especially from what came out at trial, that the jury came to the right decision based on the way the case was presented to them. Perhaps the outcome would have been different if the prosecutors had tried from the beginning to go for a a lesser charge such as manslaughter or negligent homicide, but they didn't do that and the evidence that was presented was quite simply insufficient to find Zimmerman guilty of the charges against him and, indeed, was more than sufficient to support the claim of self-defense that Zimmerman had raised in his defense. In the end, it was obvious that Zimmerman did not have any real racial motives that night, and for that reason alone it would have been wrong for the Justice Department to bring charges against him.
The Zimmerman case isn't the only recent high profile case that the Justice Department has been considering, of course. There is still an ongoing investigation related to the August 2014 shooting of Michael Brown in Ferguson, Missouri which resulted in no charges being brought against former Office Darren Wilson by a St. Louis County Grand Jury. In that case, there have been multiple reports, both before the Grand Jury announced its decision and afterwards, that the Justice Department was unlikely to bring charges against Wilson in that case. As with the Zimmerman case, the main reason for this is the fact that there isn't sufficient evidence to demonstrate that Wilson acted out of racial animus during the incident that resulted in Michael Brown's death last year. Additionally, the evidence that was released in the wake of the Grand Jury's decision in November seems to make it unlikely that a Federal Prosecutor would be able to bring charges against Wilson that they could have a good faith belief had the potential of resulting in a finding of guilt beyond a reasonable doubt. In such a situation, it is generally considered unethical for a prosecutor to even bring charges. In addition to investigating Wilson and the Brown shooting, though, the Justice Department is also conducting a broader investigation of the Ferguson Police Department. That is potentially a much longer process, and many legal observers seem to believe that it will result in some action by the department that will result in mandated changes in how the police in Ferguson operate. As far as Wilson goes, though, I would expect that we'll be getting an announcement in that case similar to the one issued today regarding Zimmerman.
For all purposes, this announcement means that the Zimmerman/Martin case is over. There is no further potential of criminal charges in the case and, while Zimmerman may still face a civil trial on the part of Martin's parents, that case will be largely symbolic since, by all accounts, Zimmerman is penniless and has no assets. In other words, whatever your opinion of George Zimmerman, it's time to close the books on this case.