Kevin Williamson: Hero Or Menace?
What is the appropriate response to someone who's acting like a jerk?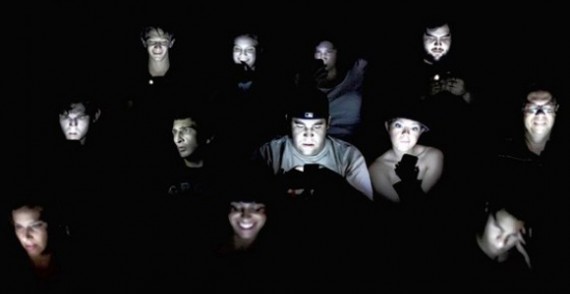 National Review's Kevin Williamson got himself kicked out of a theater last night. I'll let him tell the story:
I had a genuinely new experience at the theater tonight: I was thrown out.

The show was Natasha, Pierre, and the Great Comet of 1812, which was quite good and which I recommend. The audience, on the other hand, was horrible — talking, using their phones, and making a general nuisance of themselves. It was bad enough that I seriously considered leaving during the intermission, something I've not done before. The main offenders were two parties of women of a certain age, the sad sort with too much makeup and too-high heels, and insufficient attention span for following a two-hour musical. But my date spoke with the theater management during the intermission, and they apologetically assured us that the situation would be remedied.
Well, it turns out that the situation wasn't remedied and the woman in question continued using her cellphone. When Williamson tried to remind her about the theater's policy on cellphone use, she told him to mind his own business. So, he took matters into his own hand:
I minded my own business by utilizing my famously feline agility to deftly snatch the phone out of her hand and toss it across the room, where it would do no more damage. She slapped me and stormed away to seek managerial succor. Eventually, I was visited by a black-suited agent of order, who asked whether he might have a word.
Dave Weigel calls Williamson an "American hero," and Rod Dreher agrees:
I know just how he feels. I remember almost 20 years ago, as a film critic in south Florida, I routinely had to deal with people who thought they had a right to talk through movies. I remember on one occasion politely asking these three elderly women sitting behind me several times to please stop talking during the movie. They weren't just exchanging remarks every now and then. They were talking in a normal tone of voice, as if they were sitting in front of the TV in the community room of their assisted living home, or whatever. The bizarre thing is that they treated my politely stated requests as if I were some sort of ogre who insulted them by asking them to respect the rest of us by piping down.

(…)

More and more people, it seems, simply do not understand how to behave in public, and how to respect others. I wouldn't recommend seizing the phones of rude old ladies and throwing them across the room. But I understand the impulse, and would pay Kevin Williamson's court costs, if it came to that.
Williamson notes in his piece that he could face criminal charges and, indeed, as Taylor Berman notes, what he did here could qualify as either criminal mischief in the third degree or menacing in the third degree. Menacing is a Class B Misdemeanor publishable by up to 90 days in jail while criminal mischief is a Class E Felony and carries a maximum sentence of 1-4 years.  Of course, those are maximum sentences and it's probable that Williamson wouldn't get a sentence like that if he were actually charged and found guilty. Nonetheless, it does demonstrate that this is not an affair. Indeed, if this woman had been injured during the course of this incident then it's possible that he would be potentially facing more serious charges.
Leaving aside the criminal matters, though, I really have to wonder about Williamson's actions here and the apparently unrepentant attitude that he displays in the comment thread to the post. The responses of Weigel and Dreher are puzzling too. Nobody denies that our technology has given rise to a whole subculture of rude people and that people who insist on texting, Tweeting, or doing whatever on their phones in a darkened theater are among the rudest. However, is it really appropriate to respond to such people by using force? I'm uncertain if it was an option in this case, but one can always get up and find another seat if you find it truly annoying. Barring that, reporting the person to the appropriate staff member seems to be the best thing to do. Taking matters into your own hands seems to me to be unnecessary, potentially illegal, and in the end counterproductive.