Kobach Quits "We Build the Wall" Board
And a reminder about Bannon's wall grift.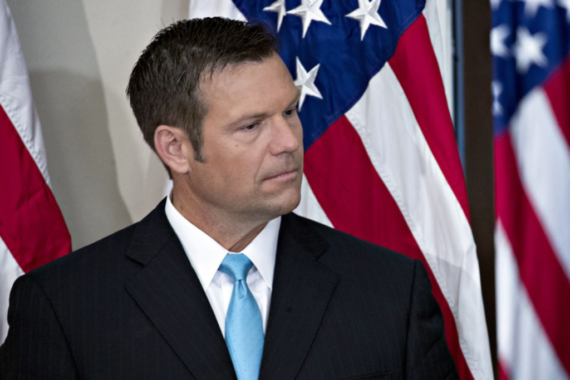 Via the Kansas City Star: Kris Kobach resigns from We Build the Wall board after nonprofit indicted on money laundering.
Former Kansas Secretary of State Kris Kobach, the Republican candidate for state attorney general, resigned Friday from the board of directors of We Build the Wall after the nonprofit organization was indicted on allegations of money laundering, conspiracy and fraud.

New York state prosecutors unsealed an indictment against former Trump adviser Steve Bannon on Thursday, alleging he defrauded donors to We Build the Wall, which fundraised to construct privately funded strips of wall along the southern border. We Build the Wall was also indicted and accused of the same crimes. Both Bannon and We Build the Wall have pleaded not guilty.
Given Kobach's tenuous relationship with reality when it comes to elections (and to immigrants), his involvement with this group is not a surprise and I was not even going to comment on this story, but this paragraph struck me:
The indictment put Kobach in the potentially politically precarious position of helping lead an organization under indictment while running to become Kansas' top law enforcement officer. Kobach's campaign told The Star he had resigned from the board after the newspaper asked about his continuing involvement with We Build the Wall.
The indictment is hardly some red light on the dashboard alerting Kobach (or the voters of Kansas) of a possible problem with We Build the Wall (i.e., his involvement should already have put him in a "politically precarious position"). It was obvious from the beginning that the organization was bogus. The notion that it was really a grift was not a huge leap, even before Trump had to pardon folks associated with the organization after they had been charged with federal crimes.
Kobach's move is just an example of a proverbial rat fleeing a sinking ship. I mean, sure, participate in a clearly problematic venture and hold out on resigning until the indictments come down (a second time).
Kobach had been the organization's general counsel, in addition to serving on the board. He resigned both positions, according to state Sen. J.R. Claeys, a Salina Republican and Kobach's campaign spokesperson.

If Kobach had remained on the board, he would have been part of a small team of corporate directors in charge of the organization as it faces allegations of criminal conduct. Kobach was on the board during at least part of the time period in which prosecutors allege Bannon and We Build the Wall engaged in money laundering and conspiracy.
For a run-down of the current charges see the NYT, Bannon Pleads Not Guilty to New York Charges in Wall Case.
prosecutors said, Mr. Bannon funneled more than $100,000 in donations to the organization's president, Brian Kolfage, who had repeatedly promised not to take a salary. And New York's attorney general, Letitia James, said that while Mr. Bannon had represented himself as a patriotic volunteer fighting for ordinary citizens, he too had personally profited.

Mr. Bannon was charged by the Manhattan district attorney, Alvin L. Bragg, with two felony counts of money laundering, two felony counts of conspiracy and one felony count of a scheme to defraud, and could face a maximum sentence of five to 15 years on the most serious charge.

[…]

Thursday's state indictment, which charged the nonprofit with the same crimes as Mr. Bannon, did not say how much Mr. Bannon personally pocketed. But evidence in the federal trial of one of the group's founders this year showed that $380,000 was transferred to a nonprofit controlled by Mr. Bannon in 2019.

Hundreds of thousands then went to Mr. Kolfage, the organization's president, and to Mr. Bannon, prosecutors showed. In February and March of 2019, more than $330,000 was transferred from Mr. Bannon's nonprofit's bank account to Mr. Bannon himself.
You know, the best people.