Less Than Two Weeks Out, Republicans Poised For Big Gains
Voters head to the polls in thirteen days, and current indications are that they'll be handing a big victory to the Republican Party.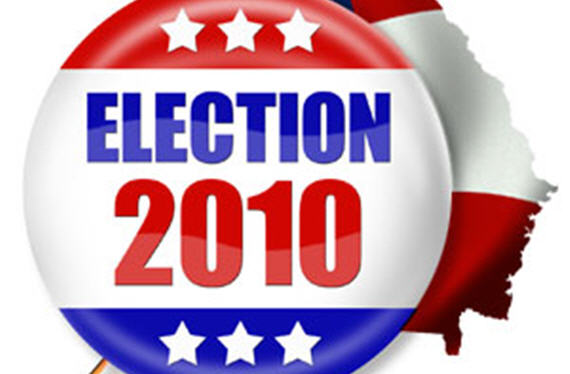 With less than two weeks to go until people go to the polls, a new NBC/Wall Street Journal poll indicates that the GOP remains poised for big gains that are likely to give them control of at least one house of Congress:
WASHINGTON — Exactly two weeks until Election Day, Republicans remain poised to make significant midterm gains across the country, with 50 percent of likely voters preferring a GOP-controlled Congress, according to the latest NBC News/Wall Street Journal poll.

What's more, Republicans appear to be benefiting from the public's pessimistic mood, as approximately six in 10 registered voters think that the country is on the wrong track, and that the economy will get worse or stay the same in the next 12 months.

"Election Day is coming, the hurricane force has not diminished and it is going to hit the Democrats head on," said Democratic pollster Peter D. Hart, who conducted the survey with Republican pollster Bill McInturff.

"It's hard to say that the Democrats are facing anything less than a Category 4 hurricane," Hart added.
Let's take a look at the numbers:
In the survey, 50 percent of likely voters say they prefer a Republican-controlled Congress, versus 43 percent who want Democrats in charge.

Last month, Republicans held a 46 percent to 43 percent advantage among likely voters on this question.

The GOP's current seven-point lead, McInturff observes, is on pace — historically — to result in a shift of power in Congress. "The Democrats, with two weeks left, are facing very, very difficult arithmetic."

Yet among the wider universe of registered voters, Democrats hold a two-point edge, 46 to 44 percent, which is up from the 44 percent to 44 percent tie in September.

But Hart calls that lead "hollow," because not all registered voters will participate, especially in a midterm election.

Indeed, among those expressing a high interest in voting this midterm season, Republicans hold a 13-point advantage on the generic ballot, 53 percent to 40 percent.

And among Tea Party supporters — who make up 35 percent of all likely voters in the poll — Republicans have a whopping 84 percent to 10 percent edge.

"Republicans are enthusiastically ready, willing and able to vote," Hart said.
While there are some glimmers of hope for Democrats — specifically the fact that President Obama's approval numbers are higher now than President's Bush's were in 2006 — the NBC/WSJ numbers are consistent with the general trend of the Generic Ballot, which has been generally negative for Democrats for weeks now: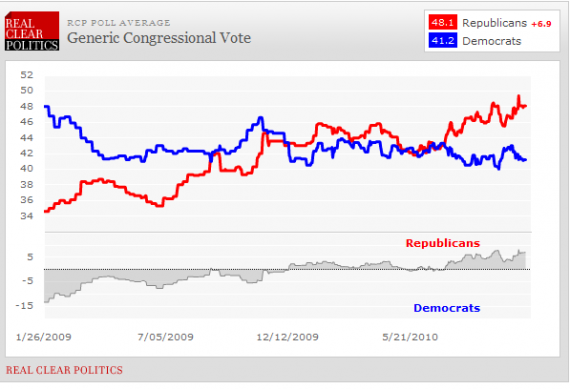 And, perhaps, most significantly, the bellwether right track/wrong track poll numbers are at nearly the same level they were at on the eve of the 2008 elections: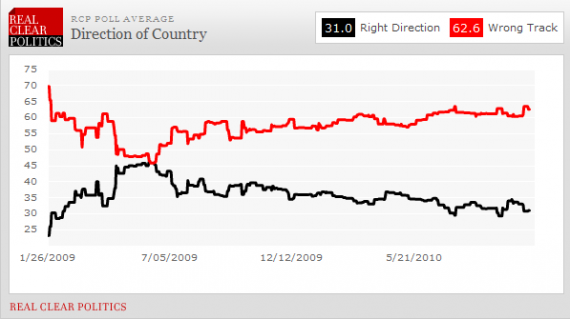 When the public is dissatisfied, the party in power inevitably suffers. The mood of the public influences both who shows up at the polls, and who they vote for, and, this year, the Democrats are facing an electorate that is dissatisfied with the state of the economy, concerned about levels of spending unseen in American history, and, as always, of the opinion that those in power in Washington don't have their best interests at heart.
So, where does this leave us?
As I noted yesterday, Larry Sabato, Charlie Cook, Scott Rasmussen, and Nate Silver are all forecasting Republican pickup in the House of between 45 and 55 seats, which would be more than enough to give them control of that chamber. In the Senate, things are a little more unclear. Silver and Sabato project a GOP gain of between 6-8 seats, but there are a bunch of toss-up states, including Colorado, Nevada, Washington, California, Illinois, and West Virginia. Recent polls suggest that there might be tightening in the Senate races in Kentucky and Pennsylvania. Also, as James Joyner noted this morning, we could be in for a surprise write-in victory in Alaska, although that wouldn't impact the balance of power since Lisa Murkowksi has made clear she'll continue to caucus with the GOP if she wins. And, of course, everything depends on turnout.
Nonetheless, there's nothing in the polls to indicate that the projections of big Republican gains are overly optimistic, so I think it's fairly reasonable to rely upon them at this point. The ground is likely to shift over the next thirteen days, though, so stay tuned.