LGBT PC
Michael Kinsley contends "Being against marriage equality doesn't make you a monster."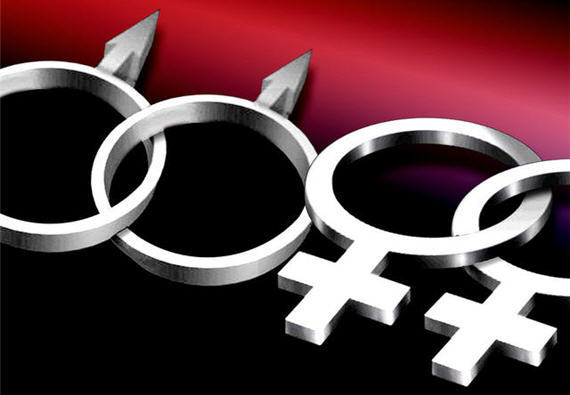 Michael Kinsley devotes an entire column to the seemingly obvious idea that "Being against marriage equality doesn't make you a monster." The impetus is Ben Carson's being pressured out of giving the commencement addresss at Johns Hopkins Medical School because of his opposition to gay marriage.
Carson may qualify as a homophobe by today's standards. But then they don't make homophobes like they used to. Carson denies hating gay people, while your classic homophobe revels in it. He has apologized publicly "if I offended anyone." He supports civil unions that would include all or almost all of the legal rights of marriage. In other words, he has views on gay rights somewhat more progressive than those of the average Democratic senator ten years ago. But as a devout Seventh Day Adventist, he just won't give up the word "marriage."

[…]

The university's response was wrong for a variety of reasons. First, Carson isn't just another gasbag. He is director of pediatric neurosurgery at Hopkins. Pediatric neurosurgery! He fixes children's brains. How terrible can a person be who does that for a living? Yes, I know the flaw in this thinking: There is no necessary connection. As a character says in Mel Brooks's movie The Producers: "der Führer vas a terrific dancer." But Carson didn't murder millions of people. All he did was say on television that he opposes same-sex marriage—an idea that even its biggest current supporters had never even heard of a couple of decades ago. Does that automatically make you a homophobe and cast you into the outer darkness? It shouldn't. But in some American subcultures—Hollywood, academia, Democratic politics—it apparently does. You may favor raising taxes on the rich, increasing support for the poor, nurturing the planet, and repealing Section 14(b) of the Taft-Hartley Act, but if you don't support gay marriage, you're out of the club.
That we've come this far is remarkable.
Thought experiment: If you were up for tenure at a top university, or up for a starring role in a big movie, or running for office in large swaths of the country, would it hurt your chances more to announce that you are gay or to announce that you've become head of an anti-gay organization? The answer seems obvious. So the good guys have won. Why do they now want to become the bad guys?
More remarkable? How fast we've done it.
The first known mention of gay marriage is an article ("Here Comes the Groom" by Andrew Sullivan) commissioned by me and published in this magazine in 1989. And I would bet that there is no one born before 1989, gay or straight, who didn't, when he or she first heard the idea, go, whaaa? Many on reflection got used to the idea, and a majority of Americans now support it. The day will come, probably next Tuesday at the rate things are going, when previous opposition to the idea of same-sex marriage will seem bizarre and require explaining, like membership in the Ku Klux Klan in the youths of some old Southerners—are there any left?—on Capitol Hill. But we're not quite there yet. At the moment, simply opposing gay marriage doesn't make you a homophobe, any more than opposing affirmative action makes you a racist or opposition to settlements on the West Bank makes you an anti-Semite.
Indeed, at least publicly, Barack Obama and Hillary Clinton opposed gay marriage until a few months ago. The idea would have seemed absurd to George McGovern, Walter Mondale, and Michael Dukakis when they were running for president.
When Gallup first started polling on this question in 1996, 27 percent supported gay marriage against 68 percent opposing. Just three years ago, the pros were at 44 and the cons at 53.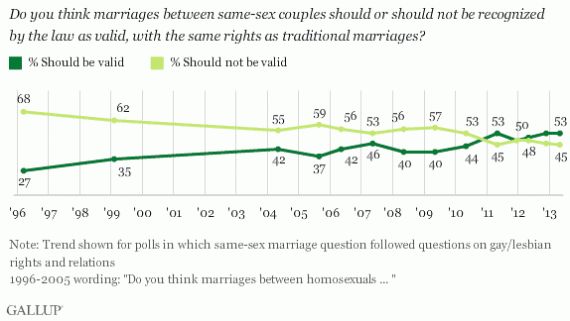 Now, being against it gets a pediatric neurosurgeon written out of polite society.
To be clear, both Kinsley and I think Carson is wrong on this issue. Kinsley likely got there before I did and I've been there for several years. But I'm not going to condemn a 61-year-old black man as a bigot for only being at the civil unions stage of his evolution.
Incidentally, Carson holds the distinction of being the first surgeon to successfully separate conjoined twins joined at the back of the head. He did that in 1987, two years before Sullivan invented the notion of gay marriage. A fellow like that might have something interesting to say to a group of people about to embark on careers as physicians.