Liberals Upset Biden Foreign Policy is Biden's
Those expecting Bernie Sanders' agenda are sorely disappointed.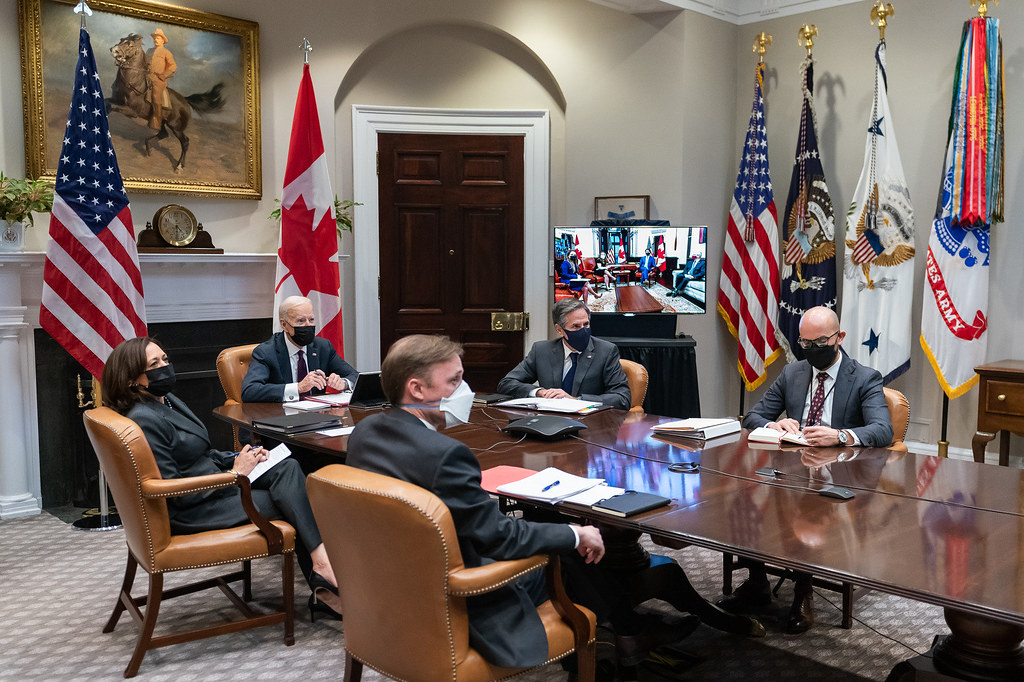 President Biden is running the conventional foreign policy that he promised to run during the campaign and that anyone who has paid any attention to him over the last four decades might have expected. Somehow, Michael Crowley reports for the NYT ("Liberals Grow Impatient With Biden's Foreign Policy Decisions"), that has folks upset.
Earlier this week, Biden administration officials passed around with bemusement some words of praise from an unexpected source: Jared Kushner.

In an opinion essay for The Wall Street Journal, Mr. Kushner, former President Donald J. Trump's son-in-law and adviser on Middle East issues, said that President Biden "did the right thing" and had "called Iran's bluff" by refusing to make new concessions to lure Tehran into talks about restoring a nuclear deal abandoned by the Trump administration.

Mr. Kushner may have meant well, but his seal of approval compounded a problem for Mr. Biden by inflaming liberal allies already disappointed that his nuclear diplomacy with Iran had not made swifter progress.

"I would take this in the Biden White House as a giant, blinking red light that maybe what I'm doing is not right because Jared Kushner is finding ways to praise it," said Benjamin J. Rhodes, a deputy national security adviser under President Barack Obama who worked closely on the 2015 nuclear agreement, speaking Wednesday on the "Pod Save the World" podcast.
So, look, Kushner is something of a yahoo and not someone from whom I would take advice on Middle East policy. But he, like the rest of us, are viewing this from the outside and projecting his preferences onto what he's seeing and hearing.
The Biden team's Iran negotiations have just started. But, as much as he'd like to simply go back to 2016 and reinstate the JCPOA and use that as a baseline, the Trump administration's withdrawal puts them in a bad spot. Iran quite reasonably has little reason to believe the United States will honor a new agreement beyond Biden's term. Further, they have all the leverage.
And, yes, Biden is being judged from all sides and will be criticized as "weak" if he's perceived to have made concessions—which is the only way to get a deal—and as being feckless if he doesn't. Meanwhile, like President Obama, he has likely boxed himself in politically by publicly expressing hopes that the deal will include issues beyond the nuclear program, like the regime's support of terrorists and proxies. But it's not obvious at all what carrot we could offer to make those concessions worthwhile for Iran.
Iran is just one of several foreign policy issues frustrating Mr. Biden's base two months into his presidency. Although Mr. Biden delighted them with several swift actions — among them rejoining the Paris climate accord and withdrawing support for the Saudi-led war in Yemen — he triggered frustration by ordering an airstrike in Syria and declining to punish the crown prince of Saudi Arabia, Mohammed bin Salman, over the brutal murder of a dissident journalist and American resident, Jamal Khashoggi.

On Wednesday, Mr. Biden fueled the discontent when he conceded in an interview with ABC News that it would be "tough" to meet a May 1 deadline, set under the Trump administration, to withdraw troops from Afghanistan, a high priority for liberals impatient to end what they call "endless" American wars.

And more conflict may lie ahead on military spending, with Mr. Biden expected to propose few if any cuts to a Pentagon budget that swelled under Mr. Trump. Fifty House Democrats sent Mr. Biden a letter this week calling for a "significant" reduction.

After seeing Mr. Biden deliver a transformational $1.9 trillion stimulus bill, progressives are asking why his foreign policy feels so conventional. They worry that Mr. Biden and his largely centrist team of national security officials will disappoint the liberal wing's desires for a new American foreign policy that relies far less on military power, de-escalates tensions with rivals like Iran and China, and places greater pressure — under threat of cooler relations — on allies like Saudi Arabia and Israel.
They're disappointed that Bernie Sanders or Elizabeth Warren isn't President. But "conventional" describes Joe Biden to a T. And, aside from historic efforts to check diversity boxes, his foreign policy team is almost exactly what one would have expected from a third Obama term: well-regarded deputies have moved up a rung or two. People like Tony Blinken, Jake Sullivan, Kath Hicks, and Colin Kahl are part of what Rhodes derisively termed "the Blob"—career professionals who are widely admired by other national security professionals and well within the mainstream in their policy preferences. They're exactly the kind of people I would have expected Biden to nominate and I'm quite pleased that they're running the show.
One senior administration official said the Trump era created an unrealistic appetite for finger-snap action on complex issues, and that the longer arc of Mr. Biden's policies would satisfy many frustrated liberals. The official spoke on condition of anonymity to discuss unofficial political considerations.

The official also pointed to several early actions by Mr. Biden welcomed by the left, including his returning to the climate deal, the World Health Organization and the United Nations Human Rights Council. Mr. Biden also reversed visa restrictions widely known as Mr. Trump's "Muslim Ban," announced an end to U.S. support for the Saudi-led military campaign in Yemen and has placed temporary new limits on drone strikes outside of combat zones.
Which, less than two months in, is quite a lot. And, again, exactly what he promised: a restoration of normal order and a cleaning up of the damage caused by Trump.
Some prominent liberals call those moves welcome, but also low-hanging fruit, and say that on matters requiring harder trade-offs and political courage, Mr. Biden is too risk-averse. They worry that a 78-year-old president may recall too keenly the days when Republicans routinely enjoyed a political advantage on national security issues and Democrats gravitated to more conservative, militaristic policies to defend their right flank.

"I think that there is a lack of belief that the politics around some of these issues have actually shifted," said Jeremy Ben-Ami, president of the Israel-focused, liberal advocacy group J Street. "There is a lot more political space open to this administration to pursue progressive policy than they think."
First off, Biden never claimed to be a progressive. Indeed, he ran against the progressives and kicked their asses. Beyond that, aside from attitude, it's not even clear that there is a coherent progressive foreign policy agenda. And, with the glaring exception of immigration policy, it's actually closer attitudinally to Trump than Biden on trade and defense.
Eventually, the critiques get more substantive:
The Middle East, which Biden officials hope to de-emphasize as they turn America's attention to China, is the source of many complaints. Topping the list is Mr. Biden's decision not to unilaterally rejoin the Iran nuclear deal by reversing harsh sanctions imposed on Tehran by Mr. Trump after he abandoned the agreement in 2018.

Iran says it will not talk, much less scale back its advancing nuclear program and comply with the deal's limits, until Mr. Biden acts.

Supporters of the original deal, including Obama administration officials who helped to design it, say the passage of time only allows for political opposition to build at home and for events in the dangerous region to trigger an escalation.

They also complain that Mr. Biden is maintaining the sanctions Mr. Trump applied on Tehran when he exited the nuclear deal, even though Iran had been in compliance at the time. Mr. Kushner referred to this approvingly as a "strong hand" that Mr. Biden had inherited.

"The Biden administration has bought the Trump analysis that these sanctions give America leverage, even though the sanctions didn't give Trump any leverage on Iran," said Joseph Cirincione, a longtime arms control expert who consulted closely with Obama administration officials over the nuclear deal.

Further complicating the prospects for nuclear talks was Mr. Biden's Feb. 25 airstrike targeting Iranian-backed militia fighters in Syria, a retaliation for militia rocket attacks on U.S. forces in neighboring Iraq. Although the strike was limited, it derailed nascent nuclear diplomacy and risked escalation, Mr. Cirincione said.
Cirincione is an honest broker and well-respected for his expertise but he's a single-issue guy. While stopping nuclear proliferation is our most important goal with Iran, it's not our only goal. Certainly, protecting American troops in the region and the security concerns of partners and allies in the region must also be considered.
The strike also angered liberals determined to end what they call America's "endless" or "forever" wars — its military and counterterrorism campaigns across the Middle East and parts of Africa that began after the attacks of Sept. 11, 2001. Senator Bernie Sanders, an independent of Vermont, said the strike "puts our country on the path of continuing the Forever War instead of ending it," and he questioned its legal justification. (The White House says it supports congressional action to repeal and replace Bush-era laws that provide presidents with broad authority to use force.)
Frankly, the "legal justification" argument is a dead letter at this point. Presidents have enjoyed the unilateral power to order one-off strikes without specific Congressional authorization for close to three-quarters of a century. And, despite specific language to the contrary, the 1973 War Powers Act has been construed to provide additional blessing.
Beyond that, while I've thought it time to get out of Afghanistan since at least 2009 and opposed the Libya and Syria interventions, it's not clear how a retaliatory strike changes the equation. Until American troops are no longer in the region, though, Presidents are duty-bound to protect them. Punishing those who target them is simply de rigueur.
There are several more paragraphs offering what amount to critiques of the standard US foreign policy of primacy and along the lines of "personnel is policy." I'm sympathetic to them, especially the former. Sadly, with the possible exception of 2004, foreign policy has not been central to any US Presidential election since the end of the Cold War more than thirty years ago. It would be strange, indeed, to embark on a radically different course without having that debate. And it is stranger, indeed, to expect it to come from Joe Biden.