Majority Of Americans Support Iran Nuclear Deal
Good news for the President.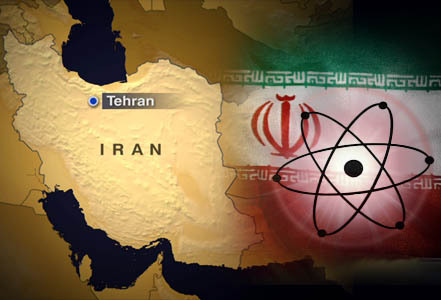 A new ABC News/Washington Post poll shows that a majority of Americans support the nuclear deal with Iran, although there remains profound distrust of the Islamic Republic among the American public:
A majority of Americans support the Iran deal despite widespread doubts it will stop the country from developing nuclear weapons, according to newWashington Post-ABC News poll.

The survey finds 56 percent support and 37 percent oppose a deal lifting economic sanctions against Iran in exchange for the nation agreeing not to produce nuclear weapons. Support for the final deal is narrower than for the framework agreement announced in March which received nearly 2 to 1 support in a Post-ABC poll, 59 to 31 percent.

The finalization of the Iran deal has not buoyed confidence that it will work, however. More than six in 10 Americans say they are "not so" or "not at all" confident that the deal will stop Iran from getting a nuclear weapon, up slightly since March. Only 6 percent are "very confident" in the deal's long term success.

(…)

Americans are clearly of two minds on Iran, preferring diplomatic efforts to stop the country from developing a nuclear weapon but also expressing deep distrust that Iran can be trusted to abide by any agreement. Thus the public opinion conundrum; 64 percent are not confident the deal will work, yet 56 percent support the agreement.

How to explain it?

First, start with those who do think it will work — the 35 percent who are "very" or "somewhat" confident the deal will prevent Iran from developing nuclear weapons. Among this group, 86 percent support the deal. This is notable, but it's not enough to sustain majority support.

The key group are the one-fifth of the public who is "not so confident" a deal will work (22 percent). This group supports a deal by a more than 3 to 1 margin (69 to 21 percent), similar to their margin of support for the framework in March.

Support only drops below a majority among those who are "not at all" confident a deal will work (42 percent of the public). Among this group, nearly 7 in 10 oppose the deal (69 percent). The size of this group has grown by eight percentage points since March and is also more unified in its opposition, suggesting the potential for overall support for the agreement to shift going forward.
Perhaps more interesting is the party breakdown in the poll results, which shows that four in ten Republicans support the deal, while only 54% oppose it: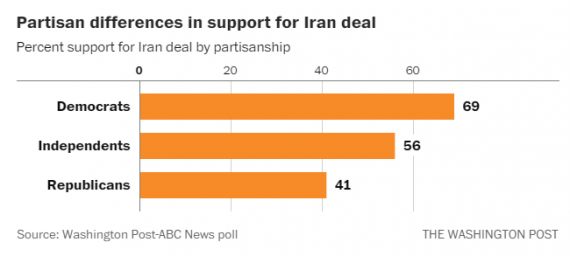 Another survey conducted by YouGov and Cato found similar results:
A new Cato Institute/YouGov poll finds a solid majority—58%—of Americans supports the main components of the Iran nuclear deal, in which the United States and other countries would ease oil and economic sanctions on Iran for 10-15 years in return for Iran agreeing to stop its nuclear program over that period. Forty percent (40%) oppose such a deal.

Americans also prefer Congress to allow such a deal to go forward (53%) rather than block the agreement (46%). Support declines slightly when the deal is described as an agreement between the "Obama administration and Iran."

Despite support for the deal, Americans remain skeptical it will stop Iran's nuclear program. Fifty-two percent (52%) of Americans say the agreement is "unlikely" to "stop Iran from developing nuclear weapons," including 32% who say it's "extremely unlikely." Conversely, 46% believe the deal is likely to achieve its primary goal.

However, Americans are more optimistic the deal will delay Iran from developing nuclear weapons. The poll found 51% of Americans think the deal will likely "delay" Iran's nuclear development while 47% disagree.

The survey also offered Americans an opportunity to select which one of several policy options would be "most effective" in reducing the likelihood Iran develops nuclear weapons. Doing so found a plurality -40%— think the Iran nuclear agreement would be more effective than taking military action against Iran's nuclear facilities (23%), imposing new economic sanctions against Iran (23%) or continuing existing sanctions against Iran (12%).

(…)

Fully 80% of Democrats support the deal while 62% of Republicans oppose it. Independents side with Democrats with 55% in favor. Democrats are also far more likely to believe the deal will "stop" Iran from developing nuclear weapons (71%) compared to only 22% of Republicans. Even still, Democrats are 30 points less likely than Republicans to say Iran obtaining a nuclear weapon would be a disaster (49% v 79%).

Young Americans are also far more supportive of the deal, more likely to believe in its efficacy and less likely to fear Iran obtaining a nuclear weapon compared to older Americans.

Fully 68% of Americans 18-29 support the Iran nuclear deal compared to 50% of those over 65. Furthermore, 6 in 10 millennials say the agreement will stop Iran's nuclear development compared to only 3 in 10 seniors.
Given the historical animosity that Americans have had for Iran going back to 1979, it's somewhat surprising I suppose to see majority support for this nuclear  that extends not only to Democrats who be naturally inclined to support the President anyway but also to Independents and even a significant potion of Republicans. The numbers are perhaps even more extraordinary given the fact that both polls indicate that the public is, at the very least, wary of just how successful the deal will be and how distrustful they still are of the regime in Tehran. To some degree, perhaps, these number reflect an ongoing public preference for diplomacy over military action that has its roots in the Iran and Afghan Wars. Whatever the reason, though, the fact that the public supports the deal despite being skeptical about its ultimate success and the trustworthiness of the Iranians is, as Daniel Larison suggests, a sign that support for the deal will hold notwithstanding the expected public relations campaign we are going to see from opponents of the de al over the next two months. Whether that's true or not is something only time will tell, of course, but so far at least the early returns seem good.
The real test, of course, will be over the next two months as Congress debates the deal, votes on it, and then attempts to override the expected Presidential veto. In the end, whether that veto override attempt succeeds will depend greatly on what Congressional Democrats do. In that regard, the important numbers to look at in polling going forward will be the levels of support for the deal among Democrats and Independents. Republican voters will matter less in the calculation here because Democratic incumbents aren't going to be expecting them to vote for them anyway. As long as a majority of Democrats and Independents continue to support the deal, then the President should be able to keep his party together and prevent a situation where Democrats peel away and end up supporting a veto override. As I've said, such a scenario is unlikely to begin with, and if these poll number hold up then it will be about as close to impossible as you can get.