Can Congress Stop The Iran Nuclear Deal?
In the end, the odds that Congress can actually stop the new deal regarding Iran's nuclear program are pretty low.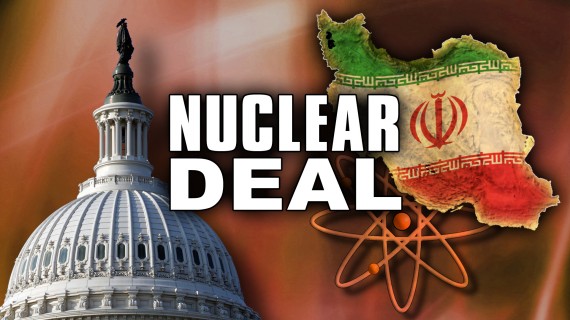 Not surprisingly the negative reactions to the agreement reached today regarding Iran's nuclear weapons research program, the early takes on which James Joyner cataloged this morning, have continued and now many Republicans are already vowing to kill the deal when it comes up for a vote in Congress:
It will be days before Congress receives the full nuclear agreement with Iran and all of its classified annexes for review, but hawkish GOP lawmakers immediately began picking apart the final deal reached early Tuesday as "dangerous" and a "possible death sentence for Israel."

Congressional Republicans have been warning President Barack Obama against a deal with Tehran for months, telling him to simply walk away as the negotiations dragged on past initial deadlines. But in the wee hours Tuesday, the administration announced a final deal to scale back Iran's nuclear program and ease strict economic sanctions, so GOP critics' job has shifted to building support in Congress to scuttle the deal by blocking Obama's ability to lift those sanctions.

"You've created a possible death sentence for Israel," fumed Sen. Lindsey Graham (R-S.C.) on MSNBC's "Morning Joe." "This is the most dangerous, irresponsible step I've ever seen in the history of watching the Mideast."

House Speaker John Boehner (R-Ohio) — who got a call from Obama on Monday night that an Iran deal was "imminent" — accused the president of not keeping his word on dismantling Iran's nuclear infrastructure and holding sanctions to Iran until international investigators verified that the country's leadership is holding up its end of the bargain. Boehner said Obama "has abandoned his own goals."

"What I know of it thus far is unacceptable," Boehner told reporters. "It's going to hand a dangerous regime billions of dollars in sanctions relief while paving the way for a nuclear Iran."

"If it is in fact as bad a deal as I think it is at this moment, we're going to do everything we can to stop it," Boehner added.

House Majority Leader Kevin McCarthy (R-Calif.) and Majority Whip Steve Scalise (R-La.) also reiterated the GOP hardline on the Iran agreement. "We will fight hard to reject this deal with every tool that we have," vowed Scalise.

Senate Majority Leader Mitch McConnell (R-Ky.) said the deal appeared to further the administration's "flawed" approach and said Congress's job is now to "weigh why a nuclear agreement should result in reduced pressure on the world's leading state sponsor of terror."

The GOP-led Congress plans to review the deal for two months before voting on whether to lift sanctions sometime in September, Senate Foreign Relations Chairman Bob Corker (R-Tenn.) told reporters on Monday night. Obama will need to rally at least 34 senators to his defense to blow up a veto-proof majority, and Sen. Tom Cotton (R-Ark.) is already predicting that Obama will struggle to do so.

"The American people are going to repudiate this deal, and I believe Congress will kill the deal," Cotton said on Morning Joe.

Sen. Marco Rubio (R-Fla.) said that he anticipated that Congress would at the very least withhold majority support for the deal, if not vote to block it altogether.

"Failure by the president to obtain congressional support will tell the Iranians and the world that this is Barack Obama's deal, not an agreement with lasting support from the United States," said Rubio, who has vowed to scuttle the deal if he becomes president.

Of course, most Republicans were already likely to oppose any deal. And though the party has large majorities on Capitol Hill, the GOP will need to persuade Democrats to buck the president.

Obama kicked off his latest sales job on Tuesday morning, vowing in a statement from the White House to veto any legislation that would threaten the deal.

With Vice President Joe Biden at his side, Obama said he welcomed a "robust debate" in Congress but urged lawmakers to think of the alternative to the deal negotiators struck — a greater chance of more war in the Middle East.

"We give nothing up by testing whether or not this problem can be solved peacefully," Obama said.
Under the agreement that Congress and the President entered into earlier this year that resulted in the passage of the law that will govern Congressional consideration of this deal, it seems at first glance as if the odds are against Congress's ability to stop the deal. As soon as the President sends a copy of the agreement that was reached today in Vienna to Congress, a clock will begin ticking on how long Congress has to act. Had a deal been reached by June 30th, that time period would have been a mere thirty days but since the negotiations went past that deadline the time period is now sixty days, a good part of which will cover the Congressional recess in August. In essence, though, the law now gives Congress until some time in mid-September (the exact date will depend on the day on which the deal is officially "presented" to Congress as required by law) to consider the matter. If they fail to pass anything, then the deal will have been considered approved and implementation will go forward. That's unlikely to happen, of course, so the bigger will be what happens when Congress actually casts a vote on the deal.
Very shortly, of course, we will start seeing hearings in both the House and Senate regarding the agreement and Republicans and the Administration will both hone their arguments for what will surely an energetic floor debate. In the end, though, it's unclear what it will all accomplish. When Congress does vote, the law provides that what they will be voting on is essentially a resolution of disapproval that would prevent the President from lifting many of the sanctions against Iran if it were to become law. However, in his announcement this morning, President Obama has already said that he will veto any such measure sent to him by Congress. This, of course, will then mean that Congress would have to attempt to override the Presidents veto, which of course requires a 2/3 majority in both Houses of Congress. In the House of Representatives, this would mean that at least 44 Democrats would need to vote with all 246 Republicans to override the President's veto. In the Senate, it would mean that at least 13 Democrats would have to vote with all 54 Republican Senators to override the President's veto. It's certainly possible that public perception about the deal could end up being negative enough that even Democrats would feel the need to vote against their own President on what is arguably the biggest foreign policy initiative of his entire Presidency. However, as I noted in April, it seems rather unlikely that this is going to happen and the approval mechanism that was passed into law then certainly seems to favor the President. No less than Speaker John Boehner himself has privately acknowledged that Republicans lack the votes to stop the deal.
As things unfold over the next two months, then, the important things to watch won't be what Republicans in Congress or the Republicans running for President have to say about this deal. While there may be one or two limited exceptions, it has been apparent for some time that Republicans were going to be opposed to the deal regardless of what the contents happened to be. Additionally, it seems likely that they will be able to stay united enough in the House and Senate to pass the resolutions of disapproval that will send the matter to the President. The important people to watch will be the Democrats on Capitol Hill and, to no small degree, Hillary Clinton who will likely end up providing much guidance to her fellow Democrats. In her initial comments about the matter today, Clinton was quite positive and may have put herself in the position of being the person that keeps the Democratic caucus on Capitol Hill united in support of the deal. Other Democrats to watch included House Minority Leader Nancy Pelosi, Minority Whip Steny Hoyer, and the man who will take over for Harry Reid as leader of the Senate Democrats in 2017, New York Senator Chuck Schumer. All three of these people have already said that they are reserving judgment until they've had a chance to review the deal and how they respond to it will have a huge impact on how other Democrats respond to it. If, for example, they come out against it, which is certainly possible for Schumer who has been a staunch defender of Israel is entire career, then a veto override may become more likely. As it stands now, though, it seems fairly clear that the President has the advantage here.  While that could certainly change as the process goes forward, as we sit here today the most likely outcome is that Congress will be unable to stop the deal from going forward.