McCain Doesn't Want Trump At His Funeral
John McCain continues to bravely battle an aggressive form of brain cancer, but he's already made clear that he doesn't want the 45th President of the United States at his funeral.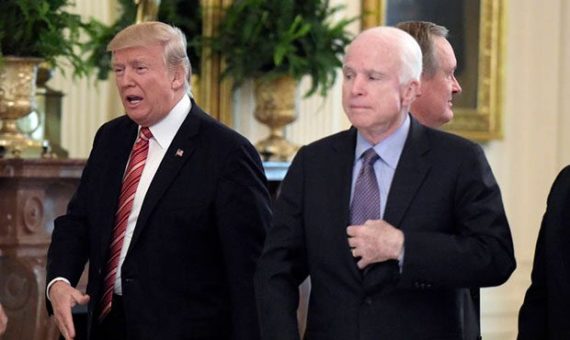 Senator John McCain, who is back home in Arizona battling an aggressive form of brain cancer while simultaneously recovering from chemotherapy and radiation and from recent intestinal surgery reportedly unrelated to his cancer doesn't want President Trump near his funeral when the time comes:
WASHINGTON — People close to Sen. John McCain have told the White House that the ailing Arizona Republican does not want President Donald Trump to attend his funeral and would like Vice President Mike Pence to come instead, a source close to McCain confirmed to NBC News.

McCain, 81, has been battling an aggressive form of brain cancer for nearly a year and is back home in Arizona after he underwent surgery last month for an intestinal infection.

The senator, the 2008 GOP presidential nominee, said in an audio excerpt this week of his forthcoming memoir, "I don't know how much longer I'll be here," according to a clip aired by NPR.

The White House did not immediately return a request for comment.

Trump did not attend the recent funeral of former first lady Barbara Bush in Houston, Texas, in order "to avoid disruptions due to added security, and out of respect for the Bush Family and friends attending the service," the White House said last month. First lady Melania Trump attended the service instead, along with former Presidents George H.W. Bush, George W. Bush, Bill Clinton and former first lady Hillary Clinton.

Former Presidents Barack Obama and George W. Bush plan to be eulogists at McCain's funeral service, which is to be held at the National Cathedral in Washington, D.C., the source close to McCain said.
The roots of the animosity between Trump and McCain are long-standing, of course, and go back at least three years when, just weeks after entering the race for President, Trump mocked the idea of McCain being a war hero by saying that McCain was only a hero because he was captured and that he likes heroes who weren't captured. Given the controversy that had erupted when Trump first flirted with the idea of running for President regarding Trump's avoidance of the draft during the same Vietnam War that McCain served in, the comment was particularly galling and was the first of many times during the course of the campaign that Trump would be condemned by many mainstream Republicans for something he said. The animosity only intensified when Trump became President and McCain became one of the few Senators willing to speak out against the President and he has often been a thorn in Trump's side on legislative matters over the course of the past fifteen months. The most memorable example of that, of course, was late in the summer last year when McCain returned to the Senate after his initial cancer diagnosis to famously deliver a "thumbs down" that led to the defeat of the effort to 'repeal and replace' the Affordable Care Act. More recently, McCain has reportedly told friends and colleagues that he feels more liberated to speak out against the leader of his party, and this liberation is no doubt enhanced by the report that McCain has said that he will not run for re-election in 2022 even if he does manage to win his battle with cancer. Trump was also quite critical of McCain's 2008 campaign during the time he was running in 2016 arguing, much as he did regarding Mitt Romney, that McCain was a "weak" candidate.
Hopefully, of course, McCain will survive this battle notwithstanding the fact that he was telling friends even last year that his prognosis was poor, a point which isn't surprising given that the survival rates for Stage Four Glioblastoma, which is what McCain was diagnosed with, are not promising even for someone who is much younger than McCain. Notwithstanding that, it's not too surprising that he would be planning his funeral at this point in his life, and it's likely something that has come up even before his cancer diagnosis given the fact of his advanced age, the fact that McCain himself has said that his prognosis is poor, and the fact that the event would be somewhat akin to a State Funeral that would involve lying in state at the U.S. Capitol Building as former Senators Ted Kennedy and Daniel Inouye did when they passed away. An event such as this requires at least some advance planning, for example, and it has been common practice since at least President Kennedy's funeral that sitting Presidents, Supreme Court Justices, and prominent members of the Senate and House of Representatives would have made their desires known in advance.
All this talk about McCain's funeral comes at the same time that McCain has a book coming out at the end of the month and amid reports that make it seem as though the Senator's condition may be more serious than the family is currently letting on. In addition to the announcement about the forthcoming book and his decision not to run for re-election regardless of his health status, McCain has also been the subject of a long profile in The New York Times. It has also been reported that McCain was visited by his longtime friend former Vice-President Joe Biden recently and was also visited by another longtime Senate friend, former Senator Joe Lieberman. During that visit, it's been reported that McCain told Biden that he's concerned about the future direction of the country and urged his friend to stay involved in politics, possibly a reference to a potential Presidential run on Biden's part in 2020. Also, McCain's daughter Meghan is reportedly visiting him in Arizona again this weekend, although one suspects that she has been traveling there quite frequently anyway. Finally, it's worth noting that McCain had said last year that he hoped to return to Washington in January. That didn't happen, obviously, and at this point, it's unclear when, or if, McCain will be able to resume his Senatorial duties.
On some level, I suppose, Trump not attending McCain's funeral if it occurs during the time he's President would be somewhat unusual, but in the end it's something that the family and the deceased get to decide. Under the circumstances, the desire to keep Trump away from the event is, quite frankly, entirely understandable.