Meanwhile, in the Pandemic
It's getting worse, not better.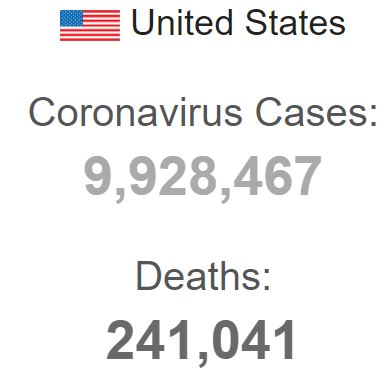 While we're all understandably focused on the election returns, the US is continuing to set new records for COVID-19 cases. Indeed, we're nearing our 10 millionth.
NBC News ("Covid-19 cases break record for second day in a row, topping 120,000"):
A record number of coronavirus cases were reported Thursday, breaking a record set Wednesday of more than 100,000 cases in a single day.

A total of 120,048 people tested positive for Covid-19 on Thursday, nearly 16,000 more than on Wednesday, according to an NBC News tally.

The United States has the highest number of coronavirus cases and deaths in the world. More than 236,000 people have died from Covid-19 in the U.S., according to NBC News data.

Hospitalization and case counts have surged across much of the country, with the Midwest and the Southwest getting hit the hardest. Doctors and officials have warned people that hospitals could quickly become overwhelmed with Covid-19 patients.

Wisconsin had one of the largest single-day increases in the country Wednesday, according to the Johns Hopkins Coronavirus Resource Center.
The urge to rope the election results back in was, apparently, irresistable:
"While the state and country turned its eyes to the presidential election, Wisconsin had another record-setting day for Covid-19 cases, with 5,935 Wisconsinites testing positive on Wednesday," Gov. Tony Evers said Thursday in his Democratic radio address.

"Folks, this pandemic isn't happening some place else or to somebody else," he said. "Wisconsinites in every corner of our state know firsthand the tragedy and loss of this virus."

The virus continues to spread in other key battleground states in the election. Pennsylvania, Georgia and North Carolina each recorded more than 2,000 cases in a single day.
While we're at it, AP ("Counties with worst virus surges overwhelmingly voted Trump") reports:
U.S. voters went to the polls starkly divided on how they see President Donald Trump's response to the coronavirus pandemic. But in places where the virus is most rampant now, Trump enjoyed enormous support.

An Associated Press analysis reveals that in 376 counties with the highest number of new cases per capita, the overwhelming majority — 93% of those counties — went for Trump, a rate above other less severely hit areas.

Most were rural counties in Montana, the Dakotas, Nebraska, Kansas, Iowa and Wisconsin — the kinds of areas that often have lower rates of adherence to social distancing, mask-wearing and other public health measures, and have been a focal point for much of the latest surge in cases.

Taking note of the contrast, state health officials are pausing for a moment of introspection. Even as they worry about rising numbers of hospitalizations and deaths, they hope to reframe their messages and aim for a reset on public sentiment now that the election is over.

"Public health officials need to step back, listen to and understand the people who aren't taking the same stance" on mask-wearing and other control measures, said Dr. Marcus Plescia of the Association of State and Territorial Health Officials.

"I think there's the potential for things to get less charged and divisive," he said, adding that there's a chance a retooled public health message might unify Americans around lowering case counts so hospitals won't get swamped during the winter months.
To the extent there's a Cult of PersonalityTM surrounding Trump, one would think his officially becoming a loser would help end it. Still, he's in charge of the Executive branch until noon on January 20. That's a long time with a pandemic running rampant.