Michelle Bachmann Suggests Republicans Make The Same Mistakes All Over Again
If Minnesota Congresswoman Michelle Bachmann gets her way, the 112th Congress will feature a lot of committees "investigating" the Obama Administration.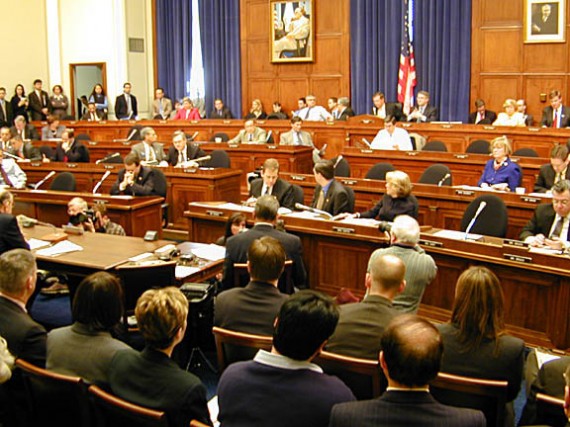 Minnesota Congressman Michelle Bachmann has a very interesting idea of what Republicans should do if they regain control of the House in November:
Want a sneak preview for what the 2011 legislative calendar has in store?

The Intrade prediction market is giving the GOP a 57-percent shot of taking back the House of Representatives this fall, meaning it is more likely to happen than not. And a lot of polls seem to be indicating the same thing. But should that happen, then what?

According to Rep. Michele Bachmann, R-Minn., the House Republicans should exercise their power to subpoena and hold continuous hearings. Speaking to a gathering for the GOP Youth Convention on July 22 in Washington, D.C., she emphasized this point.

"Oh, I think that's all we should do," Bachmann said. "I think that all we should do is issue subpoenas and have one hearing after another. And expose all the nonsense that is going on. And it's very important when we come back that we have constitutional conservative leadership because the American people's patience is about this big."
And their patience for pointless Congressional hearings is even smaller, Congresswoman Bachmann.
Fortunately for Republicans, Bachmann does not speak for the leadership, although she would be in line to get a Committee Chairmanship if the GOP took over the House. Nonetheless Bachmann is not the first Republican politician or pundit who's suggested that the GOP should use it's (currently purely hypothetical) majority to hammer the Obama Administration with investigations over the various issues that have served as Outrages Of The Day over the past eighteen months.
It strikes me as an incredibly dumb strategy.
For one thing, it would constitute a massive mis-read of the results of the election; if the Republicans do win big in November it will be principally due to voter dissatisfaction with the state of the economy. A GOP Congress that shows up in January and gives them a repeat of the post-1994 investigations of the Clinton
Administration could very well find that they're on the wrong side yet again.
For another, history should show the Republicans that this type of investigatory show-down doesn't always work out to the benefit of the side doing the investigating. The Clinton impeachment, for example, ended up being a huge political bust for House Republicans and resulted in losses in the 1998 elections in the House. Why they'd want to repeat that debacle is beyond me.