Midterm Grades: Barack Obama
Time for midterms.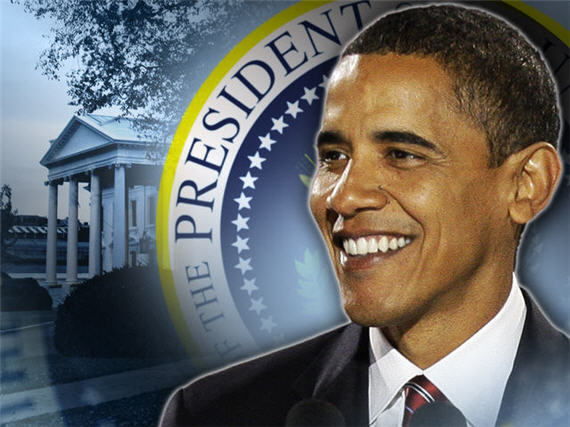 Ok, so today marks the midway point in the Obama four-year term in office, so we here at OTB are going to go a little grading.  I will go first and other OTBers will follow.
Midterm grades are tough, as one really never knows how things will finish out and so my predilection is to want to assign an incomplete, as that is really the only truly fair grade.
A main problem with any of these types of things is the question of the criteria to be used in the evaluation.  If one is an adherent of the Tea Party faction, one suspects that "Fs" would be in order.  Likewise, if one is a Green Party progressive, disappointment might render a similar grade, although for very different reasons (probably "Ds").  I see no point in scoring based on ideological expectations, however (or even on the basis of what I, personally, wanted in terms of policy outcomes).
Further, in evaluating a given president there are issues of comparison to other presidents to consider (it is inherent in the grading, even if it not always explicit in the reasoning) as well as the prevailing conditions under which a president governs (for while being the President of the United States America is always a difficult job, sometimes it is harder than others).
Ultimately I think that grading a presidency is a combination of the following:  relative comparisons to other presidents, the specific challenge of the day, and understanding a president on his own terms (i.e., what did he say he was going to do and did he accomplish it)?
Ok, keeping in mind that A=excellent, B=above average, C=average, D=below average and F=failing,I would assign the following grades in the following categories:
Communication:   C+

By this I mean his ability to effectively communicate with the public regarding his political/policy goals.  If we were just grading things like the Tucson speech, the grade would be higher.  In many ways this is an incomplete, as I think he is still learning how to do this.

Domestic Policy: B-

This is hard to grade.  On the one hand, Obama was able to pass his signature goal, health care reform,   yet on the other, the economy remains hobbled and the unemployment rate hover just under 10%.   On yet another hand [this must be a mutant grader!—Ed.], we have avoided a second Great Depression and the Great Recession appears to have avoided a double dip.  On those later point, the issue is did the stimulus and various bailouts accomplish that feat?  (And some credit along those lines  also belongs to Bush, Paulson, Bernanke and company).

Foreign Policy:  C-

On balance, the Obama foreign policy has been the same as the Bush second term foreign policy.  I see no radical difference on Afghanistan, Iraq, Guantanamo, the War on Terror (or whatever we are calling it these days) or a host of other issues.  In general, US global relations are stable.  He loses points for not being especially different than his predecessor despite campaigning on change in this realm.

Legislative Success: A

Regardless of what thinks of the actual legislation in question, it is impossible to look at the legislation passed that Obama wanted passed and not give the man high marks:  the stimulus package, financial regulatory reform, the PPACA and the tax cut deal.  Anyone who has any kind of historical perspective regarding legislation has to score this one with high marks.

Update: It occurs to me that the DADT repeal needs to be in here as well, which will have long-term historical significance along with the ratification of New START.

Practical Politics: B/B-

This is linked to the communication issue above, but also to the legislative success.  On the one hand, there has been a lot of learning (as one might suspect) for a first term president, especially one with a short political resume to begin with.  However, while at times his political communication has faltered, the bottom line is that he has achieved a lot that he set out to achieve.  Further, the tax deal with the GOP showed that he can be pragmatic (and use that pragmatism to political gain).
I will leave it at that, and let my colleagues join in as they see fit.
James Joyner:
Communication:   C-

Obama is a first rate orator, on par with Reagan and Clinton — the two best American presidents in this area in my lifetime.   But, unlike those two, he's not good at messaging and frequently hurts himself by sending mixed signals.

For example, on Afghanistan, he's managed to simultaneously double down on the mission and undermine confidence in America's commitment to it.  He spent months hemming and hawing about the surge and then undercut it with a July 2011 deadline.

Similarly, by not taking control early on the health care bill, a rather major achievement (albeit not in a direction I preferred) was received as a failure.

Domestic Policy: C

He's gotten a lot done:  Healthcare reform, the stimulus, gays in the military, and other milestones.   But he did not lead well publicly on any of them, letting others carry the water.

The economy remains a disaster — indeed, it's much worse than he warned it would be if we didn't pass his stimulus package!  I don't actually think this is his fault — it's a global meltdown — but it'll be how voters judge.

Foreign Policy:  C-

I'm in essential agreement with Steven on all fronts.  I'll put up a longish post on this topic and link it here later this afternoon.  [As promised:  Obama's Mid-Term Report Card, foreign policy edition.]

Legislative Success: A-

Again, I basically agree with Steven.  I ding Obama, though, for failure to take charge early.  He succeeded by muddling through but presidents don't get much credit for that.

Practical Politics: B

Ultimately, he's done as well as can be expected.  He's broken many of his campaign promises and quietly de-emphasized previous major goals upon seeing that the view looked different from the Oval Office than the campaign trail.  That doesn't win him any points from either flank but it's a shrewd way to govern.
Alex Knapp:
Communication:   B

I personally, largely agree with James and Steven. But I think that's an inside baseball perspective. If Obama were really as bad as I think he's been, he wouldn't have an approval of over 50% at a time when the economy is still really, really terrible. So I'm thinking his communication skills must be stronger than I give him credit for. Which makes sense – folks like me who live and breathe politics are, thankfully, a fraction of a percentage of the population.

Domestic Policy: C

The good: Lily Ledbetter Pay Act, DADT, Financial Reform, most of the ACA, though I think it could have been much better if it weren't such a conservative package.

The bad: kowtowing to Wall Street, the deficit increasing tax package "compromise" with Republicans, which resulted in a MORE expensive bill than either party was asking for, the stimulus package that was too long on tax cuts, too small on real and effective spending. Also, continuing the stupid Bush policy of having the Justice Department pursue "counterterrorism" by conducting elaborate sting operations against comically inept people who would pose no threat if left to themselves is another black mark against him.

Foreign Policy:  D+

Terrible in Iraq and Afghanistan, were he continues to fight wars with no defined objectives that we never should have started in the first place. Doubling down in Afghanistan, in particular was a mistake, though I'll freely admit that's in hindsight because I also thought it was a good idea in 2008. Despite "ending torture," the CIA maintains its black sites in Bagram and elsewhere. The drone strikes into Pakistan are unconscionable, and he spent a considerable amount of capital into arranging "tough" sanctions on Iran that will go nowhere. Although in fairness, sanctions may forestall the even more insane policy of attacking Iran, so that might be a positive.

Legislative Success: A

Unlike James, I think it was a stroke of brilliance to let Congress lead the way on most of Obama's signature legislation, all the while subtly manipulating them into doing what he wanted. The best way to manage egotists is to lead them to believe that they're managing you. And you don't get into Congress without a healthy dose of egotism.

Practical Politics: B+

Overall, Obama's kept most of his promises, is actively working towards them, or got them as far as they could go in the current political climate. That ain't bad.
Doug Mataconis:
Communication:   C-

Perhaps the most striking to me about the Obama Administration versus the Obama campaign for President has been the extent to which the same communications team that did such a great job during a hard-fought Primary and General Election campaign has done such a bad job since they've been in office. This was most in evidence during the health care debate, when the GOP and the conservative opposition was essentially able to take control of the talking points without much of a fight. Yes, the Administration ended up getting a health care package passed, but they lost the communications battle and ended up paying the price for that throughout the 2010 campaign season.

Part of the inevitable mid-term staff shuffle that has been going on since Rahm Emanuel left office appears to include a shake-up in the Communications Office. Robert Gibbs will be leaving, and the White House announced today that most political functions will be shifted out of the White House and into either the DNC or the Obama re-election campaign, which will be headquartered in Chicago.  Whether that solves the Administration's communications problems remains to be seen.

Domestic Policy: C

With the exception of Card Check and Cap & Trade, virtually all of the major legislative agenda items that were part of the 2008 Obama campaign have been passed into law by Congress, albeit not always in the form (or manner) promised in 2008. As James notes above, though, Obama wasn't much of a leader in getting any of his agenda items passed. Starting with the $700 Billion Omnibus Spending Bill that was passed in February 2009, the Obama White House had the habit of letting the Democratic leadership in Congress control the content and communication of everything from the Affordable Care Act (arguably the most significant piece of legislation of Obama's Presidency even if he manages to win a second term). The result has been that the most important pieces of legislation of the past two years were associated with the unpopular Democratic Congress, rather than a relatively more popular Democratic President, and the President looked weak.

More importantly, though, the biggest domestic issue is the economy and the President's economic policies have been less than helpful to say the very least. When Election Day 2012 comes, though, it will be the state of the economy that decides the President's fate and, at the moment at least, it's beginning to look like Barack Obama may turn out to be very lucky in that regard.

Foreign Policy:  D

I essentially agree with Steven here as well. I give the President a D here mostly because I think he is continuing to pursue a policy in Afghanistan that cannot work, and that he is not being honest with the American public about the fact that our strategy there isn't working the way his advisers told him it would. We need to turn around and get out of there, soon, but with an election coming up in a year I doubt that's going to happen.

Legislative Success: B+

As I noted above in the Domestic Policy section, Obama's biggest problem has been the extent to which he ceded control of the legislative agenda early on to Congress, a decision he ought to great.

However, he did two things. First, he has gotten most of his legislative agenda through Congress. Second, during the lame duck session, he wisely (from a political point of view) compromised with Republicans over extension of the Bush tax cuts, thus allowing other items like the repeal of Don't Ask, Don't Tell and ratification of the START Treaty. Had that deal not been reached, the lame duck session would have likely been a waste of time.

Practical Politics: B

For the most part, President Obama has handled the practical politics of his position rather well. Evidence of that can be seen in the fact that he has manged to maintain relatively respectable job approval and favorable/unfavorable numbers even though polls show that the public disagreed with his position on policy issues. In fact, if the economy had been in better shape over the past two years, I would imagine that Barack Obama would be in  far better position than he is now.

As I wrote earlier today, there are signs that we may be witnessing a turnaround for Barack Obama, if that continues, it's likely that the next two years are going to be far different from the past two for the White House.
Chris Lawrence:
I can't say I disagree much with my colleagues, so my commentary will generally be brief.
Communication: B-

Obama is an effective communicator, in general, but sometimes he fails to make an effective case for his policies. How much of this is due to an often-muddled White House communications strategy, as opposed to Obama himself, is debatable. And, regardless, the public is no longer really buying his administration's repeated attempts to pin all of Obama's problems on his predecessor.

Domestic Policy: C-

Health care reform is generally the only "bright" spot on his record, and even that was arrived at by walking back campaign positions. While most of the individual elements poll as popular, the "if we pass it the public will like it" strategy hasn't really come to pass in reality.

The rest of Obama's 2009-10 domestic policy agenda is effectively DOA with the Republican House takeover, and there isn't much sign yet of a new one to replace it. With the economy overshadowing everything else, even Democrats will have difficulty supporting major new spending initiatives, leaving Obama to try to fiddle at the margins through the regulatory process.

Foreign Policy: C+

The best that can be said for the Obama foreign policy agenda is that it hasn't been as disastrous as the Bush foreign policy agenda. Then again, the second-term Bush foreign policy agenda wasn't either, since realistically the "military option" to solve any problem has been off the table since mid-2004. On the plus side, we have managed to avoid Clintonian adventures that might not have worked out; intervention in Ivory Coast and/or Darfur would have potentially been palatable to Congress had Iraq gone swimmingly or not at all. On trade, the Obama administration has presided over the massive failure of the Doha round, alienated allies by refusing to push through free trade agreements, and only reluctantly acceding to our NAFTA obligations after an unnecessary, union-inspired spat over Mexican trucking based on bogus arguments about the safety of American-manufactured trucks being operated by experienced Mexican drivers on American roads.

The only reason the grade is as high as it is: institutionally he is constrained to failure on many key foreign policy issues. Israel has no interest in solving the Palestinian conflict in the current environment (where the Palestinians are internally divided and the Arab world has seemingly diminished its interest in their cause); Iranian and North Korean nuclear weapons capabilities are going to come about regardless of American efforts to the contrary due to European, Russian, and Chinese sanctions-busting (and, regardless, are probably not the existential threats to American safety some make them out to be; if anything, the sanctions-busters are far more vulnerable than the United States to rogue Iranian and NorK behavior); and the administration is inclined to simply repeat the cycle of failure in Latin American policy due to nativist sentiment from both parties' congressional caucuses and the public at large.

Legislative Success: B+ (but falling)

It's hard to give presidents much credit or blame on this score; regardless, the sheep-herding in Congress went well when he had a working majority, and I'd expect it will go rather less well now. This is an element of the grade that seems likely to be a poor prediction of his 2013 or 2017 final grade, so I would discount it accordingly.

Practical Politics: B-

Much to the chagrin of the Democratic Wing of the Democratic Party, the Obama administration thus far has been more Clintonian (or Bush43ian, particularly on foreign policy) than Carterian (or Reaganite). As James suggests, "muddling through" is about as well as can be expected given the economic downturn, a hostile foreign policy environment, and a decidedly conservative public policy mood swing since Obama took office. His use of regulatory policy so far has been relatively shrewd, particularly for a president without any prior executive branch experience to speak of; that prowess will be challenged over the course of the next two years, and likely will determine whether his final grade is a B or a C.
Dave Schuler:
I don't actually have a great deal to add beyond the points that my colleagues have made.
Communication: B-

If it weren't for the occasional excellent speech, e.g. Tucson, he'd be drifting lower. Too frequently, he's lecturing rather than addressing.

Domestic Policy: D

There is only one domestic policy issue: the economy. If unemployment remains high and we're in an L-shaped, Japan-style recovery, D is being generous.

Foreign Policy: D+

In my view expanding the war in Afghanistan has been an error. Given that he has squandered the last two years in terms of trade agreements and that otherwise, as has been mentioned above, his foreign policy has closely resembled that of President Bush's second term, I can't even award a C.

Legislative Success: A

Passage of major healthcare reform, a goal that has eluded Democratic presidents for the last 30 years, assures President Obama an A in this area.

Practical Politics: C

In terms of practical politics President Obama is about where most presidents are at this point in their first terms. However, there are storm clouds on the horizon. His political opponents don't like him a bit more than they did when he was elected, he's in danger of losing independents, and he's alienated portions of his base.
In summary, I think that President Obama deserves what we used to call a "gentleman's C".
Robert Prather:
I, too, have little to add, but here's my two cents:
Communication: C

His oratorical skills are second to none, but his messaging has been poor. Political communication requires bullet points that can fit on a postcard. He prevaricates so much its almost like he's thinking out loud.

Domestic Policy: B+

He learned one of the primary lessons of the failure of HillaryCare and didn't try to do it himself and ram it down Congress's throat. He gave them a blueprint and negotiated with them and it was a success. The stimulus was too small, by around $400 billion and contained way too many tax cuts, but it still likely allowed us to avoid a second Great Depression.

Foreign Policy: B

In spite of his campaign rhetoric, he was never going to be able to hit the reset button. He inherited two wars, only one of which should never have been started, and he has essentially stuck to Bush's second term as a model, as Steven says elsewhere. Realistically, it's about the best that can be expected.

Legislative Success: B

Health care and stimulus alone merit an A. However, he did, and didn't do more. Gays in the military was a success, the renewal of all of the Bush tax cuts was not. Not that he had any choice, but it ranks as a failure with me.

Practical Politics: C+

If practical politics took into account his strategy for passing Obamacare, he would merit a higher grade. However, it doesn't and he has missed some opportunities by not maintaining a consistent message. It's hard to know how he makes decisions because he doesn't have any guiding principles; for better or worse, we knew where Bush 43 and Reagan stood. Not so much with this president. If he had Clinton's skills with messaging, even though Clinton didn't have firm principles that I'm aware of, his score would be higher here.
As far as I know, the primary determinant of his winning reelection will be the state of the economy (or at least the people's views on it). I'm hoping for a good economy and that he does win reelection. Yes, I've moved to the left in recent years.