Mike Huckabee Invokes Martin Luther King Jr. To Argue Against Marriage Equality
Once again, conservatives demonstrate how little they understand minority voters.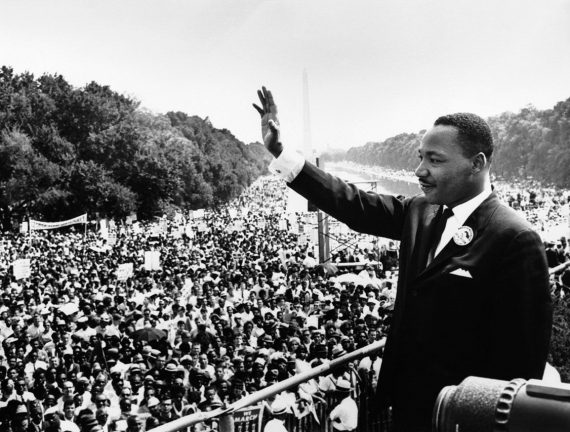 In recent years, conservatives have made many efforts to try to appropriate the legacy of Martin Luther King, Jr for their cause. They have argued, for example, that King was a Republican during at least some point in his life. In reality, it was King's father, Martin Luther King, Sr.,  who was, like many African Americans in the South up until the 1960s, a Republican in no small part because of historical racial traditions that go back to the end of the Civil War. King Jr. didn't identify with any political party during the early years of the Civil Rights Era and, in any case, the King family as a whole endorsed John F. Kennedy in 1960 over Richard Nixon in no small part because Kennedy had reached out to the younger King when he was in jail in 1960. They also point out that most of the opposition to the Civil Rights Act of 1964 was Democratic,which is true if you limit yourself primarily to Southern Democrats and forget about the fact, within less than a decade, Southern white Democrats began to identify with the Republican Party. Mike Huckabee, though, seems to have succeeded in making the most absurd 'Martin Luther King Jr was a conservative' argument yet:
Fox News host Mike Huckabee on Thursday compared the effort to prevent LGBT people from having equal marriage rights to fighting against Nazi Germany.

Speaking at the 2014 March for Marriage in Washington, D.C., Huckabee said that there was "no basis in the law" that gave a single judge the right to strike down same-sex marriage bans, like Sixth Judicial Circuit Judge Chris Piazza did in Arkansas in 2012.

"Nothing threatens your personal liberty more than the notion that you would bow your knee to the court system apart from the ultimate rule of the Constitution," he opined. "And all of the branches of government, all of which are not there to tell you what you cannot do, but to guarantee the freedoms that you are always empowered to have."

"We are under an obligation to obey God and the law, and if necessary, to defy an institution that is out of control," the former Arkansas governor continued.

To make his point, Huckabee quoted from a letter that Martin Luther King's Jr. wrote while spending eight days in the Birmingham Jail for fighting to end segregation.

"One may well ask, 'How can you advocate breaking some laws and obeying others?'" King had written. "The answer is found in the fact that there are two types of laws: there are just laws, and there are unjust laws. I would agree with St. Augustine that 'An unjust law is no law at all.'"

(…)

"I wish he were here today to say in the people in the building this one, Mr. Supreme Court justices, Madam Supreme Court justices, your role is only to interpret the law, to make sure that it somehow meshes with the Constitution, not that it messes with the Constitution!" he shouted.

In fact, Coretta Scott King, the widow of Dr. King, has repeatedly suggested that her husband would have backed equal rights for LGBT people.

"Freedom from discrimination based on sexual orientation is surely a fundamental human right in any great democracy, as much as freedom from racial, religious, gender, or ethnic discrimination," she told the National Gay and Lesbian Task Force in 2000.
It's impossible, of course, to know what someone who has been dead for 46 years would think about a social issues that wasn't even contemplated at the time that he was alive. However, I'd take his wife's word on the issue before I'd take the word of someone like Huckabee. More importantly, though, it's always struck me that this effort by people on the right to appropriate Dr. King to their cause in such pathetic manners as this really just comes across as the ultimate form of pandering. It's akin to the manner in which they push forward people who happen to be conservative and members of a minority group in a blindingly obvious effort to try to say 'See we're not just about white people.' That's brought us such luminaries as Herman Cain, Alan Keyes, Allen West, and Ben Carson, all of whom have, on more than one occasion, said things that any reasonable person would find embarrassing if not outrageous. More importantly, there no evidence at all that this kind of tokenism actually helps attract minority voters, and it seems even less likely that appropriating the legacy of perhaps the most important African-American in American history in this manner would work any better. Indeed, it seems more likely to turn voters off.
If conservatives wonder why minority voters reject them, perhaps they need to think about how they appear to others when they say stuff like this.