Mitch McConnell Won't Eliminate The Legislative Filibuster If The GOP Takes The Senate
Preserving the filibuster.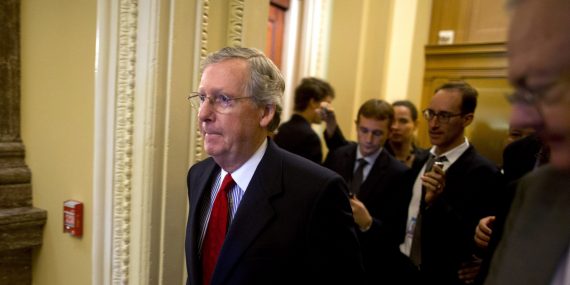 Mitch McConnell says that, if he become Senate Majority Leader in the new Congress, he will keep in place the ability of the minority to filibuster legislation:
WASHINGTON — Senate Minority Leader Mitch McConnell (R-Ky.) said on Thursday that if he were to emerge as majority leader following this fall's elections, he'd prefer to keep in place the minority party's ability to filibuster legislation.

"I do not favor turning the Senate into a majoritarian institution, even though we would probably have some short-term advantage to doing it," McConnell said during an appearance at the American Enterprise Institute, a conservative think tank.

While he said he thought Senate Majority Leader Harry Reid (D-Nev.) had done a "lot of damage" by using parliamentary procedure to enable some judicial and executive nominees to move through the chamber with 50 votes, he suggested that he had no plans to try to undo that change. He even left the door open to further changing the rules so they would apply to more nominees.

"That precedent will always be there. It is hard to un-ring a bell and I think it was very damaging to the institution," said McConnell.

But in stopping short of endorsing filibuster reform for actual legislation, McConnell laid down a marker for how he would run the chamber that could end up upsetting his own members. Should, for example, Republicans emerge from November with a slim Senate majority, there will be a number of legislative items — including, potentially, the repeal of Obamacare — on which he will need 60 votes to end debate.

In his speech, McConnell cast his position as one of reverence for institutional history. The Senate, he said on several occasions, was designed as a place of legislative comity and deliberation. He placed the blame for changes to that culture at Reid's feet, citing his unwillingness to allow Republican amendments to be considered. (Reid's office has countered that the amendments in question are often poison pills, while noting that McConnell has spearheaded a historic number of filibusters).
The prospect that the GOP might move to even further restrict the filibuster should it regain control of the Senate, or at least if it did both that and regained the White House in 2016, is an idea that has been circulating for some time now. Some Democratic Senators who opposed the proposals by Jeff Merkley and other Senators to reform the filibuster as well as the changes that Harry Reid rammed through the Senate in November raised the possibility as a warning to their fellow Democrats as a warning about the precedent they were setting by unilaterally altering one of the Senate's core protections of minority rights and privileges. Indeed, some Republican Senators hinted at the possibility themselves in their own floor speeches regarding the idea of filibuster reform, although it was unclear if they were expressing an desire to actually accomplish this goal or just warning the opposing party of what might happen in the future. At the moment at least, McConnell seems to be downplaying those fears, although one suspects that if he, or if he loses his re-election bid his likely successor John Cornyn, does become Majority Leader he would probably find the threat of pushing through such reform to be useful in keeping the minority in line in the same manner that Harry Reid has attempted to do over the years.
In reality, of course, McConnell's statements about future plans for filibuster reform are merely a recognition of political reality. First, just as Democratic efforts at filibuster reform faced resistance from Senate veterans well aware of what nuking the filibuster would mean if and when the Democratic Party was in the minority, Republican Senators are likely to be similarly resistant to radical change of the filibuster rules. Some of the "young turks" in the GOP Caucus such as Ted Cruz and Mike Lee might be more gung-ho about the idea, but there are likely to be even more Republican Senators reluctant to scrap the legislative filibuster than there were Democrats. Second, even if the GOP does regain control of the Senate in 2015, that control could very well be short-lived. In 2016, the Republicans who won office in the 2010 re-election. This will include people like Ron Johnson in Wisconsin, Mark Kirk in Illinois, and Pat Toomey in Pennsylvania. Just as Democratic Senators are vulnerable in red states this year, there will be a number of Republican Senators in blue states who will be vulnerable. Additionally, if they run for President Senators like Marco Rubio and Rand Paul may not be on the ballot for re-election, thus creating the possibility of Democratic pickups in Florida and Kentucky. Indeed, Sean Trende noted in January that the odds of a GOP takeover being short-lived were quite high. Given that, it's unlikely that the GOP will take any steps to mess with the filibuster rule in the next Congress. If they manage to hold on to control in the 2016 elections, then perhaps we might see filibuster reform in 2017 or beyond. But not before then.