N.R.A. President Oliver North Blames School Shootings On Drugs Used To Treat ADHD
The new President of the National Rifle Association has a new theory to explain mass shootings, but there's no basis for believing it's accurate.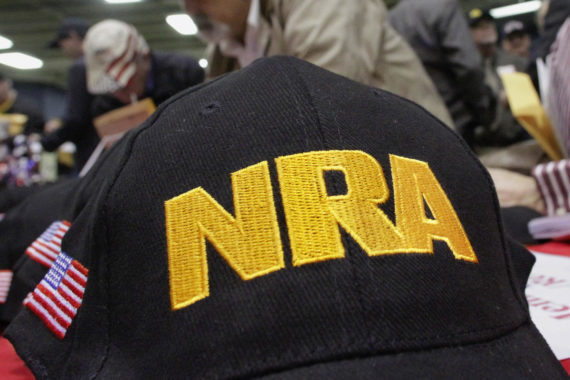 In an appearance on Fox News Sunday in the wake of last Friday's school shooting in Santa Fe, Texas, incoming National Rifle Association President presented his own theory for the rash of school shootings that we've seen over the past twenty years beginning with the 1999 shooting at Columbine High School in Colorado:
Incoming National Rifle Association (NRA) President Oliver North said in a Sunday show interview that the problem facing America is a culture of violence, not the Second Amendment.

"The disease in this case isn't the Second Amendment. The disease is youngsters who are steeped in a culture of violence," North said on "Fox News Sunday."

North then seemingly blamed prescription drug Ritalin, which is used to treat attention deficit hyperactivity disorder (ADHD), for making kids — particularly male students — violent.

"They've been drugged in many cases. Nearly all of these perpetrators are male."

"And they've come through a country where violence is commonplace," North said.
North's remarks came several days after N.R.A. spokesperson Dana Loesch, who has a long history of controversial statements on Second Amendment related issues that predates her affiliation with the organization, blamed the media for the rash of school shootings:
National Rifle Association (NRA) spokeswoman Dana Loesch on Friday accused the media of "creating" mass shooters by extensively covering suspected perpetrators.

"[The media] has got to stop creating more of these monsters by oversaturation," Loesch said on NRATV.

"I'm not saying don't responsibly report on things as they happen," she continued. "I understand it. But constantly showing the image of the murderer, constantly saying their name, is completely unnecessary."

Loesch pointed to a number of past school shootings in which the suspects referenced the 1999 massacre at Columbine High School in Colorado either in writings or social media posts.]
Here's the video of North's comments today:
And Loesch's comments on Friday:
"#MSM has got to stop creating more of these monsters by oversaturation. I'm not saying don't responsibly report on things as they happen. I understand it. But constantly showing the image of the murderer, constantly saying their name, is completely unnecessary." —@DLoesch #NRA pic.twitter.com/9GjK3sLrDr

— NRATV (@NRATV) May 19, 2018
This isn't the first time that the N.R.A. has sought to blame someone or something outside of the scope of the national debate about gun control and the Second Amendment for the mass shootings that have plagued the United States over the course of the past two decades or more. In the wake of the 2012 shooting at Sandy Hook Elementary School in Connecticut that resulted in the deaths of twenty-seven people most of them, children aged seven or under. the organization blamed the video game industry for glorifying gun violence in what I noted at the time was a bizarre statement by N.R.A. Chief Executive Officer Wayne LaPierre that was entirely devoid of any self-awareness or recognition of irony. In the wake of the shooting in February in Parkland, Florida, President Trump also focused attention on the alleged link between "violent video games" and violence in movies and mass shootings. Given the N.R.A.'s long history of seeking to blame video games for school violence, this is hardly surprising.
There is, of course, little merit to any of the arguments that North, Loesch, LaPierre, or Trump have made in an effort to place blame for school shootings on outside forces. As The New York Times noted in the wake of President Trump's recent comments, researchers have found no link between video games, television shows, or movies, and mass shootings or other forms of violence among teenagers. As for North's allegation of a link between ADHD treatment and violence in schools, it's worth noting that the National Institutes of Mental Health have estimated that only about 15 percent of males and 6.7 percent of females suffer from some form of ADHD. There's also no demonstrable link between the prescription of Ritalin or any other medication used to treat ADHD and a propensity for violence. If anything, these medications seem to have the impacting of lessening violent tendencies rather than enhancing them.
North didn't cite any sources for his claim, of course, but as Josh Israel notes, it is a theory that has been advanced by adherents to Scientology that has also been latched onto by some conservative websites as an explanation for school shootings. This theory was largely debunked, however, by an October 2000 study conducted by the Secret Service, the Department of Education, and the National Institute of Justice. That report found that "[f]ew of the attackers had been diagnosed with any mental disorder prior to the incident. Additionally, fewer than 1/3 of the attackers had histories of drug or alcohol abuse." While this study was conducted eighteen years ago, there have been no credible studies conducted since then that have contradicted it, and no evidence that there has been an explosion in violence from people received pharmacological treatment for ADHD or other conditions.
All of this is consistent, of course, with the N.R.A.'s consistent effort to divert public attention in the wake of any of the recent mass shootings away from any discussion about gun control and toward other issues. It's also consistent with the rhetoric we've heard from North ever since he was selected as the next President of the N.R.A., including his recent statement that said the N.R.A. and gun owners were being treated worse than African-Americans had been under Jim Crow.
To be fair, it's largely true that in most of these cases the gun control laws that have been proposed would have done little to prevent the incidents in question. In nearly all of these cases, the shooters obtained their weapons legally and passed background checks. The exceptions to that rule are few and far between and demonstrate that laws are only as good as the people who enforce them. Adam Lanza, the shooter in the Sandy Hook case, obtained his weapons by breaking into the gun safe where his mother kept her weapons, after which he killed her early in the morning before going off to the school. Nikolas Cruz, the shooter in the Parkland, Florida case, had been on the radar of law enforcement for years and had a clear history of mental health problems but nonetheless was able to obtain a weapon more than a year before the shooting, which was also before he made his most overt threats of violence. Travis Reinking, who carried out the shooting last month at Nashville Waffle House restaurant, had his weapons taken from him due to his history of mental health problems and yet, for reasons that have yet to be explained, those weapons were given by authorities to his father who then proceeded to return them to Reinking. Finally, is as yet unclear how Dimitrios Pagourtzis, the shooter in Friday's shooting in Texas, obtained his weapons. The fact that he is only 17, though, seems to indicate that he either stole them from a family member or otherwise obtained them illegally. Additionally, it's worth noting that the main weapon that Pagourtzis used in the shooting was a sawed-off shotgun, a weapons modification that is illegal under both state and Federal law.
All that being said, the efforts by North, Loesch, and others to seek to divert attention in the wake of yet another mass shooting away from questions about possible reforms to gun laws that could help prevent these types of shootings and toward largely phony arguments about video games, the media, or, apparently now, Ritalin is a rather obvious effort to change the subject on their part. As noted above, there's simply no evidence to support any of the contentions that these people have advanced. In fact, all they really seem to succeed in doing is to further discredit an organization that has become so reflexive in its efforts to reject any discussion about reforms to gun control laws that it's simply impossible to take them seriously anymore.