National Review Takes On Donald Trump, But It's Most Likely Too Little, Too Late
The flagship of the American right is leading the charge against Donald Trump, but it's not likely to work.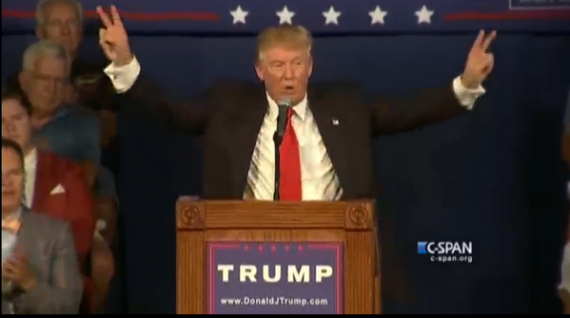 The magazine that is often credited with helping to give birth to the modern post World War II conservative movement in the United States has come out against Donald Trump in the most prominent manner yet, but it seems like something that will end up being too little, too late:
For months, Republican leaders have worried about how to stop 2016 frontrunner Donald Trump. Now, one of the conservative movement's most influential publications is taking matters into its own hands.

National Review is dedicating a special issue of its magazine, one week before the Iowa caucuses, to stopping Trump. "Against Trump," blares the magazine cover. Inside, a blistering editorial questions Trump's commitment to conservatism, warning voters that backing him is tantamount to allowing the conservative movement to have "fallen in behind a huckster."

"Trump is a philosophically unmoored political opportunist who would trash the broad conservative ideological consensus within the GOP in favor of a free-floating populism with strong-man overtones," the editorial reads.

And that's just the start.

The National Review issue features anti-Trump essays from more than 20 conservative thinkers, leaders and commentators spanning the GOP's ideological spectrum from David Boaz, executive vice president of the libertarian-infused Cato Institute, to William Kristol, the hawkish editor of the Weekly Standard, to David McIntosh, president of the Club for Growth. All call for Republicans to nominate someone other than Trump.

"This is the time to mobilize," said National Review editor Rich Lowry, who is also a weekly opinion columnist at POLITICO. "The establishment is AWOL, or even worse, so it's up to people who really believe in these ideas and principles, for whom they're not just talking points or positions of convenience, to set out the marker."

Although Trump has dominated national presidential polls since last summer, he has been subjected to relatively minor attacks on the airwaves. Instead, the more traditional candidates have turned into a circular firing squad shooting at each other, especially anyone who emerges as a possible top Trump alternative. The campaigns and super PACs supporting Marco Rubio, Ted Cruz, Jeb Bush and Chris Christie have aired millions in ads slamming one another. (The super PAC supporting John Kasich has been the notable exception in targeting Trump.)

With Cruz clinging to a narrow lead in Iowa, and Trump leading everywhere else, the question of who to choose between the two has convulsed through Republican circles in recent days and weeks.

Some leading GOP voices, most notably Bob Dole, have argued that Trump is a deal-maker with whom establishment Republicans could actually work, unlike Cruz. Former GOP Senate leader Trent Lott said he'd take Trump over Cruz, too. And longtime Iowa Gov. Terry Branstad has announced his opposition to Cruz, though he has not backed Trump.

The idea of choosing between Cruz and Trump, though, has soured many Republicans. "It's like being shot or poisoned," Sen. Lindsey Graham, who recently dropped out of the presidential race and endorsed Bush, said on Capitol Hill Thursday. "What does it really matter?"

For movement conservatives, Lowry said, the choice is clear: Anybody but Trump.

"We've spent our lifetimes opposing poll-driven Republicans, and here's a guy who's the single most poll-obsessed politician in the history of the United States, judging by what he says," Lowry said. "And we're going to put him in the White House and expect him to stand by anything he's said? It's an insane gamble."

(…)

Among those penning anti-Trump pieces are the faces and voices of other top conservative outlets, including Kristol, Ben Domenech, publisher of the Federalist, Erick Erickson, former editor of RedState.com, Yuval Levin, editor of National Affairs, and John Podhoretz, editor of Commentary. Syndicated USA Today columnist Cal Thomas writes an anti-Trump essay, and so does Russell Moore, president of the Ethics and Religious Liberty Commission of the Southern Baptist Convention.
You can read the piece by National Review's Editors and the pieces by many leading pundits on the right online this morning, To be fair, for the most part these are arguments that many on the right have been making for months now, seemingly in vain, as Trump has risen in the polls week after week and defied the expectations of pundits who said time after time that his dominance of the polls that could not last and that his latest offensive comment or outburst would be the one that ends his dominance of the polls. They've been wrong each time, of course. Donald Trump has been leading the polls nationally, as well as in New Hampshire and South Carolina for basically six months now, and he's either led or nearly shared the lead in Iowa for the same amount of time. The idea that he's some kind of flash in the pan, or that he can or will be brought down by something he said, or something some pundit or even one of his opponents says about him, has been refuted time after time. Given that, it's hard to believe that this latest effort by National Review and other conservatives will have any more of an impact on Trump than any of the other attacks notwithstanding the fact that it would be good to see Trump go this far as the leader of the field only to find it all knocked down just when it seems like he has a real chance of becoming the Republican nominee for President. I just don't see any evidence that these arguments, most of which we've seen from the same authors many times over the past six months, are going accomplish much of anything.
Not surprisingly, Trump has started hitting back at National Review within hours after the new issue was posted online via his Twitter account:
National Review is a failing publication that has lost it's way. It's circulation is way down w its influence being at an all time low. Sad!

— Donald J. Trump (@realDonaldTrump) January 22, 2016
Very few people read the National Review because it only knows how to criticize, but not how to lead. — Donald J. Trump (@realDonaldTrump) January 22, 2016
The late, great, William F. Buckley would be ashamed of what had happened to his prize, the dying National Review!

— Donald J. Trump (@realDonaldTrump) January 22, 2016
The bigger problem that movement conservatives like those who are going after Trump in National Review face is the fact that their arguments are unlikely to be effective because they either miss the point of what created the Trump phenomenon, or because they don't want to acknowledge it. First of all, the arguments that many of Trump's conservative critics make is the continued belief that voters generally place a lot of importance on political ideology when they decide who to vote for. The reality is that when one looks at exit polls, or talks to voters after an election, it becomes clear that the number of people who vote for a candidate based on the purity of their adherence to the ideology of the left or the right is really relatively small. Far more people base their votes on more abstract factors such as how a candidate makes them feel, or how a candidate speaks to the issues that impact them personally. These attacks on Trump that essentially center on the argument that he's not a "real" conservative are, therefore, unlikely to be persuaded by arguments that essentially boil down to the idea that Trump should be rejected because he doesn't adhere to some dictionary definition of what "conservatism" is or should be. Indeed, to the extent that the people who are backing Trump now are motivated ideology it's arguably the case that they are well aware of Trump's alleged deviations from conservative orthodoxy and simply don't care about it.
A second problem with the anti-Trump strategy that National Review and other conservatives have now committed themselves too seemingly at the last minute is the fact that it largely plays into Trump's hands as it helps him characterize himself as the continued target of a Republican/conservative establishment that wants to maintain its hold on power. By and large, it seems likely that the audience that reads National Review was already largely opposed to Trump long before this issue was posted last night. The voters who are inclined to support Trump right now, on the other hand, seem to consist largely of people who don't necessarily immerse themselves in politics, and certainly not in the finer points of conservative philosophy. Many of them are attracted to Trump not because of the specifics of his plans, but because he talks tough and personifies their frustrations with the powers-that-be in a way that none of the other candidates are able to do. They support Trump because he says the things that they say behind closed doors, whether it's about government, immigration, the way government works to benefit entrenched interests, or the fact the general incompetence of contemporary politicians. Combined with Trump's undeniable abilities as a master of how to use the media to his own advantage, that seems to be the real reason that Trump is succeeding. When a bunch of conservative pundits attack Trump in a magazine that most of them have never read, they're more likely to chalk it up to the elites being afraid of Trump and what he represents than to pause to reflect on whether Trump is a "real" conservative.
Finally, the  main reason this latest effort to take down Donald Trump is that it fails to recognize several truths about the Trump phenomenon that are likely to make many on the right uncomfortable. Like it or not, Donald Trump represents the apotheosis of many of the forces that Republicans and conservatives have been tapping into for years now in order to invigorate the party and the movement. The populism, the nativism, the anti-immigrant xenophobia, the outright bias against Islam that makes someone think that a proposal to exclude them from entering the country is reasonable, and the anti-intellectual chest beating that epitomize the Trump supporter can all be traced to differing elements of the Tea Party and the GOP base that have been cultivated over the past twenty years or more by politicians eager to grab political power. For the most part, all of these elements of the base and the Tea Party were apparent years ago, but few people on the right said anything about it because they were able to exploit it to win elections. Those who did criticize it were decidedly in the minority at the time and largely ignored or even openly derided. The 2010 elections and the rise of the Tea Party as a force in Congress, though, demonstrated quite clearly what happens when these forces are given political power, and now we're seeing what happens when someone with the rhetorical skills and media savvy of a Donald Trump taps into those forces, and it's difficult to see how he's going to be stopped unless the rest of the GOP unites behind a candidate capable of taking him on notwithstanding the fact that every previous effort to take Trump on has failed miserably. In the end then, Republicans have nobody to blame for Donald Trump but themselves. They opened Pandora's Box and now they're paying the price.