New York Times Announces Paywall Rates To Begin March 28th
In less than two weeks, much of the content of The New York Times will go behind a paywall.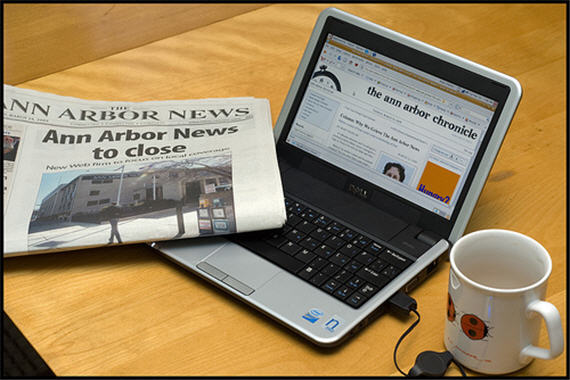 After more than a year of talking about it, The New York Times is taking the final steps toward locking the majority of its online content behind a paywall:
The New York Times rolled out a plan on Thursday to begin charging the most frequent users of its Web site $15 a month in a bet that readers would pay for news they have grown accustomed to getting free.

Beginning March 28, visitors to NYTimes.com will be able to read 20 articles a month without paying, a limit that company executives said was intended to draw in subscription revenue from the most loyal readers while not driving away the casual visitors who make up the vast majority of the site's traffic.

Once readers click on their 21st article, they will have the option of buying one of three digital news packages — $15 for a month of access to the Web site and a mobile phone app; $20 for Web access and an iPad app; and $35 for an all-access plan.

All subscribers who receive the paper through home delivery will have free and unlimited access across all Times digital platforms except, for now, e-readers like the Amazon Kindle and the Barnes & Noble Nook.

"A few years ago it was almost an article of faith that people would not pay for the content they accessed via the Web," Arthur Sulzberger Jr., chairman of The New York Times Company, said in his annual State of The Times remarks, which were to be delivered to employees on Thursday morning.

"This move is an investment in our future," he said. "It will allow us to develop new sources of revenue to support the continuation of our journalistic mission and digital innovation, while maintaining our large and growing audience to support our robust advertising business. And this system is our latest, and best, demonstration of where we believe the future of valued content — be it news, music, games or more — is going."

Mr. Sulzberger acknowledged the hurdles The Times must overcome in the minds of many readers, saying he harbored no misconceptions.

"The challenge now is to put a price on our work without walling ourselves off from the global network, to make sure we continue to engage with the widest possible audience," he said.

Not all visits to NYTimes.com will count toward the 20-article limit. In an effort to ensure that as many as possible of the Web site's more than 30 million monthly readers are not deterred from visiting, The Times will allow access to people who visit through search engines like Google and social networking sites like Facebook and Twitter. There will, however, be a five-article limit a day for people who visit the site from Google.

The 20-article limit will immediately apply to readers accessing NYTimes.com from Canada. That is to allow the company time to work out any software issues before the system goes live in the United States.

For years, newspaper companies have been offering Web access free in hopes that the online advertising market would look after their costs. But while online advertising has grown, it has not increased quickly enough to make up for the decline in traditional print advertising. So many publications have been looking at ways to make online consumers pay as they do for print.

The debate consuming the newspaper business now centers on the question that The Times hopes to answer: Can you reverse 15 years of consumer behavior and build a business around online subscriptions? Many believe the answer is no.
The Times plan is far less restrictive than the one adopted by the Times Of London, which placed all of its content behind a paywall more than a year ago and allows for no "free" access from any source. So, at least, this means that readers will still be able to read occasional stories on the site (is 20 stores a month a lot? I guess that depends who the reader is) without having to pay, It's also interesting that links from Twitter and Facebook will not be free of these restrictions, a concession that seems to be an obvious recognition by the paper of the importance of having their content spread via social media. There doesn't seem to be any similar concession for links from blogs, though, which means I am likely to be far less reluctant to link to content from the Times here at OTB since its not clear that everyone who reads it will be able to access the article [See Update below on this point] .I also don't see myself putting down the $15 per month needed to get unlimited access to something that, at least for now, I can get in multiple locations for free.
It strikes me that the success of this program is still very up in the air. It's possible that the concessions noted above will be enough to keep casual readers coming to the papers home page, thus avoiding the massive drop off in web traffic that the Times of London experienced after its paywall went up. However, it's unclear whether this new venture will generate enough revenue to turn things around for the Grey Lady. As long as the same information is available elsewhere for free, I don't see how this can succeed in the long run.
Update: The Times' letter to readers about the new plan makes the following bullet points:
This is how it will work, and what it means for you:• On NYTimes.com, you can view 20 articles each month at no charge (including slide shows, videos and other features). After 20 articles, we will ask you to become a digital subscriber, with full access to our site.

• On our smartphone and tablet apps, the Top News section will remain free of charge. For access to all other sections within the apps, we will ask you to become a digital subscriber.

• The Times is offering three digital subscription packages that allow you to choose from a variety of devices (computer, smartphone, tablet). More information about these plans is available at www.nytimes.com/access.

• Again, all New York Times home delivery subscribers will receive free access to NYTimes.com and to all content on our apps. If you are a home delivery subscriber, go to http://homedelivery.nytimes.com to sign up for free access.

• Readers who come to Times articles through links from search, blogs and social media like Facebook and Twitter will be able to read those articles, even if they have reached their monthly reading limit. For some search engines, users will have a daily limit of free links to Times articles.

• The home page at NYTimes.com and all section fronts will remain free to browse for all users at all times.
So, it would appear that following a link from a blog won't cause you to be charged. Which again leads me to think that the Times realizes the importance of referrals from social media and  is willing to give that traffic free access in exchange for the ad revenue it generates.