Newt Gingrich Walking Back His Attacks On Romney Over Bain Capital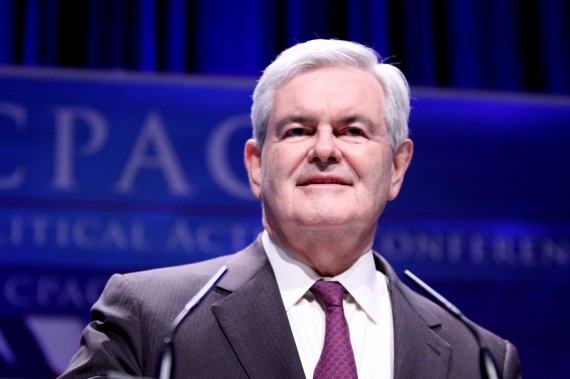 It sounds like Newt Gingrich is feeling the heat from his recent attacks on Mitt Romney over the history of Bain Capital:
SPARTANBURG, S.C. — Newt Gingrich signaled Wednesday that he believes his criticism of Mitt Romney's record at Bain Capital is a mistake — and that he's created an impression that he was echoing Democratic rhetoric.

Gingrich conceded the problem when pressed by a Rick Santorum supporter at a book-signing here Wednesday.

"I'm here to implore one thing of you. I think you've missed the target on the way you're addressing Romney's weaknesses. I want to beg you to redirect and go after his obvious disingenousness  about his conservatism and lay off the corporatist versus the free market. I think it's nuanced," Dean Glossop, an Army Reservist from Inman, S.C., said.

"I agree with you," Gingrich said. "It's an impossible theme to talk about with Obama in the background. Obama just makes it impossible to talk rationally in that area because he is so deeply into class warfare that automatically you get an echo effect. … I agree with you entirely."

(…)

Gingrich had started backing away from the Bain criticism from his first event in South Carolina on Wednesday morning, here fresh off a far-back fourth place finish in New Hampshire and hoping to revive his candidacy in the Palmetto State.

Gingrich concentrated most of his speech on Obama's policies and promised to repeal Obamacare, the Dodd-Frank overhaul of the financial regulatory system and the Sarbanes-Oxley accounting standards law.

Gingrich swiped at Romney, but spoke only broadly about his opposition to "crony capitalism" and never mentioned Bain Capital by name.
Or, as Gilda Radner once put it:
My guess is that someone got to Newt and told him he needed to shut his mouth before he ended up destroying the party's inevitable nominee before the General Election race even starts.
Update: Or, maybe not:

Newt Gingrich is calling a report that he regrets attacking Mitt Romney on his Bain career "misleading."

Spokesman R.C. Hammond says Gingrich never said he had crossed the line, and maintained that Romney's decision to base his candidacy in large part on his record at Bain and Company made his work their fair game.
Stay tuned