No, Donald Trump Isn't Going To 'Pivot'
Donald Trump isn't going to change, and that's bad news for all of us.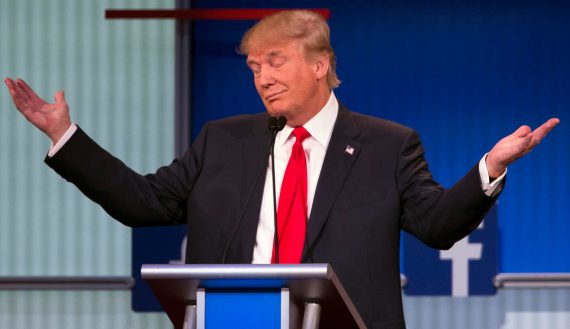 Kevin Drum has some thoughts for political reporters and pundits who keep anticipating that we'll surely eventually see a 'pivot' by President Trump away from the bombastic, irresponsible rube who tweets out nonsense that he sees on Fox News Channel or reads in a Breitbart article, insults long-standing American allies such as Great Britain and Germany, and generally stumbles his way through the first 100 days of his Presidency:
There's a piece of me that hardly blames reporters for replaying the "pivot" narrative over and over. Let's face it: It defies human understanding that an easily bored 8-year-old has been elected president of the United States. But he has—and every week he promises to be good. Maybe he even tries. Who knows?

For something like 50 or 60 consecutive weeks, the Trump entourage has been insisting that the boss is going to pivot and start being presidential real soon now. How long before everyone understands it's not going to happen?
Drum is right, of course. The idea that Trump is going to change how he's acting is something, that I suppose, makes sense because to an outside observer it seems apparent that this course of action cannot continue without eventually having some seriously negative consequences, not just for Trump personally or politically but for the nation as a whole and by extension the rest of the world. Obviously, they argue, someone who has been a supposedly serious businessman since graduating from Wharton Business School in the early 1970s and spent two years of his life running for President will eventually realize that he's engaging in self-destructive behavior and that his Presidency will end up being one of history's epic failures if he continues on this course. The problem with that hypothesis is that the people advancing it are making assumptions about Trump and the people around him that the twenty-one months that have elapsed since he announced his candidacy have shown us simply aren't true.
At the top of the list, of course, is the fact that Trump has proven that he's not going he's not going to change and that every effort that anyone close to him to make him change will ultimately fail. Trump's behavior as President is, in reality, not exceedingly different from the way that he has acted since he first became a public figure in the 1980s. Perhaps this is something that people who weren't constantly exposed to him don't realize, but as someone who grew up in the New York tri-state area, it's something I've noted from the very beginning. For better or worse, living in that part of the country meant that Trump was constantly part of the news in some way, whether it was because he was either arguing with or buddying up to New York City Mayors like Ed Koch or Rudy Giuliani or because of his involvement in the USFL and its New York area team the New Jersey Generals. Slowly, but surely there was Trump branded stuff all over the city, and his name was in the news constantly, and not just on the celebrity pages, and the rest was history. Throughout all of this, and continuing on through the 1990s and 2000s, when Trump enjoyed a resurgence in popularity thanks to the relative success of his shows The Apprentice and Celebrity Apprentice, Donald Trump remained the same person he was in the 1980s. The only difference this time is that he now had a Twitter account and his interest had turned to politics, which is something he'd only flirted with in the past. Now that he's in his 70s, it's simply unrealistic to expect that he's going to change the way he acts. A leopard doesn't change its spots, and Donald Trump isn't going to stop being a bombastic, irrational jerk who speaks without thinking and doesn't care who he offends. The fact that his words now actually matter since he is President of the United States clearly doesn't matter to him.
Even if you weren't aware of the old Donald Trump, though, it should be apparent by now that expecting Donald Trump to change for anything other than a short period of time is expecting the impossible. From the moment he entered the race until now, there have been various points where people who comment on politics for a living say that Trump would surely pivot away from the outrage and toward a saner approach. It happened after the Megyn Kelly incident when he offended women around the country, after he called Mexican immigrants rapists and criminals, after he attacked a Federal Judge who was born in Indiana as being 'Mexican' because of his adverse rulings in the Trump University fraud case, after he mocked a disabled New York Times reporter who disputed his claims about seeing Muslims celebrating the collapse of the Twin Towers on September 11th, after he attacked a Gold Star mother and father who spoke out against him at the Democratic National Convention, and at all the other times over the past two years or more when he has done or said something outrageous. Sometimes, we would see Trump pulling back and behaving more like a normal candidate and politician, but it never lasts for long. Inevitably, he returns to his old form and returns to his habit of using Twitter to make outrageous claims that end up eating up countless news cycles. The most recent example of that, of course, are the claims he made two weeks ago about President Obama allegedly ordering the wiretapping of the Trump campaign's phones at Trump Tower, none of which his Administration has been able to supply anything approaching evidence to support.
This is the way Donald Trump is, and it's the way he's going to be for the entirety of his Presidency. Obviously, that doesn't bode well for the country, but the American people who voted for him knew what they were getting when they voted for him so they can hardly complain now that they have it. The only problem is that the rest of us, and the world beyond American voters, are going to be joined with them in paying the price for putting a man like this in the White House. As I put it on Inauguration Day, I believe that ultimately we'll survive Donald Trump just as we've survived everything else. It's going to be a bumpy ride, though, and it's not likely to be an easy journey.