No, Ron Paul Won't Endorse Romney. At Least Not Anytime Soon
Further thoughts on Ron Paul's game plan, assuming he has one.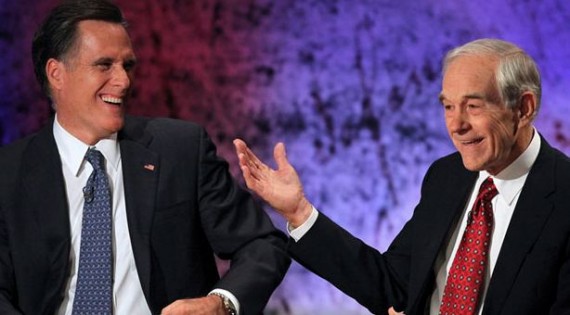 Larry Kudlow put the question to him last night, and the answer was about what you'd expect:
With virtually zero chance of winning the Republican presidential nomination, Rep. Ron Paul said Tuesday that he has no immediate plans to endorse Mitt Romney.

"Not soon," he said on CNBC's "The Kudlow Report."

"I'm not thinking about that as much as what kind of presence we'll have, how many people we're going to have there, and what kind of an influence we can have on the platform in Tampa," he added, noting that there were still plenty of delegates still up for grabs. "It may turn out that we may end up winning Iowa, and we've won a couple of these other states."
As I noted when I discussed this the other day, Paul's strategy here is puzzling. By the time the primary process is over in late June, and probably before then, Romney will have won enough bound delegates to win the nomination outright on the first ballot and will be able to lock Paul and his supporters out from having much of anything to say during the convention if they choose to do so? What's their plan then? Floor protests that make them look foolish? A walkout? What exactly does any of that accomplish?
One of Andrew Sullivan's readers has this suggestion:
[H]e wants to control the vice-presidential nomination.  This, I think, he might actually pull off.  Under normal circumstances the delegates pledged to the presidential nominee are personally loyal enough to vote for the VP of his choice. But if there are a lot of Romney delegates who are actually Paul supporters, then Paul can pick the VP.  He might pick himself, but I doubt it; he has to expect Romney to lose, and he doesn't really support him that much – but there are other libertarians (no, not Rand) that he could choose.  If Romney finds that he has to choose a VP acceptable to Paul to avoid a nasty floor-fight over the nomination, then he probably does rather than face the floor fight.  That certainly affects the veepstakes calculations.

Finally, one thing the Paul delegates will definitely do: turn up to all the sessions on organisation and electing committees and start rewriting the rules of the party to make it easier for them to choose the nominee next time.  No-one else will care; no-one else will turn up; the Paulites will be about to out-vote everyone else, just as they have at district and state conventions.
As to the first idea, I suppose it's possible but in reality we haven't had a floor fight over a Vice-Presidential nomination since 1956 when Adalai Stevenson declined to make a selection and threw the nomination to the floor, where a young Massachusetts Senator named John F. Kennedy nearly beat out Tennessee Senator Estes Kefauver. Since then, though, Vice-Presidential selection has always been within the purview of the nominee and no convention has ever even come close to rejecting the nominee's choice of running mate. The only thing a Paul-inspired floor fight over the VP nominee would do is damage the GOP and turn the convention in to a public relations disaster for the campaign. To the extent the Congressman is concerned about his legacy, or his sons, that doesn't exactly sound like a smart strategy to me.
Paul seems to recognize that fact since he mentioned in a CNN interview today that disrupting the convention would be "against my plan":
Of course, his plan and what his supporters end up doing may be two different things
The second idea that Sullivan's ready suggests actually makes some sense, but as I noted the other day, it's going to require Paul supporters to being active and loyal Republicans and not just the followers of one man whose political career will be coming to an end when Congress ends its term in December.
H/T: Hot Air