North Korea Threatens War As Trump Ups His Fiery, Irrational Rhetoric
Donald Trump's increasingly confrontational rhetoric regarding North Korea is leading to similar rhetoric from the DPRK, and concern among top diplomats.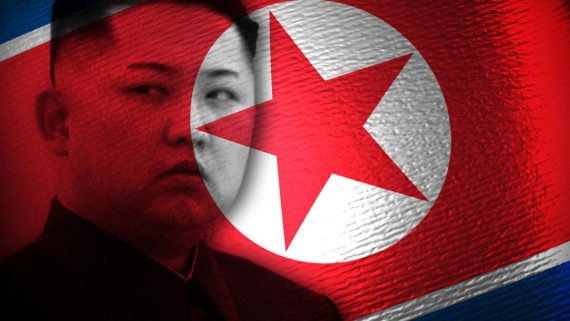 With President Trump recently increasing the tone of his rhetoric regarding North Korea and its leader Kim Jong Un, tensions on the peninsula seem to be increasing:
North Korea threatened on Monday to shoot down American warplanes even if they are not in the country's airspace, as its foreign minister declared that President Trump's threatening comments about the country and its leadership were "a declaration of war."

"The whole world should clearly remember it was the U.S. who first declared war on our country," the foreign minister, Ri Yong-ho, told reporters as he was leaving the United Nations after a week of General Assembly meetings in New York.

"Since the United States declared war on our country, we will have every right to make countermeasures, including the right to shoot down United States strategic bombers even when they are not inside the airspace border of our country," he said.

Within hours, the Trump administration pushed back on Mr. Ri's assertions, with the White House press secretary, Sarah Huckabee Sanders, telling a news briefing in Washington: "We have not declared war on North Korea."

The last time North Korea shot down an American warplane was in 1969, during the Nixon Administration, killing all 31 crew members of a spy plane that was flying off its coast.

Today, North Korea's ability to make good on its threat is limited. Its air force is outdated, undertrained and frequently short of fuel. But the threat signaled another major escalation in a rhetorical exchange that many fear could push Pyongyang and Washington into a conflict, even an unintended one.

Mr. Ri's reference to the declaration of war appeared to refer to Mr. Trump's assertion in a Twitter message over the weekend that the North Korean leadership may not "be around much longer" if it continues its threats.

Mr. Ri said that the question of "who would be around much longer will be answered" by North Korea.

It is possible that North Korea wanted to make clear that it, too, could threaten pre-emptive military action, just as the United States has repeatedly suggested in recent months.

But Mr. Trump's tweet over the weekend appeared to go further, suggesting that mere threats, rather than a military attack, could drive him to wipe out the country. Whether that was one of his characteristic outbursts or a strategic effort to intimidate North Korea was not clear — even to some of his advisers.

The escalation of threats came two days after American warplanes flew close to the North's coast, going farther north of the Demilitarized Zone — the dividing line between North and South — than any other American air mission in the past century. The Air Force advertised the exercise, which involved only American aircraft, as a direct response to North Korea's accelerated missile launches and a nuclear test two weeks ago.

Mr. Ri, who is well connected to the country's top leadership, also said last week that the North was considering conducting an atmospheric nuclear test, which would be the first by any nation in 37 years.

It is unclear whether the North is capable of pulling off such a test, which is far more complicated and dangerous than the underground testing it has done six times in the past 11 years. But a senior Trump administration official said over the weekend that the Pentagon and intelligence agencies were taking the threat seriously and beginning to devise possible responses — including pre-emptive military strikes — for the White House.

Mr. Ri's remark about taking on American aircraft was new, and raised the possibility of a clash, even if a North Korean attack failed. He also said that "all options will be on the operations table of the supreme leadership" of North Korea.

Political analysts said the Trump administration should consider Mr. Ri's comments more than just verbal volleys.

"I think they're dangerously close to some kind of a conflict with North Korea," said Jae H. Ku, the director of the U.S. Korea Institute at the Johns Hopkins School of Advanced International Studies in Washington.

"This is something I feared," he said. "When we go down this road, our escalation could lead to accidental shootouts, and it may not be so accidental."

The increasing acrimony also alarmed China, North Korea's biggest trading partner, which strongly opposes the North's missile and nuclear tests but has repeatedly urged de-escalation. "We want things to calm down," China's United Nations ambassador, Liu Jieyi, was quoted by Reuters as saying on Monday. "It's getting too dangerous and it's in nobody's interest."

North Korea had already deemed Mr. Trump's threat at the United Nations — to "totally destroy" North Korea if the United States were forced to defend itself or its allies — a declaration of war.

The North's leader, Kim Jong-un, said last week: "Now that Trump has denied the existence of and insulted me and my country in front of the eyes of the world and made the most ferocious declaration of a war in history that he would destroy the D.P.R.K. [Democratic People's Republic of Korea], we will consider with seriousness exercising of a corresponding, highest level of hard-line countermeasure in history."
These latest remarks from the DPRK come as analysts and diplomats are becoming concerned about the tone of Trump's rhetoric and the direction it might push the ongoing diplomatic war with North Korea:
WASHINGTON — When President Trump gave a fiery campaign speech in Huntsville, Ala., on Friday evening, he drew a rapturous roar by ridiculing Kim Jong-un, the North Korean leader, as "Little Rocket Man."

Among diplomats and national security specialists, the reaction was decidedly different. After Mr. Trump repeated his taunt in a tweet late Saturday and threatened that Mr. Kim and his foreign minister "won't be around much longer" if they continue their invective against the United States, reactions ranged from nervous disbelief to sheer terror.

Mr. Trump's willingness to casually threaten to annihilate a nuclear-armed foe was yet another reminder of the steep risks inherent in his brute-force approach to diplomacy. His strengths as a politician — the ability to appeal in a visceral way to the impulses of ordinary citizens — are a difficult fit for the meticulous calculations that his own advisers concede are crucial in dealing with Pyongyang.

The disconnect has led to a deep uncertainty about whether Mr. Trump is all talk or actually intends to act. The ambiguity could be strategic, part of an effort to intimidate Mr. Kim and keep him guessing. Or it could reflect a rash impulse by a leader with little foreign policy experience to vent his anger and stoke his supporters' enthusiasm.

His new chief of staff and his national security team have drawn a line at trying to rein in his more incendiary provocations, fearing that their efforts could backfire with a president who bridles at any effort to control him. What remains unclear — and the source of much of the anxiety in and out of the government and on both sides of the Pacific — is whether they would step in to prevent the president from taking the kind of drastic action that matches his words, if they believed it was imminent.

Veterans of diplomacy and national security and specialists on North Korea fear that, whatever their intended result, Mr. Trump's increasingly bellicose threats and public insults of the famously thin-skinned Mr. Kim could cause the United States to careen into a nuclear confrontation driven by personal animosity and bravado.

"It does matter, because you don't want to get to a situation where North Korea fundamentally miscalculates that an attack is coming," said Sue Mi Terry, a former intelligence and National Security Council specialist who is now a senior adviser for Korea at Bower Group Asia. "It could lead us to stumble into a war that nobody wants."

(…)

Some senior administration officials acknowledge privately that Mr. Trump's rhetoric on North Korea is not helpful, although they question whether it will alter the discussion, given how far Mr. Kim has come in his quest to develop a nuclear weapon that could reach the United States.

The three current and retired generals advising Mr. Trump — Jim Mattis, the defense secretary; Lt. Gen. H. R. McMaster, his national security adviser; and John F. Kelly, his chief of staff — as well as Rex W. Tillerson, the secretary of state, have all chosen their words on North Korea more carefully, emphasizing the role of diplomacy and the grave stakes of any military confrontation.

"All three of the generals fully realize the carnage that would result from a war on the Korean Peninsula," James G. Stavridis, the former NATO commander and current dean of the Fletcher School of Law and Diplomacy at Tufts University, said on Sunday.

"Knowing each of them personally, I am certain they are counseling operational caution, measured public commentary and building a coalition approach to dealing with Kim Jong-un," Mr. Stavridis, a retired admiral, said in an email. "But controlling President Trump seems incredibly difficult. Let's hope they are not engaged in mission impossible, because the stakes are so high."

Christopher R. Hill, a former ambassador to South Korea who served Republican and Democratic presidents, argued that the comments could badly undercut Mr. Trump's ability to find a peaceful solution to the dispute, playing into Mr. Kim's characterization of the United States as an evil nation bent on North Korea's destruction and relieving pressure on the Chinese to do more to curb Pyongyang.

"The comments give the world the sense that he is increasingly unhinged and unreliable," said Mr. Hill, the dean of the Josef Korbel School of International Studies at the University of Denver.
Many Trump allies and supporters have argued that Trump is behaving this way deliberately, both to present a message to North Korea that they're dealing with a President who is taking a tougher line on the DPRK's nuclear program than predecessors have and to send a message to China that the patience of the United States is wearing thin. Under this theory, supporters claim that Trump is simultaneously trying to create confusion in the minds of North Korean leaders and the Chinese regarding whether or not the United States might act unilaterally. The purpose of this rhetoric, then, would be to both spur the Chinese to act much more harshly against their putative allies in Pyongyang than they have in the past and to lead the North Koreans to be unclear about what our intentions might be.
This seems to be unlikely for two reasons.
First of all, at no point in the past has Trump demonstrated this kind of strategic thinking regarding any matter. Instead what we've seen from him has consisted of bluster and blind rage motivated largely by what he sees on Fox News Channel, reads on the Internet, or happens to retweet at a given point in time. We've seen it any number of times in his tweets and campaign speeches and, most recently, in his bizarre decision to pick a fight with N.F.L. players staging protests during the National Anthem. In all likelihood, that's exactly what we're seeing now with regard to North Korea, the difference is that, instead of a public fight that will likely gain him more support among his rabid base while at the same time confirming all the fears and doubts of his critics, the outcome when goading a regime clearly enveloped in a cycle of paranoia that seems to be in danger of lashing out at any time against either the United States or our allies in South Korea or Japan is clearly far more serious than whatever blowback Trump may face for criticizing Colin Kaepernick.
The second problem with this argument is that it doesn't seem to have any basis in reality. Previous conflict and verbal warfare with the DPRK suggests strongly that rhetoric such as what we're hearing from the President is more likely to cause them to become even more committed to their current course of action, and perhaps even to increase the pace and the tone of their own aggression in an effort to show that they aren't intimidated by American rhetoric. Similarly, it's not at all clear that rhetoric like this is going to cause the Chinese to become more willing to crack down on its putative client state or to take any action at all. As I've noted before, China's primary concern with regard to North Korea clearly appears to be the fear that failing to prop up the Kim regime would lead to a collapse in authority in Pyongyang that would lead to the collapse of the state, and the prospect of South Korean and American forces moving in to take control of a chaotic situation. In other words, the Chinese are arguably more concerned about American troops at the Yalu River than they are with any dangers related to status quo on the peninsula. As long as that's the case, they're unlikely to do anything likely to bring about that collapse or to cause the North Koreans to lash out in a way that would make war likely.
As is always the case with both North Korea and Trump, it's best to take this latest fiery rhetoric with a grain of salt. The DPRK has a long history of threatening rhetoric that it either clearly can't follow through on, meant to stir up confusion and uncertainty for its own sake, or for purely domestic consumption. That, along with playing the ongoing game of rhetorical tit-for-tat that has been going on between Pyongyang and Trump for the better part of the year, is most likely what's happening here. While they may appear to be crazy on the outside, it seems clear that the North Korean leadership is rational enough to know what the consequences of a first-strike of any kind would be, and that the DPRK would ultimately be fighting a war that it cannot possibly win. As a result, the idea that they're serious about striking out against American warplanes that aren't over their territory is one that's hard to take seriously.
At the same time, one has to assume that the rationality is the same on the other side of the ball and that American leadership knows that even a limited strike against North Korea would be likely to expand into something far bigger. The danger is that this constant upping of the rhetoric on both sides of the DMZ poses the danger that one side or the other will feel as though they've been backed into a corner, and that one side or the other could feel like they've been backed into a corner. It's not surprising that rhetoric from the President of the United States suggesting that he's prepared to wipe the North Korean regime from the map has led to a similar uptick in rhetoric from North Korea, then. What's worrisome is the idea that, at some point, someone could decide that merely responding rhetorically isn't enough. At that point, we could find ourselves heading down a path toward a conflict that could end up being a disaster for all concerned parties.