North Korea Treated Trump Like A Chump, And He Fell For It
New reports indicate that the North Koreans never took any of the steps to reduce their research programs that President Trump claimed they did.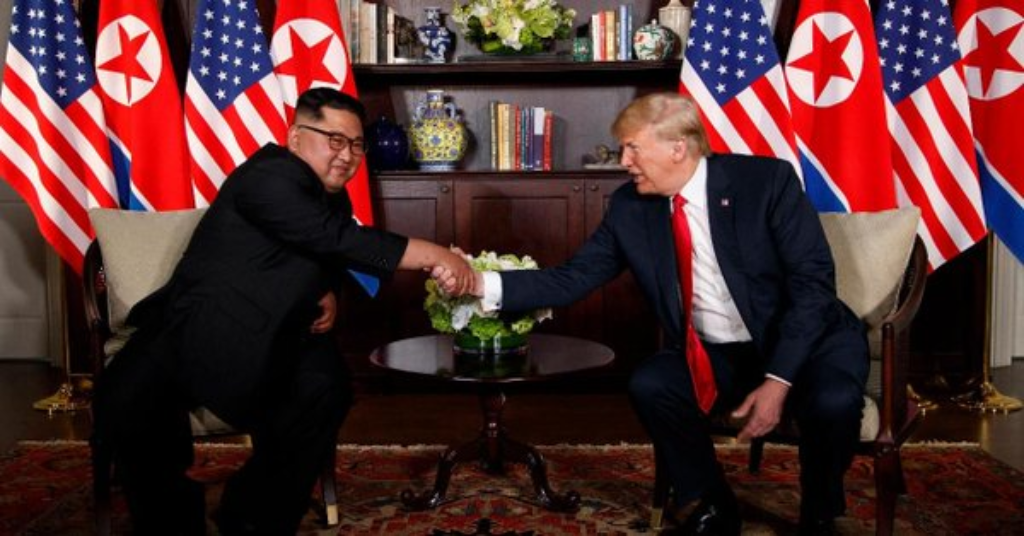 The Washington Post reported on Tuesday that, despite the claims of the Administration in the wake of three summit meetings and numerous side meetings between high-ranking officials, that North Korea never really halted its weapons development programs:
Just before North Korea launched its first intercontinental ballistic missile in 2017, scientists strapped their newest rocket engine to a test stand to see how it would perform. The liquid-fueled engine burned successfully for 200 seconds and generated enough thrust to propel a warhead halfway around the world.

Two years later, on Dec. 13, a new missile engine was lit up on the same test stand while scientists watched. This time the burn lasted 400 seconds — almost seven minutes — according to an official statement.

For analysts who closely track such tests, the results were both startling and mystifying. North Korea's last ICBM was powerful enough to reach the U.S. East Coast. Was this a new booster for the same ICBM? Or something different? No one knew, but experts fear that the world could soon find out.

"Seven minutes," said one U.S. official who spoke on the condition of anonymity to discuss North Korea's capabilities, "is a long time."

The experiment at North Korea's Sohae test stand — one of two at the complex in the past month — has fueled speculation about the nature of the "Christmas gift" that leader Kim Jong Un promised if nuclear talks with the Trump administration remained stalled. Satellite cameras in recent weeks have spotted preparatory work at several locations where North Korea assembled or tested missiles in the past.

President Trump was dismissive Tuesday about what that gift might be. "Maybe it's a nice present," he told reporters. "Maybe it's a present where he sends me a beautiful vase as opposed to a missile test, right?"

But the recent surge in activity also appears to confirm something that U.S. intelligence agencies have long suspected: Despite a self-imposed moratorium on testing its most advanced missiles over the past two years, North Korea has never halted its efforts to build powerful new weapons. Indeed, Kim's scientists appear to have used the lull to quietly improve and expand the country's arsenal, U.S. and East Asian officials say.

U.S. analysts say the two tests at Sohae appear to reflect months of continued work on North Korea's arsenal of potent liquid-fueled missiles, which already includes two ICBMs, the Hwasong-14 and Hwasong-15, capable of striking the United States. But the country's scientists have demonstrated progress on other kinds of missiles as well. In the months since the failed U.S.-North Korean summit in Vietnam, Pyongyang has tested five new short- and medium-range missiles, all of which use solid propellants. Solid-fueled missiles are more mobile and easier to hide compared with similar rockets that use liquid fuel.

One of the newly unveiled additions to North Korea's arsenal, the KN-23, is a highly maneuverable short-range missile that flies at low altitudes and is difficult to intercept. Another, the medium-range Pukguksong-3, can be launched from submarines.

"No one thinks they developed all these systems in a few months," said Jeffrey Lewis, a weapons expert and professor at the Middlebury Institute of International Studies at Monterey, in California. Satellite photos and numerous tests — many of them publicly announced and photographed — have shown repeatedly that "North Korea's nuclear and missile facilities kept operating during the moratoria," he said.

"They have built up capabilities over time," Lewis said, "and they choose to reveal them when it's politically desirable."

A demonstration of any of these technologies would be intended in part to express frustration over the stalled nuclear talks and to prod the Trump administration into new concessions at the negotiating table. But implicit in any new missile launch would be a larger message directed at Americans themselves, experts said.

"It would be a way of highlighting our vulnerability — to show they have the range to reach us," said Robert Litwak, director of international security studies at the Woodrow Wilson International Center for Scholars.
All of this calls into question pretty much everything the Trump Administration has done with respect to North Korea since Donald Trump took office. After a first year in which the President and North Korean leader Kim Jong-Un traded insults and the DPRK conducted nuclear and ballistic missile and threatened war, things seemed to cool down in 2018. For his part, Kim extended an olive branch to the south that resulted in a summit meeting between himself and South Korean President Moon Jae-In that significantly reduced tensions between the two nations. This led to tentative talks between the United States and the DPRK, and ultimately to three meetings between Trump and Kim that, obviously, have resulted in nothing.
Immediately after his first meeting with Kim Jong Un in Singapore, for example, President Trump claimed that there was no longer a nuclear threat from the DPRK because of what happened at the meeting. The evidence since that time, though, it has been clear both that Kim Jong Un did not agree to what Trump claimed and that the summit itself, as well as the two subsequent meetings between the men in Hanoi and at the Demilitarized Zone, were little more than photo opportunities.
The extent to which this statement from Trump was erroneous became apparent only months after that first summit. At that point, it was reported that North Korea was increasing production of the fuel needed to make additional nuclear weapons and that it was concealing the existence of ongoing nuclear weapons research at secret facilities well hidden from both surveillance and, most likely, the ability of the United States to take the sites out in a military strike. Additionally, it became apparent in the days after the summit that the much-publicized destruction of the DPRK's primary nuclear weapons test site, a much-hyped pre-summit event that was witnessed by American and other international journalists, was much less than met the eye and that the site could easily be rebuilt if needed in the future. Weeks later, we learned that the DPRK had also begun work on the construction of new ballistic missiles at yet another secret site.. Additionally, analysts who have seen satellite images say that the DPRK has made a second large nuclear reactor operational. This type of reactor is capable of making plutonium which is, of course, one of the main fuels used in the production of nuclear weapons. This new reactor can reportedly make four times as much plutonium as North Korea's current reactor, which has been the source for the plutonium needed for its nuclear arsenal to date. Finally, in the wake of the summit in Hanoi that again appears to have been more hype than hope, it was reported that Pyongyang was making major repairs to a previously abandoned ballistic missile test facility that could be signs that they are planning either a new round of tests or a satellite launch.
This report comes in the wake of earlier reports that the North Koreans had promised some sort of New Year's/Christmas "gift" for the United States. This comes after several months during which the DPRK was conducting short-range missile tests which caused concern in both South Korea and Japan, but which the President dismissed as not a big concern despite the obvious threat they posed to those two American allies. There have also been reports that the North Koreans have been expanding a factory used to construct ballistic missiles and, as noted above, engaging in the testing of ballistic missile engines, the results of which have many observers concerned that the DPRK has made major advances in engine design that could be a major step forward in missile development.
All of this goes to show that the Administration's entire policy, which I've previously described as brain-dead, is an abject failure. For the past two years, we've basically coddled the DRPK while they did absolutely nothing in return. The result has been that Kim Jong-Un's stature on the world stage has been enhanced, a wedge has developed between the United States and its allies in South Korea and Japan, and the DPRK has essentially fooled the United States yet again.
Nice work there, Trump.