Numbers In House Continue To Trend Against Authorizing Syrian Military Strikes
Things aren't looking good for President Obama in the House of Representatives.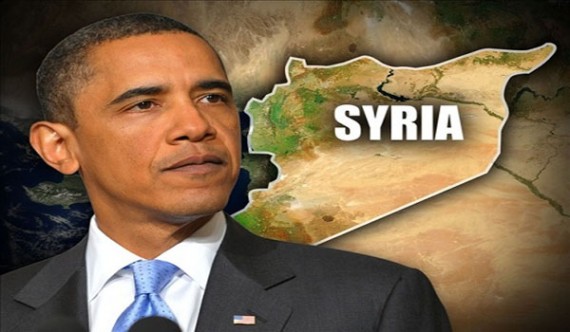 The prospect continues to mount that President Obama could suffer a huge foreign policy defeat in the House of Representatives when it votes on a resolution to authorize the use of force in Syria in the next week to ten days:
If the House voted today on a resolution to attack Syria, President Barack Obama would lose — and lose big.

That's the private assessment of House Republican and Democratic lawmakers and aides who are closely involved in the process.

If the Senate passes a use-of-force resolution next week — which is no sure thing — the current dynamics suggest that the House would defeat it. That would represent a dramatic failure for Obama, and once again prove that his sway over Congress is extraordinarily limited. The loss would have serious reverberations throughout the next three months, when Obama faces off against Congress in a series of high-stakes fiscal battles.

Several Republican leadership aides, who are counting votes but not encouraging a position, say that there are roughly one to two dozen "yes" votes in favor of military action at this time. The stunningly low number is expected to grow a bit.

But senior aides say they expect, at most, between 50 and 60 Republicans to vote with Speaker John Boehner (R-Ohio) and Majority Leader Eric Cantor (R-Va.), who support the president's plan to bomb Syria to stop Bashar Assad from using chemical weapons on his people. That would amount to less than one-third of the House Republican Conference.

That would mean the vast majority of the 200 House Democrats will need to vote with Obama for the resolution to pass. But Democrats privately say that Minority Leader Nancy Pelosi (D-Calif.) and Minority Whip Steny Hoyer (D-Md.) can only round up between 115 and 130 "yes" votes.

High-level congressional sources believe there is some time — but not much — for Obama, Boehner and Pelosi to turn things around. But any vote to authorize an attack on Syria will be extraordinarily close, according to people in both parties with direct knowledge of the political dynamics in the House Republican Conference and Democratic Caucus.

Boehner and Cantor back the president's plan for "limited, proportional" strikes in Syria. Majority Whip Kevin McCarthy (R-Calif.) is not convinced it's the right decision. McCarthy's calculus seems to be more in line with many House Republicans — he has spoken to many of his allies in the last week, and the support for a U.S. strike on Syria is incredibly low, sources familiar with those discussions says say.

House leaders plan to takes up the Syria resolution only if it passes the Senate first
This assessment is seemingly confirmed by looking at the whip counts that various media organizations have been compiling since the President announced he would be asking Congress for authorization to strike Syria:
The numbers for each of these whip counts is updated regularly so they're likely to be different if you're clicking on the respective links after Friday morning. You can also find the latest numbers for the Senate, where the date is unclear but passage seems more likely, at those links. In any case, though, the momentum against the resolution is clear and pronounced and, depending on which count you go by, the resolution may already be on the verge of defeat.
The House returns to Washington on Monday, and it's expected that debate on a resolution will begin in earnest shortly after that. However, given the contentiousness of the issues and the fact that the House GOP leadership is not going to act until they know whether or not a resolution has passed the Senate, it's unlikely that there will be a vote on the resolution itself until sometime at the start of the week of September 16th. Even if the House does ultimately approve a resolution, though, that might not be the end of the process. There's a high likelihood that differences will exist between what passes the House and what passes the Senate and, in that case, the two bodies are going to have to find a way to reconcile those differences. Whether what would likely be a fragile "yes" coalition in the House could stay together through that process remains an open question.
All of this portends for an active and historic week in Washington next week. At his press conference at the end of the G-20 Summit, President Obama announced that he would be addressing the nation from the White House regarding Syria on Tuesday, clearly as part of an effort to stem the tide of public and Congressional opposition to taking action against Syria. Some have suggested that it may already be too late for that, but that's unclear at this point. At the very least, though, at the moment it appears that the Syria resolution would be defeated in the House if a vote were taken today. Whether that changes over the course of the next week remains to be seen.
Note:  This post was updated to include the whip counts from ABC News and Firedoglake.